ISO Certification In South Africa
ISO Certification In South Africa, Certivatic is specialized in providing ISO Certification and Consultation in South Africa. We provide the best ISO Consultant services in Cape Town, Durban, Johannesburg, Port Elizabeth, and other major cities in South Africa with the service of consultation, implementation, documentation, training, auditing, and registration. We do provide CE mark Certification, HALAL Certification around the world at an affordable cost.
ISO Certification In South Africa, Implementation & Certification
ISO certification in South Africa is one such certification that any company in South Africa is looking forward to achieving as it gives us a lot of advantages in many different areas so let us understand about ISO certification and its benefits.
What is ISO certification?
ISO is a certification provided to companies for following international standards which are set by the international organization of standardization in short called as ISO, there are a lot of different standards in fact there are 21,000 standards which are published by this particular organization in which few of them are implementable standards and few of them are just guidelines. the guidelines are to help understand and follow but implementable standards are those which can be practiced and for the same practice they can be rewarded as this certification Hence let us understand more about this kind of certifiable standard.
How to get ISO certification in South Africa? – Our effective implementation steps: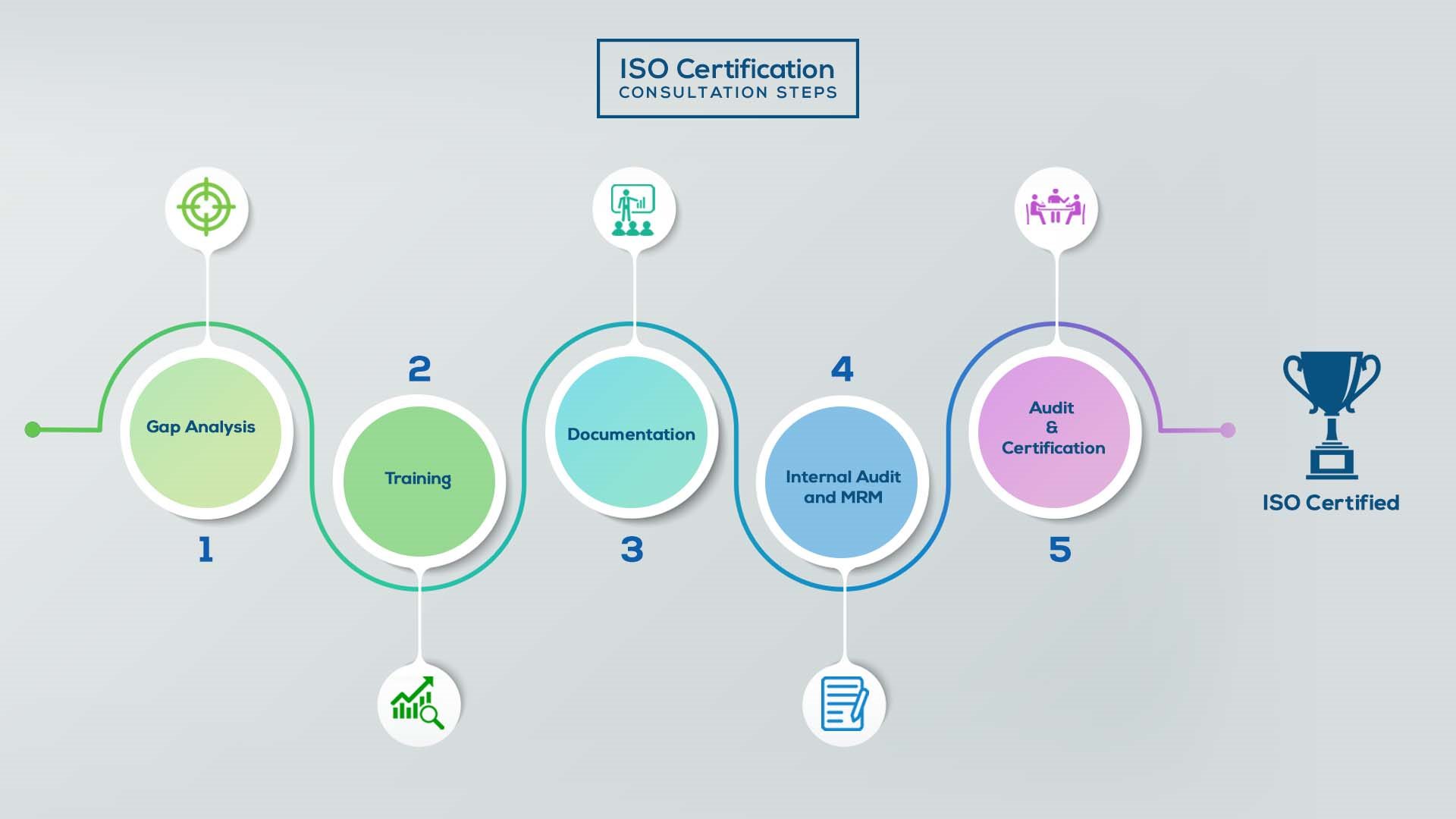 ISO Certification In South Africa
Our method/steps are easy, unique, time-bound, and result-oriented.
Interacting and detailed study of current work flows in different departments, operating procedures, documentation and practices.

Identifying any shortcomings of your organization against the requirements of ISO.

Generating a Gap report and planning for implementation
Creating awareness about ISO standard and its importance.

A formal training session/s.

It includes training on internal auditing, documentation training, mock audit and trainings to conduct management review meeting.
Documentation is the manifestation for your entire organizations process, procedure and results.

End-to-End support on preparing documentation as per ISO requirements.
Internal Audit (IA) as a tool, it is a cross departmental audit to ensure zero loophole in the system of your organization.

MRM: Management review meeting (MRM) helps top management to guide and ensure the whole organization is up to the mark as per the standard requirements.
Certivatic – Your certification is our responsibility!

With our 100% track record of success, we make sure Certification is achieved successfully.
Some of the benefits of ISO certification in South Africa:
Companies can avail better market recognition and they can showcase their certificate in branding purposes which improves their brand recognition And keeps them ahead of their competitors.
Companies can achieve great amount of trust among their vendors and suppliers which will have a huge advantage in the reduction of the time takenFor their end results.
Better customer satisfaction and customer retention Which in turn Would help in improvising the bottom lines of the company.
Compliance with all the legal and statutory requirements which will also help to not have any legal complications.
Tender eligibility for any private or public sector tenders which are floated, because ISO certification is one of the criteria to be eligible for tenders
What are different types of ISO certification in South Africa? Are the standards company-specific?
There are a lot of standards as we have read in the previous paragraph. There are few standards which are company-specific and there and there are also standards that are not specific to any industry and can be implemented in any kind of organization for example ,
Quality management system, environmental management system, health, and safety management system are few such a standard which can be implemented into any kind of industry irrespective of their size and nature of business
Food safety management system is the standard which is related to the industries or organisation which is linked with processing or transportation of food, testing and calibration laboratories have their own specific standard.
ISO 9001, ISO 45001, ISO 14001, ISO 22000, ISO 27001, ISO 22000, ISO 13485, ISO 17025, ISO 22301, ISO 50001 are some of the examples.
So few standards are company-specific and there are a lot of different types of standards to know more about these standards we can visit our website www.certivatic.com or you can write to us at contact@certivatic.com, We are one of the leading service providers for ISO certification in South Africa and You can always connect with us and we would be happy to help you and guide you through the process to achieve your intended ISO certification in South Africa.
ISO certification in South Africa, the international organization for standardization means ISO is an international certification and by getting this certification your organization gets global recognization all over the world across 164+ countries.
Frequently Asked Questions