ISO Certification In Singapore
ISO Certification in Singapore
ISO Certification In Singapore, Certivatic is specialized in providing ISO Certification and Consultation in Singapore. We provide the best ISO Consultant services in Hougang, Tampines, Pasir Ris, Yishun, and other major cities in Singapore with the service of consultation, implementation, documentation, training, auditing, and registration. We do provide CE mark Certification, HALAL Certification around the world at an affordable cost.
What is ISO certification in Singapore?
ISO stands for international organization for standardization. ISO is not an acronym but the abbreviation which will suffice in all three languages such as English, French, and Russian. ISO is derived from the Greek word ISOS which means equal. The official three languages declared for international organization for standardization are English, French, and Russian.
The standard serves as a beneficiary factor for the organization to state that the product or the services that are offered by the organization are of the best quality. The headquarters of this organization is in Geneva, Switzerland. The structure of the organization consists of many communities; one well-known committee is with an international electrotechnical commission. 
The technical committee is will help design the standards considering the aspects that revolve around the topics in order to establish international standards based on the concept. International organization for standardization helps the organization in setting up a strategic objective that will help them gain more business.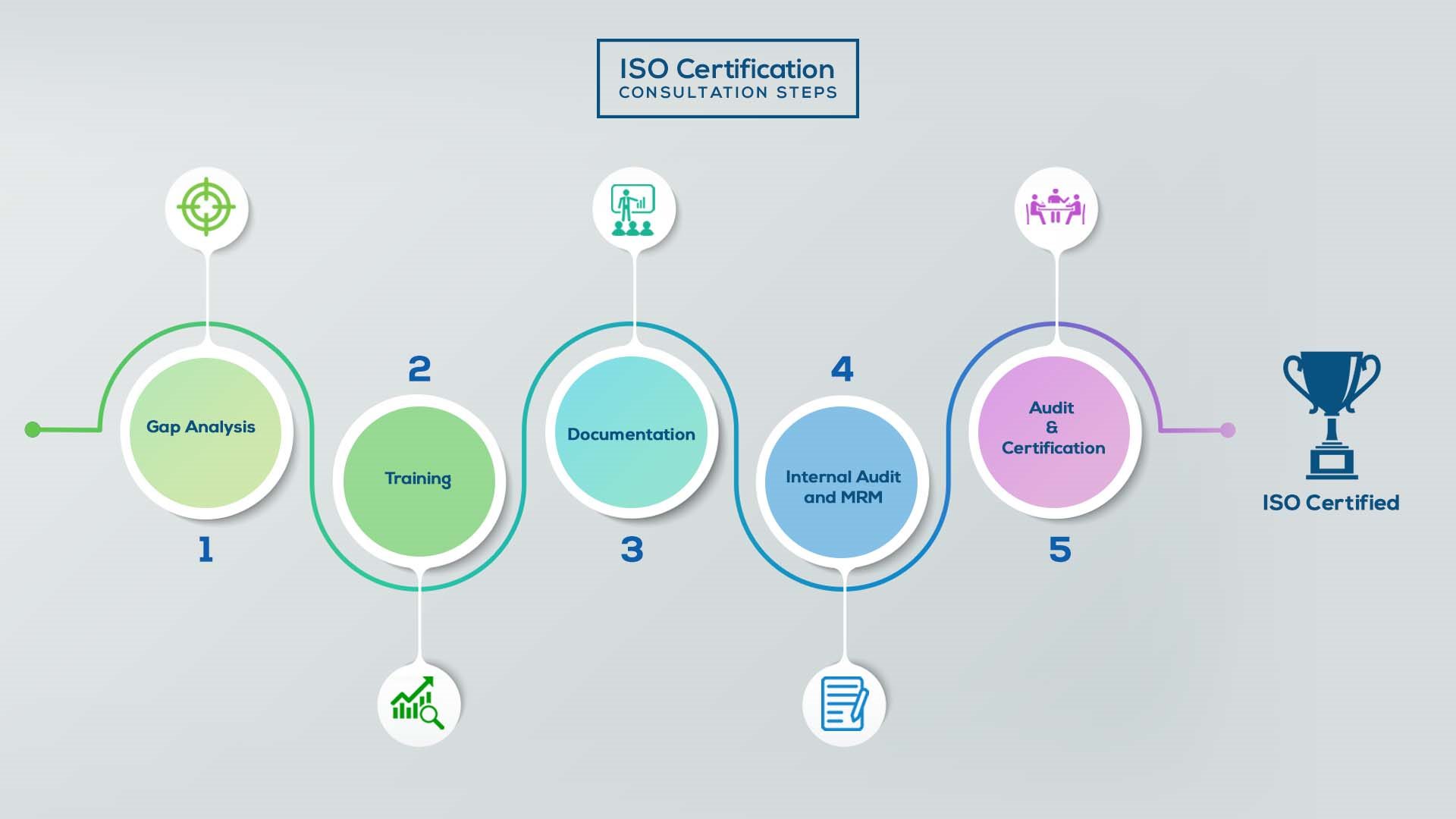 ISO Certification In Singapore
Our method/steps are easy, unique, time-bound, and result-oriented.
Interacting and detailed study of current work flows in different departments, operating procedures, documentation and practices.

Identifying any shortcomings of your organization against the requirements of ISO.

Generating a Gap report and planning for implementation
Creating awareness about ISO standard and its importance.

A formal training session/s.

It includes training on internal auditing, documentation training, mock audit and trainings to conduct management review meeting.
Documentation is the manifestation for your entire organizations process, procedure and results.

End-to-End support on preparing documentation as per ISO requirements.
Internal Audit (IA) as a tool, it is a cross departmental audit to ensure zero loophole in the system of your organization.

MRM: Management review meeting (MRM) helps top management to guide and ensure the whole organization is up to the mark as per the standard requirements.
Certivatic – Your certification is our responsibility!

With our 100% track record of success, we make sure Certification is achieved successfully.
History behind the establishment of International Organization for Standardization:
A group of delegates on 23rd February 1947 established an organization to set up International standards and called it an international organization for standardization. International organization for standardization is a non-governmental, non-profitable, and independent organization. The members associated with this organization are precisely from 164 countries. There can only be one-member body association along with international organizations for standardization from each country. International organization for standardization design and develop International standards which will enable organizations across the world to improve their marketing strategies and to achieve global recognition.
What are the key benefits of the implementation of any ISO certification in Singapore in any organization?
Till today being called an ISO-certified organization is an achievement. ISO certification in Singapore pays huge attention towards the improvements of business in all the market. Any aspirant that exists today can be brought into action and improvisation with the help of implementation of any International standards in the organization. The guidelines that come along with the implementation will benefit not only the organization but also employees and their individual performance. International organization for standardization helps other businesses grow into an international phenomenon by publishing International standards.
Identification of risks and opportunities: opportunities are not obtained but they are created. ISO certified organizations will have a way ahead thinking of business expansion compared to other organizations. It will help to identify the opportunities then and there, improve the plan, measure the risks, identify them, and make the correct decision. ISO certification in Singapore provides opportunities for your business and business expansion. Taking precautions is better than finding the solution to the problem. Once the organization is suffering from any loss it is time to understand and to prevent the root cause of the problem. Implementation of International standards will assist the organization in incorporating corrective actions when it is most needed.
ISO has published 21000 more standards to date among which ISO 9001, ISO 14001, ISO 45001, ISO 27001, ISO 22000, ISO 13485, ISO 22301, ISO 17025, ISO 50001 are some of the important standards.
ISO Certification in Singapore, in order to maintain quality, environment, security, health & safety, ISO Introduced different kinds of standards in certification.
Frequently Asked Questions