Halal Certification In South Africa
Halal Certification in South Africa
Halal Certification in South Africa
Halal is a term used in Islamic religion and the meaning of which is lawful or permissible. Halal food means according to the laws of Islam the food is lawful and permissible to be consumed and it is very strictly followed in the Islamic religion that people never touch food that is not termed as halal so let us understand what actually halal food means.
What is HALAL Certification in South Africa? How do I verify the same?
In the Islamic Religion Consumption of alcohol or pork is strictly against the laws of Islam so the food which contains any kind of alcoholic substances or any kind of pork meat or extracts of pork meat is termed as Haram. All the other or product Which doesn't contain any form of animal extracts and which purely contains plant based substances can be termed as HALAL, But for the meat to be halal, there is a systematic procedure that needs to be followed while the animal is being slaughtered and that has to be slaughtered by an individual who is a Muslim or follower of Islamic religion Along with that, the slaughtering also has strict regulations only when those regulations have followed the meat of any animal can be termed as HALAL, But pork can never be a part of any halal food or any halal meat. Not only does the food require halal certification but also other products which are consumed or applied Like cosmetics or medicine can also be certified for HALAL Certification in South Africa.
To verify whether a product is halal or not one can look at the packaging which would contain The halal certification symbol, if there is no halal certification Present on the product then It cannot be termed as a HALAL product.
How to get HALAL certification in South Africa? – Our 5 simple steps: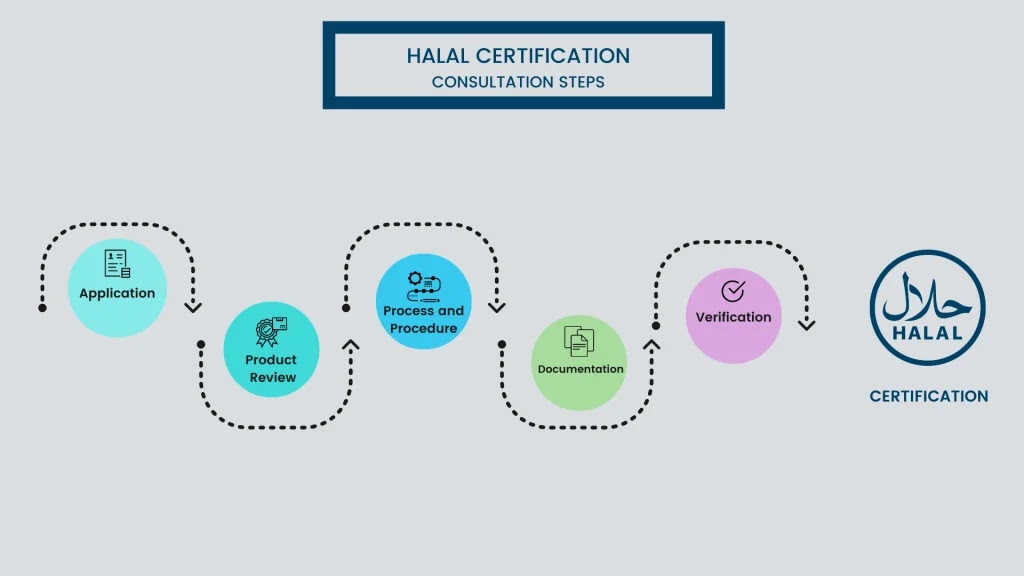 Step1: Apply for the HALAL certification
Step 2: Provide the list & specifications of the product produced along with the required documents
Step 3: Identify the product to be complied with HALAL practices
Step 4: Inspection of the process & procedures
Step 5: Achieve the HALAL certification!
How to achieve halal certification?
You need to get to the right company who can provide you halal certification in South Africa and you need to make sure that you are getting a recognized and genuine certificate Which can be verified with the help of the certification number which is present on that particular certificate and once you get the certificate you can affix the halal symbol on All the products which are included in the particular scope of the Halal certification in South Africa.
Who provides the best Halal certification in South Africa?
Certivatic Is one of the most recognized organizations that have already helped so many companies in South Africa to get their products certified for Halal. All you need to do is to connect with us who are fairly easy and then you can leave the rest on us to get your products halal certified. contact@certivatic.com is our email address and you can directly write to us to get your requirements fulfilled.
Halal Certification In South Africa, Halal means permissible food to eat. under Islamic laws, there are certain terms and conditions that apply when it comes to food, in this way for Islamic Halal certification helps.
ISO Certification In South Africa