ISO 27001 Certification In South Africa
ISO 27001 Certification In South Africa, Certivatic is specialized in providing ISO 27001 Certification and Consultation in South Africa. We provide the best ISO Consultant services in Cape Town, Durban, Johannesburg, Port Elizabeth, and other major cities in South Africa with the service of consultation, implementation, documentation, training, auditing, and registration. We do provide CE mark Certification, HALAL Certification around the world at an affordable cost.
What is ISO 27001 Certification in South Africa?
ISO 27001 certification in South Africa Is it standard related to information security management system. this standard gives us a framework of understanding the areas where controls need to be applied to make sure that any data or information which is owned by an organisation is not breached by any unauthorised individual. This standard is one of the most sophisticated and widely recognised across the globe. Also 27001 one has 114 controls which are specific to different processes in an organisation Depending on Nature of business of the company applicable amount of controls need to be applied to make sure that there is no data breach happening. there have been a lot of cybercrimes and in formation Breach which we have seen Throughout past couple of decades and hence there is a high necessity for any organisation who is dealing with data or information To be more cautious I make sure that they do not become victims of data theft and hence international organisation for standardisation Have come up with this particular standard which will help organisations to follow a systematic procedure to fulfil all the requirements to keep the data safe.
How to get ISO 27001 certification in South Africa? – Our effective implementation steps: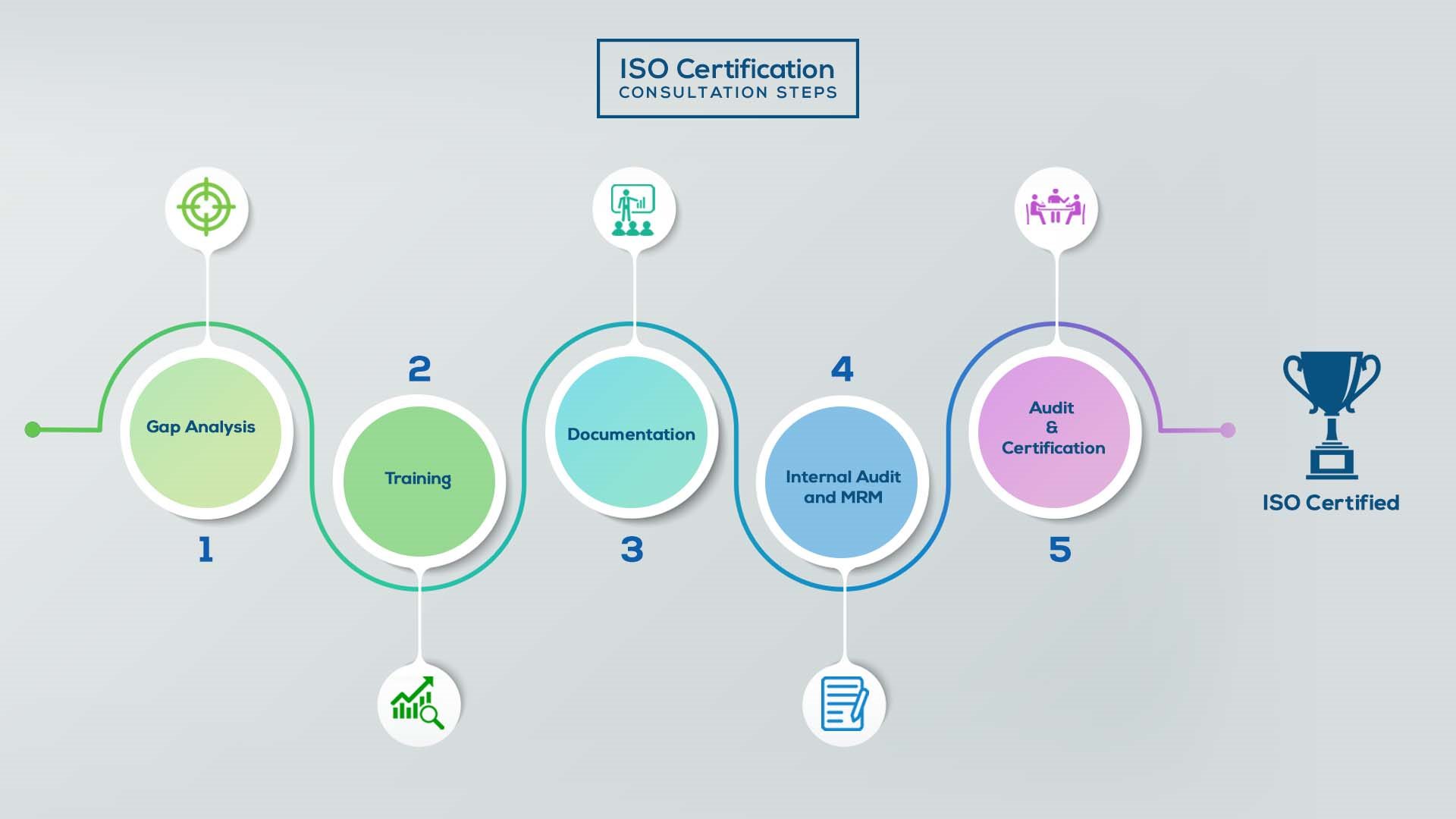 ISO Certification In South Africa
Our method/steps are easy, unique, time-bound, and result-oriented.
Interacting and detailed study of current work flows in different departments, operating procedures, documentation and practices.

Identifying any shortcomings of your organization against the requirements of ISO.

Generating a Gap report and planning for implementation
Creating awareness about ISO standard and its importance.

A formal training session/s.

It includes training on internal auditing, documentation training, mock audit and trainings to conduct management review meeting.
Documentation is the manifestation for your entire organizations process, procedure and results.

End-to-End support on preparing documentation as per ISO requirements.
Internal Audit (IA) as a tool, it is a cross departmental audit to ensure zero loophole in the system of your organization.

MRM: Management review meeting (MRM) helps top management to guide and ensure the whole organization is up to the mark as per the standard requirements.
Certivatic – Your certification is our responsibility!

With our 100% track record of success, we make sure Certification is achieved successfully.
How do we get certified for ISO 27001 certification in south Africa?
The first step for any organisation to get certified of ISO 27001 certification in South Africa is that they have to understand the standard and implement the respective controls and management system practises into their organisational culture and then they need to be audited on all the criteria once the audit is cleared Then the organisation gets certified.
But it is not as simple as it looks so it is always advisable to hire a consulting company who can help you to implement the process specific to your organisation and help you achieve the certificate by making sure that you clear the audit. Certivatic is one such organisation who can help you to implement the standard and get you certified as it is a one stop solution to the ISO 27001 certification in South Africa requirements, our industrial expert consultants would help you to implement the best practises and would guide you through the process and also help you too get certified by making sure that your company clears the audit. All you need to do is get in touch with us at the earliest and we would make sure that your company is certified for ISO 27001.
There are a number of advantages if your company is certified for this standard but let us list down a few very important ones among them.
Highest form of security to your data
Customer satisfaction and the trust of the customer can be achieved as it is clear from the certificate that your company takes the highest care of the data which you own.
Compliance with legal and statutory requirements.
Tender eligibility
Brand recognition and better market penetration
Improved employee satisfaction and employee retention as the employees believe that their data is safe and secure with a company who is certified for information security management system
Certivatic is comprised of a large, global and multidisciplinary team of experienced and skilled professionals who are renowned for delivering technical excellence across a variety of different industrial sectors.
In addition to protecting your data and complying with data handling laws like the GDPR, there is a distinct market value to ISO 27001 certification in South Africa.