ISO 13485 Certification In South Africa
ISO 13485 Certification In South Africa, Certivatic is specialized in providing ISO 13485 Certification and Consultation in South Africa. We provide the best ISO Consultant services in Cape Town, Durban, Johannesburg, Port Elizabeth, and other major cities in South Africa with the service of consultation, implementation, documentation, training, auditing, and registration. We do provide CE mark Certification, HALAL Certification around the world at an affordable cost.
What is ISO 13485 Certification in South Africa?
ISO 13485 certification in South Africa is the most widely used standard bye medical devices manufacturing organisation because ISO 13485 stands for medical devices quality management system, or can also be addressed as quality management system of medical devices.
The ISO 13485 Certification in South Africa sets out the standards required for companies associated with the supply chain of medical devices to implement the ISO 13485 Top Quality Management System and meet its requirements.
Adopting ISO 13485 gives a sensible foundation for manufacturers to deal with the certification Guideline and various other policies, in addition to showing a dedication to the safety and top quality of medical devices.
How to get ISO 13485 certification in South Africa? – Our effective implementation steps: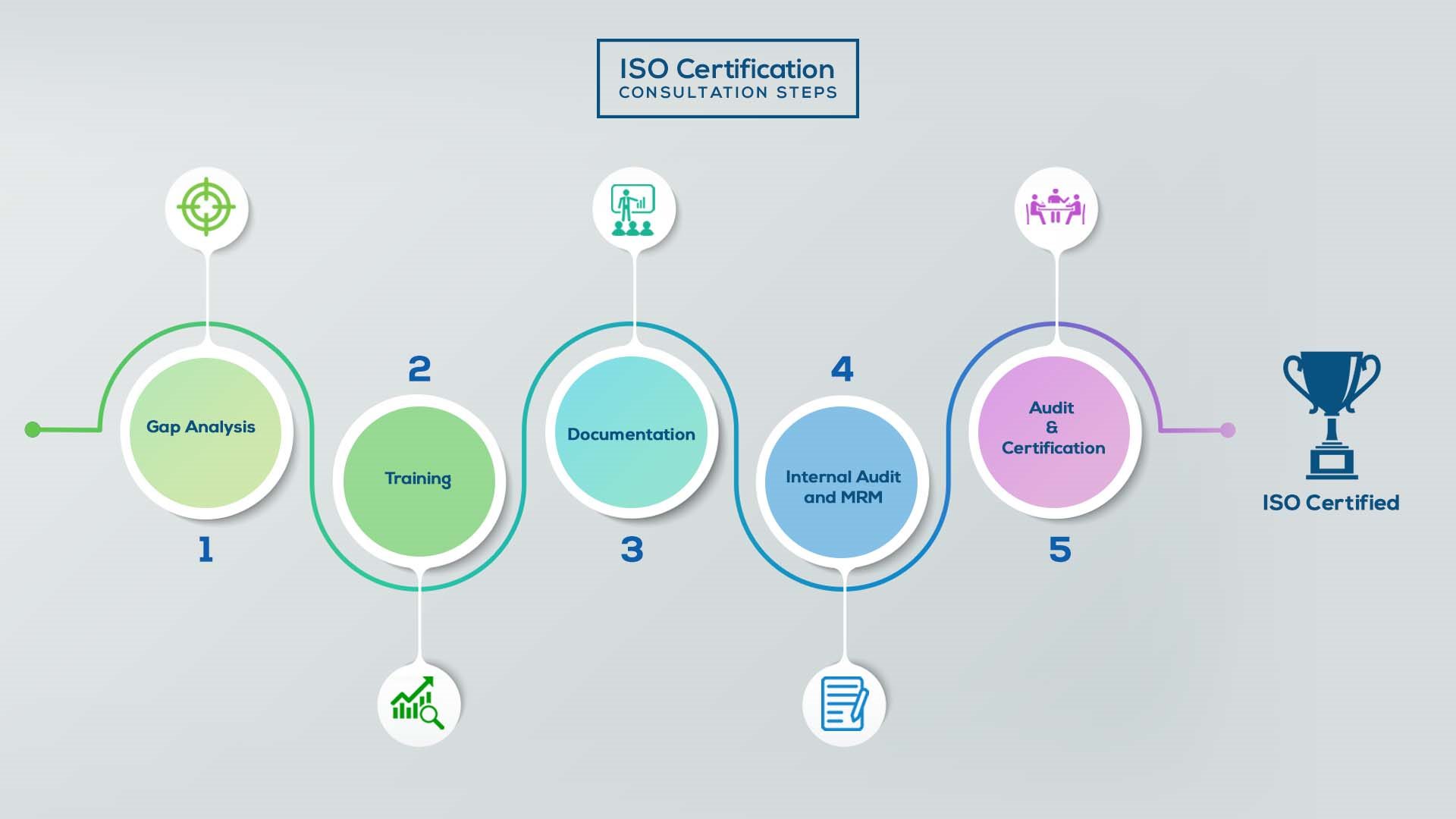 ISO Certification In South Africa
Our method/steps are easy, unique, time-bound, and result-oriented.
Interacting and detailed study of current work flows in different departments, operating procedures, documentation and practices.

Identifying any shortcomings of your organization against the requirements of ISO.

Generating a Gap report and planning for implementation
Creating awareness about ISO standard and its importance.

A formal training session/s.

It includes training on internal auditing, documentation training, mock audit and trainings to conduct management review meeting.
Documentation is the manifestation for your entire organizations process, procedure and results.

End-to-End support on preparing documentation as per ISO requirements.
Internal Audit (IA) as a tool, it is a cross departmental audit to ensure zero loophole in the system of your organization.

MRM: Management review meeting (MRM) helps top management to guide and ensure the whole organization is up to the mark as per the standard requirements.
Certivatic – Your certification is our responsibility!

With our 100% track record of success, we make sure Certification is achieved successfully.
What are the clauses of  ISO 13485 certification in South Africa?
Unlike other standards ISO 13485 certification in South Africa has only 8 numbers of clauses and out of those eight 1st 3 clauses are standard specific clauses so let us see what are those remaining five clauses are. those clauses are as follows.
Quality management system: it involves general requirements and documentation requirements.
Management responsibility: it uplifts the responsibility and accountability of management in every area of the manufacturing process or cycle.
Resource management: Managing the resources in right way is the most important factor to make sure that the quality management system is achieved so there are some specific resource management criteria as explained in this particular standard to make sure that intended outcome is achieved
Product realisation: this clause involves various requirements of the products like the design, documentation, control over the product, monitoring, measuring performance evaluation and others.
Measurement analysis and improvement: this clause completely focuses on the parameters on how the evaluation of both the process and product is taken care and how to justify that there has been significant improvement from the previously followed methods.
To know more about the standard clauses and also to implement ISO 13485 in your organisation you can always connect with us. Write to us contact@certivatic.com and we would be e a waiting to help you achieve the required ISO 13485 certification in South Africa for your organisation in a quick simple and also a very cost effective manner
How to implement ISO 13485 certification in South Africa for an organisation?
Implementing ISO 13485 into your organisation is not as easy as it looks so it is always advisable to take help of consulting companies who can take all the responsibility of implementing the standard and getting your organisation certified for ISO 13485  certification in South Africa.
We at Certivatic are one of the finest and most recognised organisations who can help you and support you throughout the process and a sure you that the audit would be clear and you would receive the ISO 13485 certification without major hiccups. As an international organisation we have many customers across the globe to whom we have help to secure ISO 13485 certification in South Africa. Having our presence in multiple locations allows us to understand every business sector and our expertise have their custom made methodology with which it is really simple and quick to implement the standard into your organisation.