ISO 9001 Certification In South Africa
ISO 9001 Certification In South Africa, Certivatic is specialized in providing ISO 9001 Certification and Consultation in South Africa. We provide the best ISO Consultant services in Cape Town, Durban, Johannesburg, Port Elizabeth, and other major cities in South Africa with the service of consultation, implementation, documentation, training, auditing, and registration. We do provide CE mark Certification, HALAL Certification around the world at an affordable cost.
About ISO 9001 certification in South Africa & major benefits:
ISO 9001 certification in South Africa is one of the most implemented and predominant standard not only in South Africa but also across the globe. As a Consulting company Certivatic has helped many Organisations to achieve this particular ISO 9001 certification, it comes from a family of standards which are related to quality and therefore the standard itself is quality management system. It is a well-known fact when a company starts practicing this particular standard after getting a ISO 9001 Certification in South Africa is lot of benefits like,
– Better market penetration
– Global presence
– Reduction in cost
– Improve overall efficiency
How to get ISO 9001 certification in South Africa? – Our effective implementation steps: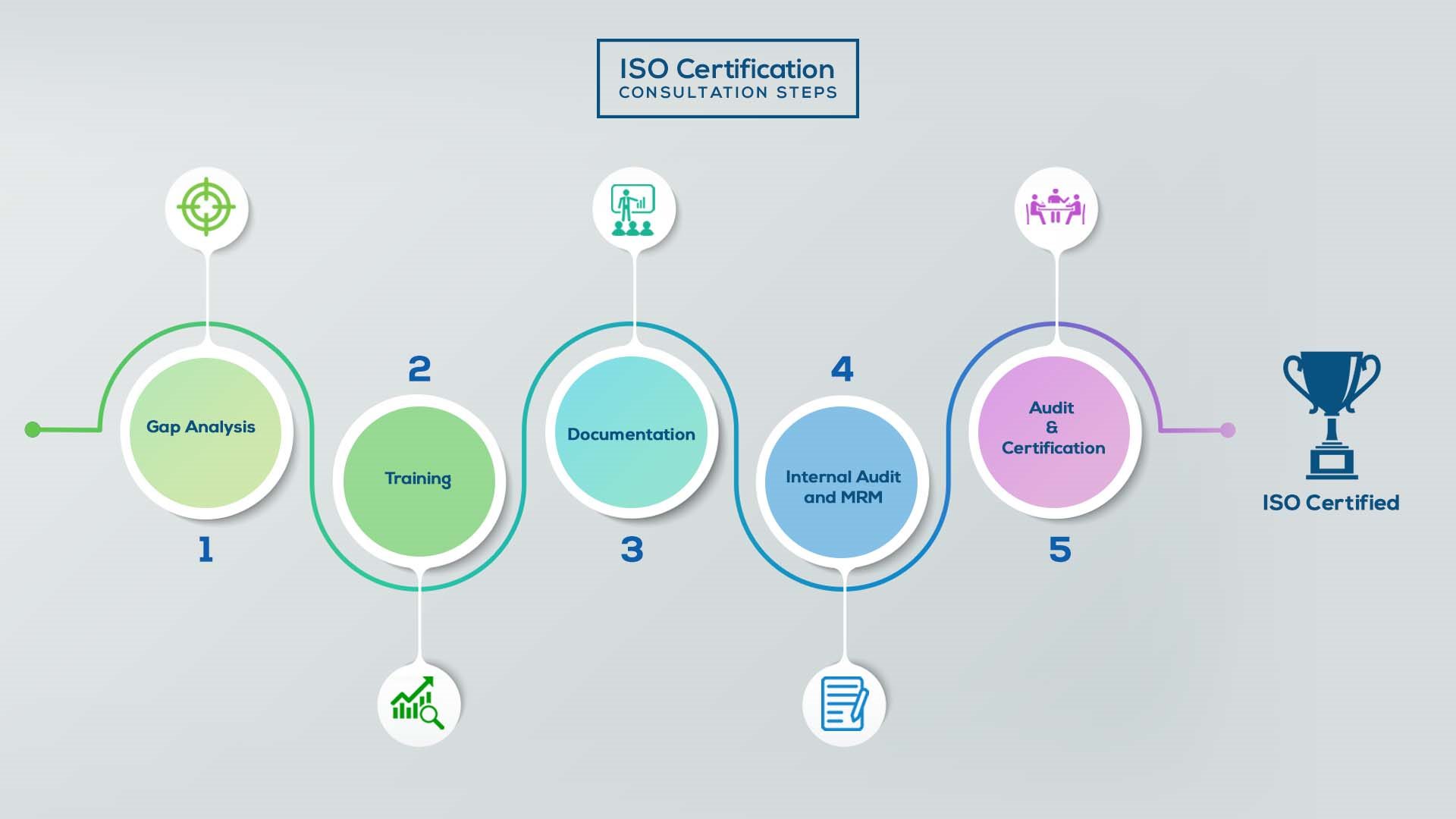 ISO Certification In South Africa
Our method/steps are easy, unique, time-bound, and result-oriented.
Interacting and detailed study of current work flows in different departments, operating procedures, documentation and practices.

Identifying any shortcomings of your organization against the requirements of ISO.

Generating a Gap report and planning for implementation
Creating awareness about ISO standard and its importance.

A formal training session/s.

It includes training on internal auditing, documentation training, mock audit and trainings to conduct management review meeting.
Documentation is the manifestation for your entire organizations process, procedure and results.

End-to-End support on preparing documentation as per ISO requirements.
Internal Audit (IA) as a tool, it is a cross departmental audit to ensure zero loophole in the system of your organization.

MRM: Management review meeting (MRM) helps top management to guide and ensure the whole organization is up to the mark as per the standard requirements.
Certivatic – Your certification is our responsibility!

With our 100% track record of success, we make sure Certification is achieved successfully.
More about ISO 9001 Certification in South Africa
One of the concepts which are beautifully defined in ISO 9001 certification in South Africa understands the needs and expectations of interested parties. With interested parties it refers to each and every individual or organisation which directly or indirectly related to your organisation, which means for any organisation to say that it has achieved the necessary outcome it should always focus and understand each and every requirements and expectations of resources which are connected to it. Only when organisation knows what their clients and their vendors are expecting and what are their needs the company would be in a position to deliver the same to those and prepare it to make sure that have we the intended outcome.
Quality management system always focuses on two very important parameters which are also called as the pillars of this particular standard which are customer satisfaction and continual improvement, customer satisfaction is the key to any company's success and we all know how important that is; incoherence with this particular requirement there is one more requirement which needs to be satisfied which is nothing but continual improvement, to know more about continual improvement you can connect with one of our experts by giving your contact information in the form which is present in our website.
Certivatic is one of the well-recognised organisations for the consulting of ISO 9001 certification in South Africa, having certified many clients for ISO. We have a talented and experienced team who can handle the projects of different domains and nature of business, we are a one stop solution where you can find our experts who would guide you from the initial stage until you are certified and also beyond.
Get in touch with us by visiting our website or you can directly email us on contact@certivatic.com, Once you visit our website we can just drop an inquiry by filling up a small form or you can chat with our representative who are available online to guide you and help you connect with our experts.
ISO 9001 Certification in South Africa is a serious deal on the grounds that, 9001 principles basically center around quality administration framework in the association. Consumer loyalty and cycle are the principle mainstays of value the board framework. Arranging is a significant stage for the execution of any ISO standard that is concerned. Our expert will ensure as well as can be expected be occurring in the association among every thing with the most ideal way that is available.
Certivatic believe in optimal documentation. Our method in what's the internal audit process which is a very dynamic and professional tool of ISO 9001 Certification in South Africa.