ISO 22000 Certification In South Africa
ISO 22000 Certification In South Africa, Certivatic is specialized in providing ISO 22000 Certification and Consultation in South Africa. We provide the best ISO Consultant services in Cape Town, Durban, Johannesburg, Port Elizabeth, and other major cities in South Africa with the service of consultation, implementation, documentation, training, auditing, and registration. We do provide CE mark Certification, HALAL Certification around the world at an affordable cost.
Brief about ISO 22000 certification in South Africa
ISO 22000 certification in South Africa is recognised by all the food Departments and it is one of the most widely recognised and recommended certification for a company which is directly or indirectly dealing with food processing.
ISO 22000 plays a vital role to ensure that the food supply meets the quality standards. The end consumers will be the most concerned with this topic equally. The ISO 22000 Standard is based on the ISO 9001 Standard principles which follow the fundamentals of the HACCP which stands for Hazard Analysis and Critical Control Point.
ISO 22000 Certification ensures food safety management in South Africa. ISO 22000 Certification in South Africa applies to all the food industries and the organizations involved in supplying food to the end-users.
How to get ISO 22000 certification in South Africa? – Our effective implementation steps: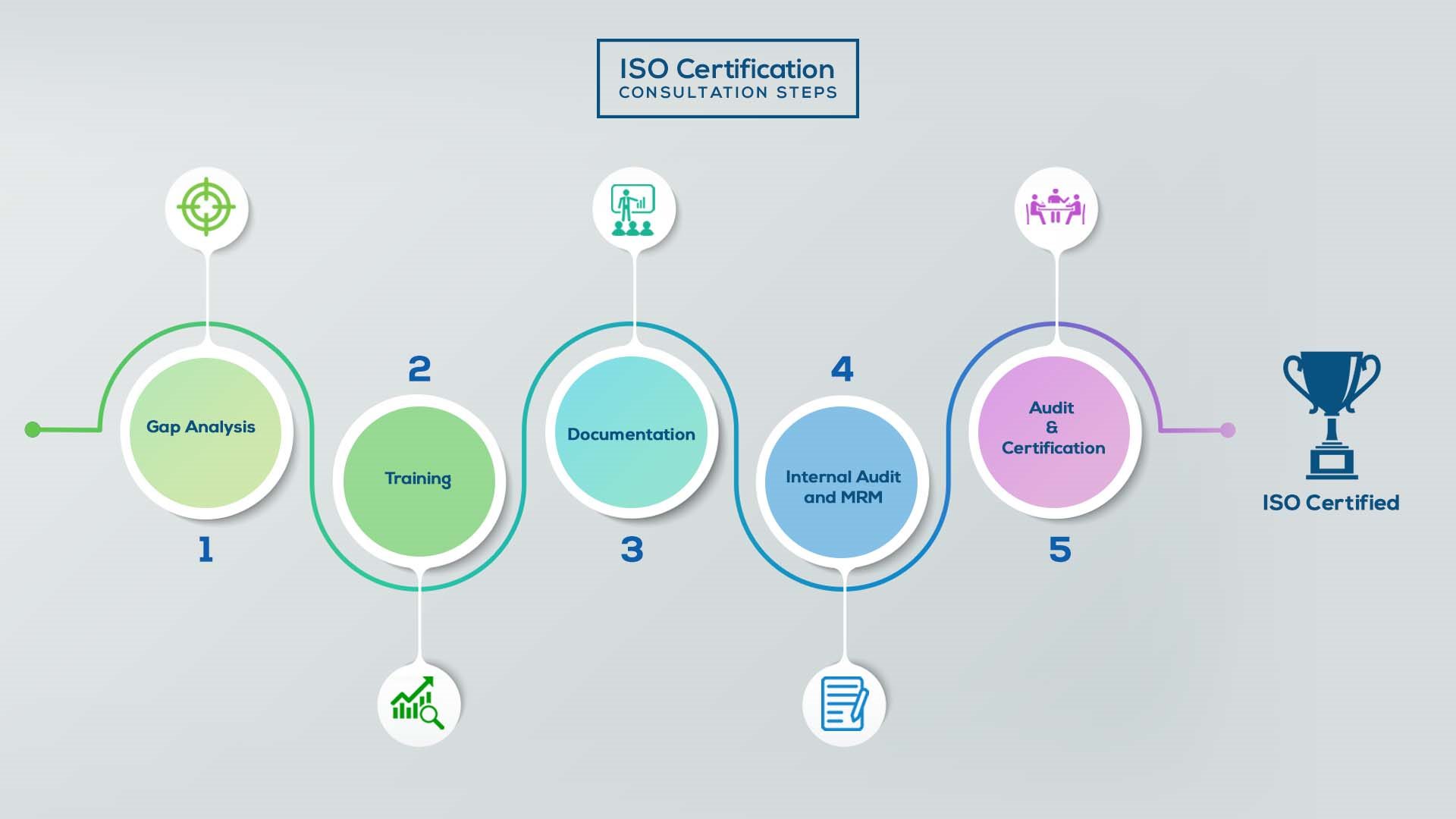 ISO Certification In South Africa
Our method/steps are easy, unique, time-bound, and result-oriented.
Interacting and detailed study of current work flows in different departments, operating procedures, documentation and practices.

Identifying any shortcomings of your organization against the requirements of ISO.

Generating a Gap report and planning for implementation
Creating awareness about ISO standard and its importance.

A formal training session/s.

It includes training on internal auditing, documentation training, mock audit and trainings to conduct management review meeting.
Documentation is the manifestation for your entire organizations process, procedure and results.

End-to-End support on preparing documentation as per ISO requirements.
Internal Audit (IA) as a tool, it is a cross departmental audit to ensure zero loophole in the system of your organization.

MRM: Management review meeting (MRM) helps top management to guide and ensure the whole organization is up to the mark as per the standard requirements.
Certivatic – Your certification is our responsibility!

With our 100% track record of success, we make sure Certification is achieved successfully.
More about ISO 22000 certification in South Africa
We all know how important it is to have a hygienic and safe food and people now are very much obsessed with the quality of food that they're about to consume with respect to this every organisation is running towards showcasing that their company provides the highest quality of food and is free from any kind of health hazards. ISO 22000 certification in South Africa is one such certification Which every company in food industry looks forward to achieve.
This ISO 22000 Certification In South Africa has a systematic approach towards the management practises happening in the food industry. hazard analysis and critical control point is one of the methodology is used to make sure that the food in the process of the cycle is checked at every particular stage to make sure that there are no shortcomings or issues which might lead to any kind of health hazard for the end consumer.
To achieve ISO 22000 certification in South Africa, A company has to undergo the implementation process of each and every requirement stated in this particular standard which is developed and published by an organisation Which is recognised all across the globe that is international organisation for standardisation. The implementation process is very tiresome and time consuming if a company decides to go by itself and they would face long delays to clear the certification audit hence it is normally advisable for any organisation who is looking for food safety management system certification to go with consulting organisations who can guide you and help you to implement this particular standard with simplistic and effective process to achieve the  ISO 22000 certification in South Africa.
Benefits of ISO 22000 certification in South Africa 
Increase in the brand recognition as you can showcase that you have been certified for food safety management system which will definitely improve your overall brand image and also the trust I'm on your consumers.
There would be a better understanding and relationship with your vendors or suppliers as they would trust that their products are going to an organisation which takes care of the safety and hygiene off the food.
Increased customer satisfaction is directly Proportional to profit maximisation.
Eligibility for participating in any kind of tenders may it be national or international because the standard is internationally recognised.
You can take your business overseas and seek customers all across the globe.
Safe and Hygienic environment in your organisation Which helps an organisation for employee satisfaction
Reduction in the cost incurred during the manufacturing process as there would be less number of incidents because of the control points implemented
Certivatic is the world's most leading and technically advanced consulting company who can help you to achieve this particular ISO 22000 certification in South Africa with quick simple and cost effective way. You can visit our website www.certivatic.com and know more about How to implement and you Can drop an inquiry on our website so that our experts can get in touch with you at the earliest and provide you the solution which you are looking forward to.
ISO 22000 Certification in South Africa, By doing this certification customers understand your hotel values food safety and that you have taken steps to ensure food safety by getting certified from an international organization for standardization (ISO).