ISO Certification in Lebanon
ISO Certification In Lebanon, Certivatic is specialized in providing ISO Certification and Consultation in Lebanon. We provide the best ISO Consultant service in  Beirut, Tripoli, Sidon, Byblos, Baalbek, and other major cities with the service of consultation, implementation, documentation, training, auditing, and registration. We do provide CE mark Certification, HALAL Certification around the world at an affordable cost.
How to implement ISO Certification in Lebanon & its significance
ISO is an abbreviation of international organization for standardization where the headquarters is situated in Geneva Switzerland. It was developed in the year 1947 to facilitate and support the international and national trade and commerce by introducing standards that everyone would recognize and respect.
The international organization for standardization achieves its purpose by the participation and supports of its members and there are about 163 national standard bodies who are considered to be the member of ISO. The international standards are been developed by the technical committees and they are elected from many national standard organization and these international standards does tend to have a support worldwide.
The international organization for standardization involves only in publishing the standards and it has published more than 21000 plus of standards by considering all the technical and business sectors which includes manufacturing, agriculture, engineering, construction, computing, transportation, healthcare communications, energy and distributions. There are about 250 technical committees and 510 subcommittees who are working for the international organization for standardization to prepare and verify requirements.
How to get ISO certification in Lebanon? – Our effective implementation steps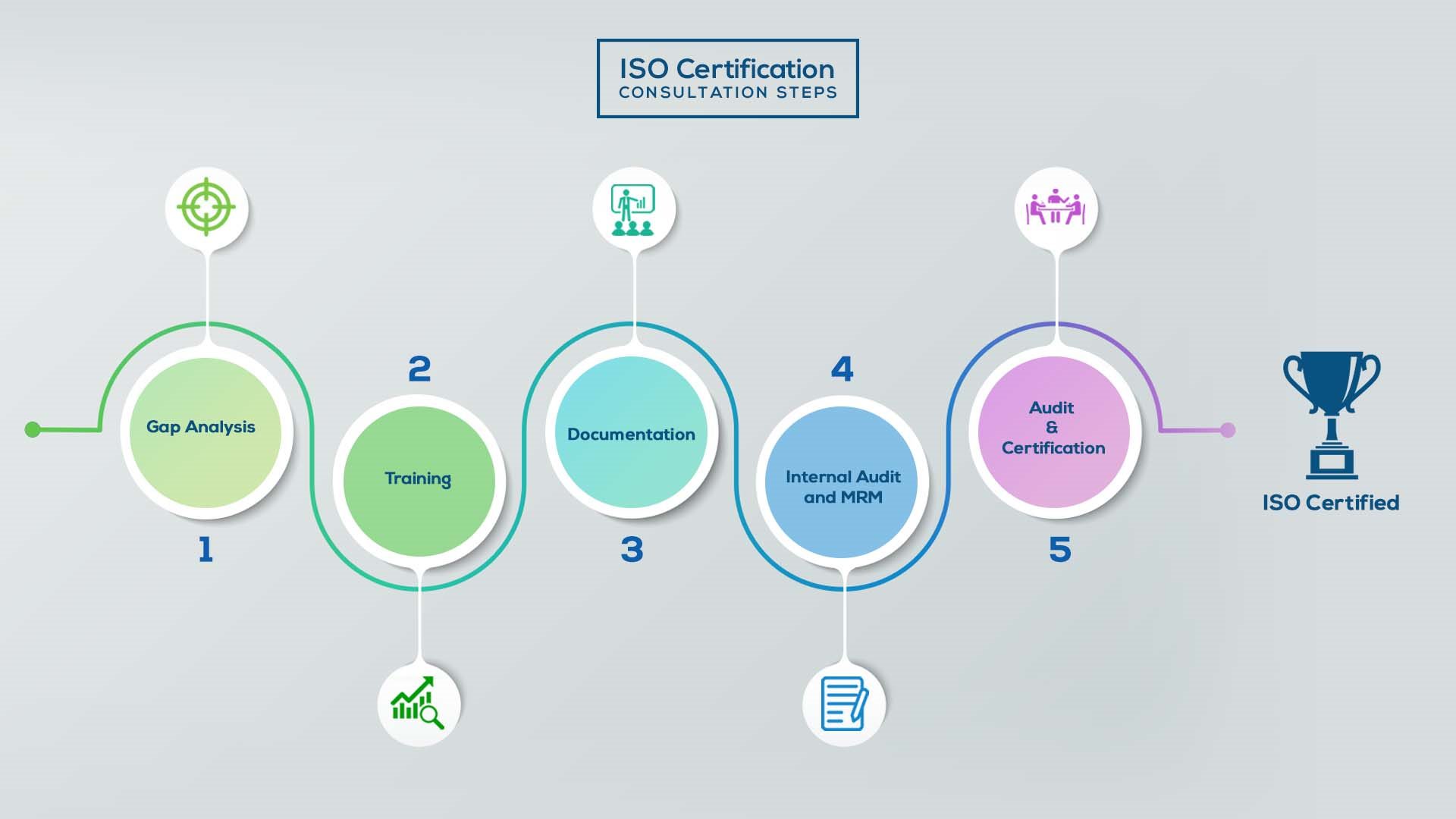 ISO Certification In Lebanon
Our method/steps are easy, unique, time-bound, and result-oriented.
Interacting and detailed study of current work flows in different departments, operating procedures, documentation and practices.

Identifying any shortcomings of your organization against the requirements of ISO.

Generating a Gap report and planning for implementation
Creating awareness about ISO standard and its importance.

A formal training session/s.

It includes training on internal auditing, documentation training, mock audit and trainings to conduct management review meeting.
Documentation is the manifestation for your entire organizations process, procedure and results.

End-to-End support on preparing documentation as per ISO requirements.
Internal Audit (IA) as a tool, it is a cross departmental audit to ensure zero loophole in the system of your organization.

MRM: Management review meeting (MRM) helps top management to guide and ensure the whole organization is up to the mark as per the standard requirements.
Certivatic – Your certification is our responsibility!

With our 100% track record of success, we make sure Certification is achieved successfully.
What is ISO certification in Lebanon?
ISO certification in Lebanon acts as a marketing tool for improving your business by providing requirements, guidelines, specifications or other characteristics that could enhance your organization consistently. And to make sure that your products, processes, materials and other services are compatible for their purpose.
To comply with the actions of organizational objectives, the international organization has published many standards now let us see a few of them
ISO 9001 specifies the requirement of the quality management system and it is considered to be one of the most popular standards among the international standards
ISO 14001 specifies the requirement of an environmental management system which mainly concentrates on improving your environmental performances
ISO 45001 mainly speaks about the occupational health and safety of the employees by implementing their requirements published by the technical committee of ISO
ISO 27001 involves providing the information security management system requirements by reducing the threats related to data or information
ISO 22000 provides the requirements for a food safety system for the industries involved in the food supply chain
There are other international standards like CE mark, HALAL and GMP that would help the organization by making the things simpler, safer and better. In other terms we can say it helps us to be more prosperous and productive.
Important list of ISO standards:
There are about 21000+ standards published by ISO, and also industry specific standards like ISO 13485, ISO 22301, ISO 17025, ISO 50001 and many more.
ISO Certification In Lebanon certifies that a management system, manufacturing process, service, or documentation procedure has all the requirements for standardization and quality assurance.
Certivatic is comprised of a large, global and multidisciplinary team of experienced and skilled professionals who are renowned for delivering technical excellence across a variety of different industrial sectors  of ISO certification in Lebanon.
Frequently Asked Questions