ISO 45001 Certification In South Africa
ISO 45001 Certification In South Africa, Certivatic is specialized in providing ISO 45001 Certification and Consultation in South Africa. We provide the best ISO Consultant services in Cape Town, Durban, Johannesburg, Port Elizabeth, and other major cities in South Africa with the service of consultation, implementation, documentation, training, auditing, and registration. We do provide CE mark Certification, HALAL Certification around the world at an affordable cost.
ISO 45001 Certification in South Africa – A Brief
ISO 45001 Certification in South Africa stands for occupational health and safety management system and this standard has helped organisations too decrease their incidents or accidents and stay focused on the health and safety of every employee.
The ISO 45001 Certification in South Africa or the Occupational Health and Safety plays a vital part in ensuring the security of workers. It instructs to enhance the efficiency proactively to prevent any injuries or illness. It applies despite the size and also nature of the Organization. The ISO Audit Provider in South Africa is beneficial in ensuring the work environment and the employees are safe.
How to get ISO 45001 certification in South Africa? – Our effective implementation steps: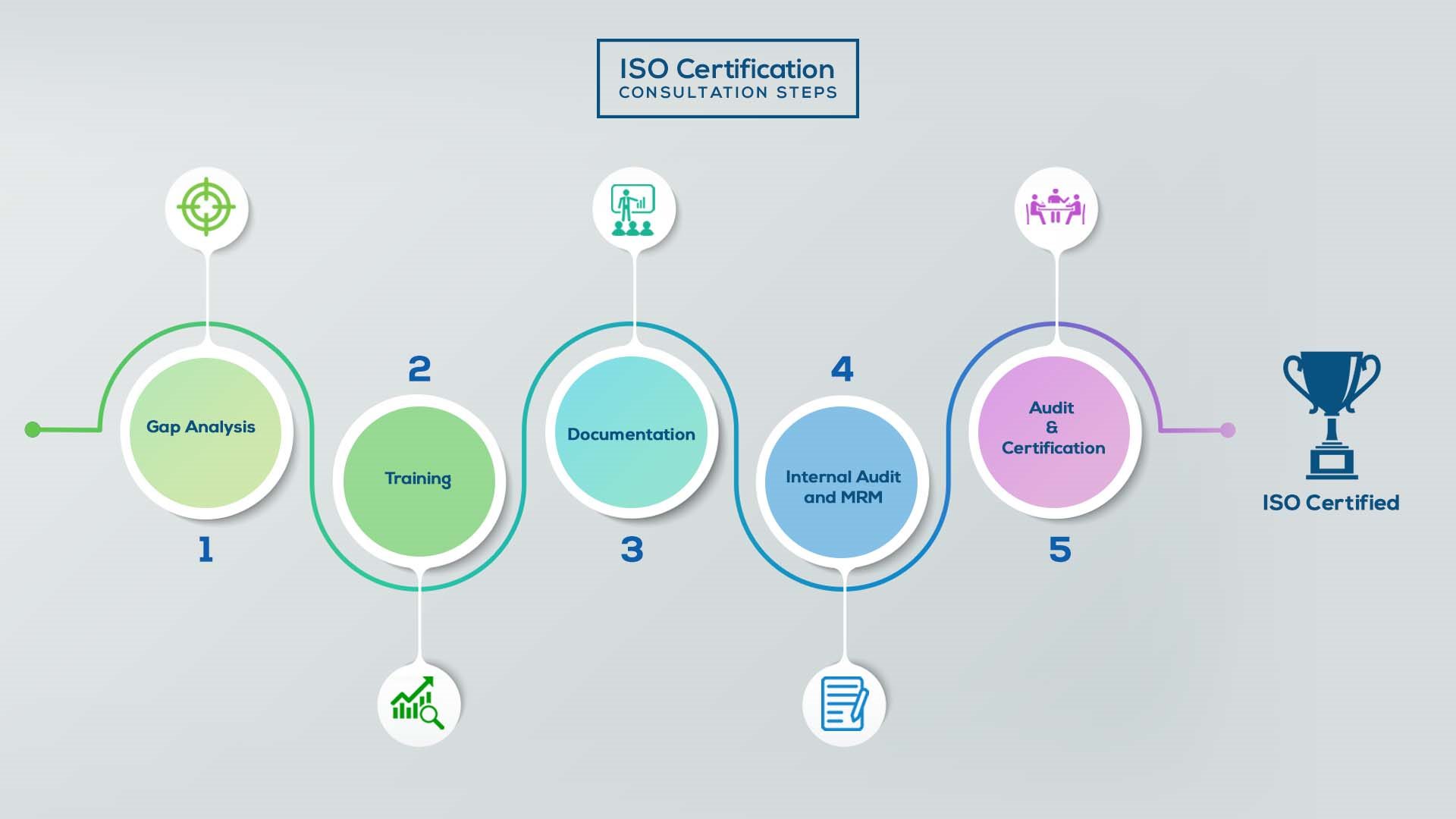 ISO Certification In South Africa
Our method/steps are easy, unique, time-bound, and result-oriented.
Interacting and detailed study of current work flows in different departments, operating procedures, documentation and practices.

Identifying any shortcomings of your organization against the requirements of ISO.

Generating a Gap report and planning for implementation
Creating awareness about ISO standard and its importance.

A formal training session/s.

It includes training on internal auditing, documentation training, mock audit and trainings to conduct management review meeting.
Documentation is the manifestation for your entire organizations process, procedure and results.

End-to-End support on preparing documentation as per ISO requirements.
Internal Audit (IA) as a tool, it is a cross departmental audit to ensure zero loophole in the system of your organization.

MRM: Management review meeting (MRM) helps top management to guide and ensure the whole organization is up to the mark as per the standard requirements.
Certivatic – Your certification is our responsibility!

With our 100% track record of success, we make sure Certification is achieved successfully.
The name of an ISO certification standard is always split into three parts the first part is a suffix which is nothing but ISO itself which elaborates 2 international organisation for standardisation through which this standard has been published and the 2nd part is the family from which this standard belongs to so 45000 family belongs to health and safety management system and the last part is the year in which the particular standard is revised which means ISO 45001 was revised in the year 2018. Similarly, it is for other standards.
How can ISO 45001 certification in South Africa  be achieved?
The process of getting certified can also be divided into 3 steps the first step would be implementing the particular standard which is published in the year 2018 for which you would require a consulting organisation like Certivatic who can help you to implement the complete standard.
The second step would be selecting a right certification body and getting your firm audited from an experienced auditor who would audit your organisation and prepare an audit report.The third part would be getting the certificates then depending on the audit report.
Lastly, you would require one such organisation who can take care of all these requirements and fulfil the need, just as mentionable Certivatic Takes care of all the necessary requirements and acts as a one stop solution Who would implement the standard select the certification body for you and get your company audited and get your company the required certificate all in a very short simple and sophisticated manner.
What is risk based approach as per ISO 45001 certification in South Africa?
In the newer versions of ISO standards there have been a complete shift towards risk based thinking our risk based approach, earlier it used to be corrective actions which would be taken once you understand there is an issue or an accident or an incident which is occurring in your organisation but now the current scenario is focusing on Preventive measures to make sure that you are not going to wait until there is some incident to react and you be prepared for the worst which would help your organisation to save a lot of time and money.
If you want to get in touch with us and get your eyes on ISO 45001 certification in South Africa, then you just have to visit our website www.certivatic.com and drop an enquiry and help us get in-touch with you at the earliest.
ISO 45001 certification in South Africa is an incredible administration device and this standard spotlights on the word related wellbeing and security the board framework in the association. This specific necessity has been totally satisfied the ISO affirmation ISO 45001 norm in the association over the globe.
ISO 45001 Certification in South Africa will implementation in each system will help the organisation to prevent and eliminate many credits that are faced by the employees.
How Certivatic can help to achieve ISO 45001 certification in South Africa?
Certivatic is a specialized in providing ISO consultation and certifications. We support organizations in obtaining international standard certifications like ISO 9001, ISO 14001, ISO 45001, ISO 27001, ISO 22000, ISO 22301, ISO 13485, CE MARK, EU GDPR, GMP, BIFMA in the most appropriate, adequate, economical, efficient, time-bound and simple way.