ISO 14001 Certification In South Africa
ISO 14001 Certification In South Africa, Certivatic is specialized in providing ISO 14001 Certification and Consultation in South Africa. We provide the best ISO Consultant services in Cape Town, Durban, Johannesburg, Port Elizabeth, and other major cities in South Africa with the service of consultation, implementation, documentation, training, auditing, and registration. We do provide CE mark Certification, HALAL Certification around the world at an affordable cost.
What is ISO 14001 certification in South Africa and its importance
Let us understand what is ISO before we get into this particular standard, ISO stands for international organisation for standardisation Which is a non-governmental organisation situated in Geneva which publishes international standards.
ISO 14001 certification in South Africa is a well-recognised standard related to environmental safety and improvement the name of the standard is environmental management system and while implementing this particular standard an organisation can easily reduce the amount of wastage which it has been doing before implementing the same. We understand that it is not very difficult nor very easy to get certified for ISO 14001 as it involves implementation of this particular standard according to the 10 clauses which are mentioned in the standard and hence would require work off an expert who can guide an organisation to follow all the principles and methodologies which are given in the standard and then help the organisations to face the certification audit and get the certificates done.
How to get ISO 14001 certification in South Africa? – Our effective implementation steps: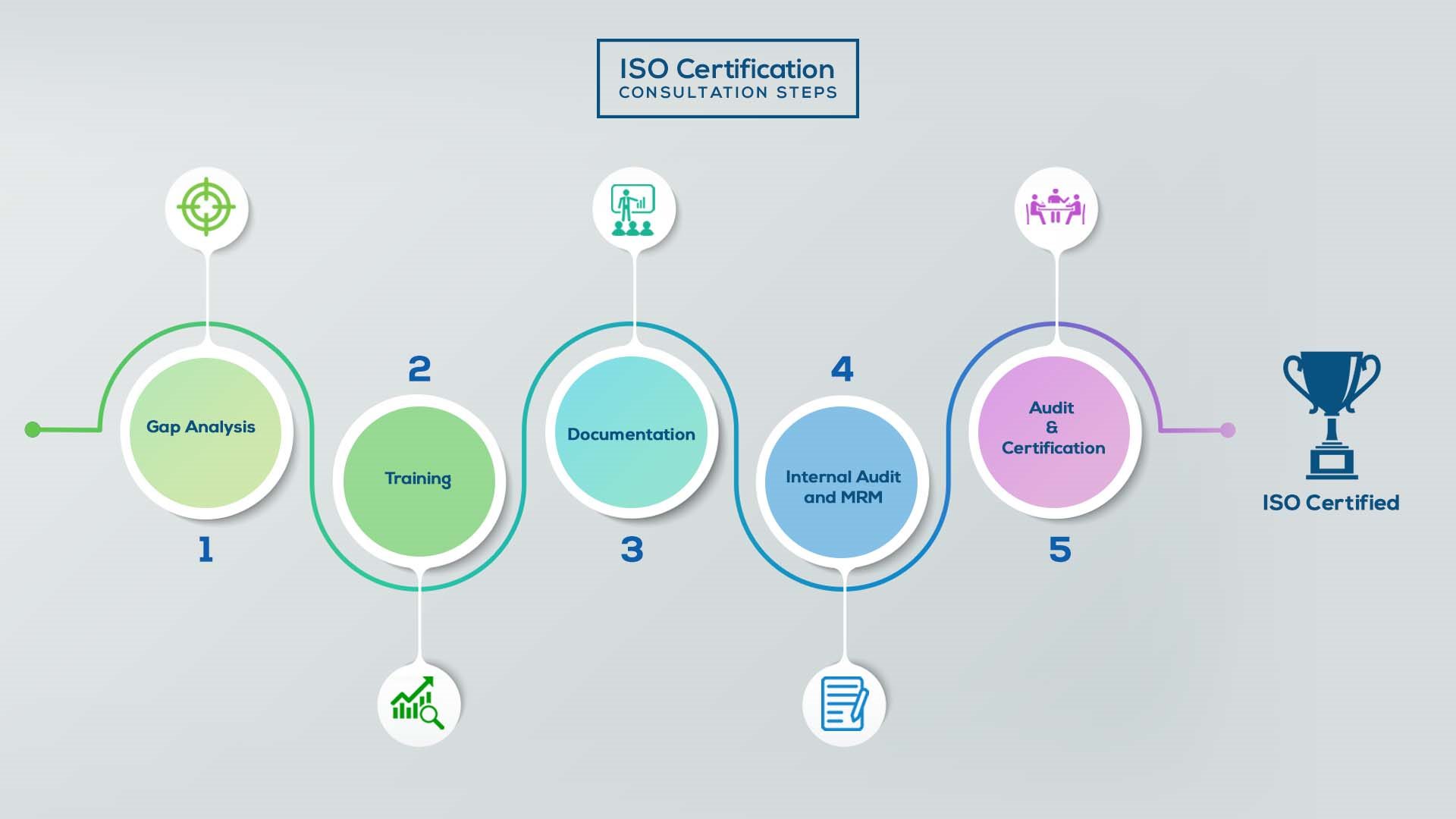 ISO Certification In South Africa
Our method/steps are easy, unique, time-bound, and result-oriented.
Interacting and detailed study of current work flows in different departments, operating procedures, documentation and practices.

Identifying any shortcomings of your organization against the requirements of ISO.

Generating a Gap report and planning for implementation
Creating awareness about ISO standard and its importance.

A formal training session/s.

It includes training on internal auditing, documentation training, mock audit and trainings to conduct management review meeting.
Documentation is the manifestation for your entire organizations process, procedure and results.

End-to-End support on preparing documentation as per ISO requirements.
Internal Audit (IA) as a tool, it is a cross departmental audit to ensure zero loophole in the system of your organization.

MRM: Management review meeting (MRM) helps top management to guide and ensure the whole organization is up to the mark as per the standard requirements.
Certivatic – Your certification is our responsibility!

With our 100% track record of success, we make sure Certification is achieved successfully.
ISO certification body is an organisation Who conducts the audit programme once you have implemented the standard and then depending upon the report of that particular audit they will Certify your company and the certificate is from this certification body and not from ISO, because The job of ISO is to only publish the standard and not to provide the certification.
What is continual improvement as per ISO 14001 certification in South Africa?
ISO 14001 Certification in South Africa continual improvement is a step by step improvement process which helps an organisation to stabilise at a certain level and then improve itself so that 8 clearly understands the slightest of improvements which it has been doing from the previous improvement so since the company stays in that particular stage for some time frame It gets better at doing things and stabilisers from where the next improvement can be initiated instead of growing rapidly and then falling once for all.
It is one of the leading and recognised international companies which help in consultation an implementation of all kinds of international standards specifically ISO standards. We have one of the finest industry experts who can simplify the process of the implementation and help companies to achieve the certificates with minimal paperwork. We take 100% responsibility of certifying you once we receive your request. We have 100% track record of satisfying all our clients and we are proud to say that there has been not a single organization that is not certified after getting the implementation done from Certivatic. We recommend you to get in touch with our experts and take their advice by visiting our website www.certivatic.com where you can find a number of ways through which you can send us an inquiry.