ISO Certification In Malaysia
ISO Certification In Malaysia, Certivatic is specialized in providing ISO Certification and Consultation in Malaysia. We provide the best ISO Consultant services in Kuala Lumpur, George Town, Malacca, Johor Bahru, and other major cities in Malaysia with the service of consultation, implementation, documentation, training, auditing, and registration. We do provide CE mark Certification, HALAL Certification around the world at an affordable cost.
What is ISO certification in Malaysia?
International organisation for standardization or in short ISO, is a global organisation which is a non-governmental and a non-profitable organisation. 
The main objective of establishment of this organisation is to provide a standardization across the world with respect to manufacturing of product or the services that comes out of an organisation. 
The main goal is to facilitate global trade, International organisation structure, sophisticated management system, process improvements for the organisation that exist across the countries.
Salient Features of ISO certification in Malaysia
International organisation for standardization it is a well-known standard sitting body and established more than 20000 different types of international standards across the world. 
The concept or the aspects that considered for developing an International standard by the International organisation standardization, which is to improve existing methods of business.
There are more than 164 member bodies are associated with international organisation for standardization. Here the trick is there can only be one-member body, can have association from each country with international organisation for standardization.
The official languages that are used with international organisation for standardization for English, French and Russian. The headquarters of this organisation is situated in Geneva Switzerland.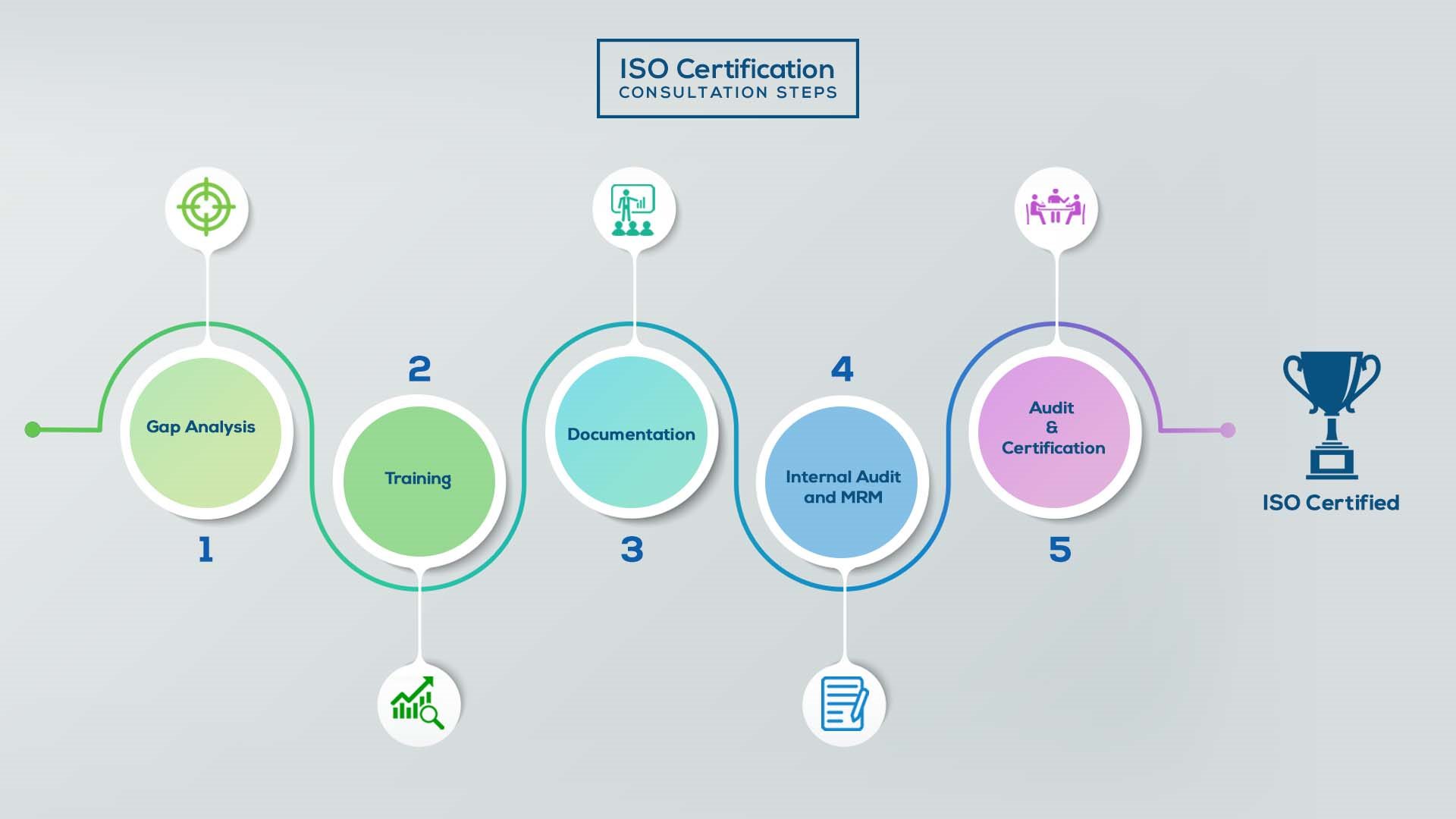 ISO Certification In Malaysia
Our method/steps are easy, unique, time-bound, and result-oriented.
Interacting and detailed study of current work flows in different departments, operating procedures, documentation and practices.

Identifying any shortcomings of your organization against the requirements of ISO.

Generating a Gap report and planning for implementation
Creating awareness about ISO standard and its importance.

A formal training session/s.

It includes training on internal auditing, documentation training, mock audit and trainings to conduct management review meeting.
Documentation is the manifestation for your entire organizations process, procedure and results.

End-to-End support on preparing documentation as per ISO requirements.
Internal Audit (IA) as a tool, it is a cross departmental audit to ensure zero loophole in the system of your organization.

MRM: Management review meeting (MRM) helps top management to guide and ensure the whole organization is up to the mark as per the standard requirements.
Certivatic – Your certification is our responsibility!

With our 100% track record of success, we make sure Certification is achieved successfully.
History of ISO & ISO certification in Malaysia
In the year 1947 on February 23rd, the international organization for standardization was established promoting worldwide standards based on commercial and industrial development. The international organization for standardization was previously called an International Federation of National standardising association or ISA. 
This particular organization was operative in the years, 1928 till 1942. After World war II, leaders from both the International Federation of the National standardizing Association (ISA) and the United Nations standards coordinating committee (UNSCC) together decided to establish a common organization called the international organization for standardization across the world in the year 1947. 
This formation from both ISA and UNSCC assist in various platforms, the international organization for standardization helps the organization across the world to standardize the administration and the management system up to the grade of an Internationally recognized organization.
What are International Standards – ISO Certification?
Based upon the knowledge of expertise in the particular commercial aspects from the technical committee and draft prepared by them, publication of international standards is considered. ISO 9001 standard which is related to the quality management system is one of the well-known International standards across the world. Followed by this International standard, ISO 14001 standard focus on environmental management system and is said to be the second most implemented International standard across the world. Similarly, like this ISO 22000 standard providing essential requirements on food safety management system, ISO 27001 standard specifies the requirements of information security management system, ISO 45001 standard fulfilling the requirements of occupational health and safety management system in any organization.
ISO 17025 standard with respect to fulfilling the general requirements for competence of testing and calibration laboratories, ISO 13485 standard which represents quality management system with respect to medical devices fulfilling their regulatory purposes as per the international organization for standardization. ISO 22301, ISO 50001 are some other examples.
The above mentioned are the few well-known International standards implemented with the help of consulting bodies such as Certivatic. Along with these international standards, the CE mark which is a product certification, halal certification is quite well-known certifications across the world Above mentioned standards are the international standards that are published by the international organization for standardization and it is widely used across the world in many organizations.
Certivatic is having a different consultation methodology that will help the organization to have better deliverance and sustainable solutions. Certivatic is a best of consultation which will include many industries on ISO Certification in Malaysia for the best practices.
Frequently Asked Questions