ISO Certification In India
ISO Certification in India
ISO Certification In India, Certivatic is specialized in providing ISO Certification and Consultation in India. We provide the best ISO Consultant service in Delhi, Mumbai, Bangalore, Hyderabad, Ahmedabad, Chennai, and other major cities with the service of consultation, implementation, documentation, training, auditing, and registration. We do provide CE mark Certification, HALAL Certification around the world at an affordable cost.
ISO – International Organization for Standardization
ISO is a non-governmental independent International organization founded in Geneva, Switzerland on the 23rd of Feb 1947. ISO is first and foremost a global network of International standards bodies it develops and publishes ISO Management System Standards and other various ISO standards. You may have noticed that the ISO acronym ISO doesn't match the name International Organization for Standardization. 
ISO word is in fact derived from the Greek word ISOS means equal. So whatever the country, whatever the language we are always equal. The motto of ISO certification in India is always great things happen when the world agrees.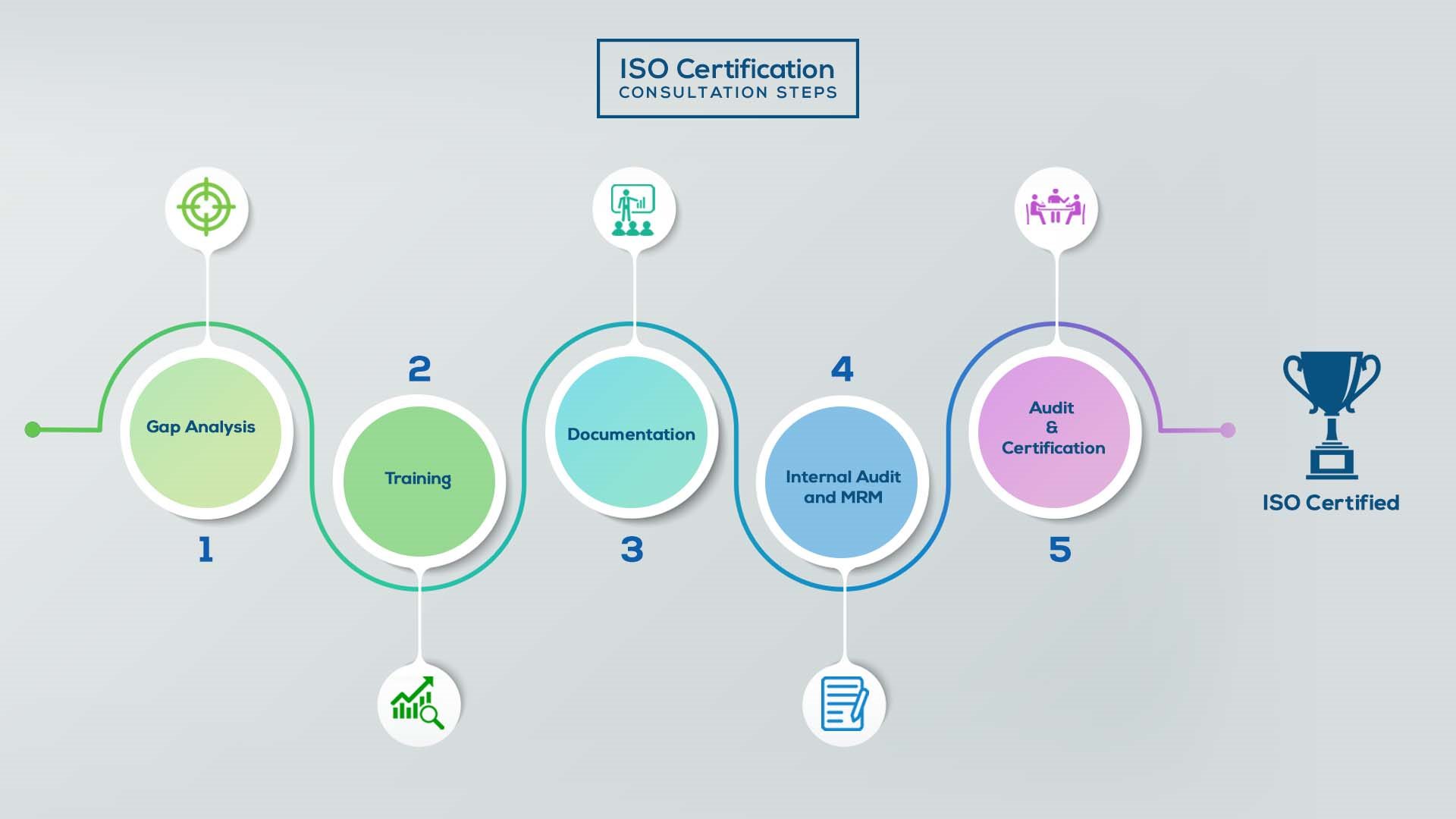 ISO Certification In India
Our method/steps are easy, unique, time-bound, and result-oriented.
Interacting and detailed study of current work flows in different departments, operating procedures, documentation and practices.

Identifying any shortcomings of your organization against the requirements of ISO.

Generating a Gap report and planning for implementation
Creating awareness about ISO standard and its importance.

A formal training session/s.

It includes training on internal auditing, documentation training, mock audit and trainings to conduct management review meeting.
Documentation is the manifestation for your entire organizations process, procedure and results.

End-to-End support on preparing documentation as per ISO requirements.
Internal Audit (IA) as a tool, it is a cross departmental audit to ensure zero loophole in the system of your organization.

MRM: Management review meeting (MRM) helps top management to guide and ensure the whole organization is up to the mark as per the standard requirements.
Certivatic – Your certification is our responsibility!

With our 100% track record of success, we make sure Certification is achieved successfully.
Benefits of ISO certification in India:  
Helps you meet Customer requirements
Helps you identify risks and opportunities
Helps you in improving your controls over the business
Employee, shareholders, and customer satisfaction
Better credibility and dynamic image in the market
Develop your organization and your product quality
Increase incompetence, productivity, and profits
Engagement of employees and boost their performance
Reduces costs and waste
Simplifies International Trade or business
Reduces risks and time
Increased productivity, efficiency, and competence
Fewer Disruptions
Suitable for a small and big organization
Gain Customer satisfaction
ISO certification in India is all about the main deliverables of the international standards. But, ISO's core business is to bring around one single table international experts that tackle global challenges and find solutions together through agreement. So the agreement is an absolute keyword that you have to remember why because essentially nothing moves forward ISO without consensus and ISO being an international standard body which states here about international consensus. So it's a big challenge but at the same time when ISO certification in India has technical committees and experts are able to achieve this international consensus. It also means that the international standards that ISO publishes are globally relevant. There are a lot of examples out there of how standards are used everywhere.
ISO members that were able to get all these inputs that feed into this international consensus that as mentioned here above and so this input is coordinated by ISO members and it is also referred to as the National stakeholder engagement process managed by ISO members this principle is that the inputs to ISO certification in India are driven by this stakeholder engagement process which nationally is managed by ISO member. So it's 1 ISO member per country and every membership of ISO certification in India comes with rights, benefits, obligations, and good practices.  ISO has 162 members and ISO has published today more than 22000 standards at a current rate of 100 standards published each month these standards are produced and developed by 245 technical committees so these technical committees have more than 100000 experts combined and these experts meet more than seven times a day anywhere on average as per reports of 2017.
ISO 9001, ISO 14001, ISO 45001, ISO 27001, ISO 22000, ISO 22301, ISO 50001 ISO 17025, ISO 13485 are some of the typical examples.
Iso Certification In India, ISO includes a number of standards like
iso 9001 for a quality management system.
iso 14001 for the environmental management system.
iso 45001 for workers' health and safety, and so on.