ISO 17025 Certification In South Africa
ISO 17025 Certification In South Africa, Certivatic is specialized in providing ISO 17025 Certification and Consultation in South Africa. We provide the best ISO Consultant services in Cape Town, Durban, Johannesburg, Port Elizabeth, and other major cities in South Africa with the service of consultation, implementation, documentation, training, auditing, and registration. We do provide CE mark Certification, HALAL Certification around the world at an affordable cost.
ISO 17025 certification in South Africa is one of the highest standards which is widely popular and it's specific to organisations which deal with testing and calibration laboratories. This standard is drafted by an international organisation for standardisation which is a Federation for setting up standards and is an international body which is recognised all across the globe.
ISO 17025 Certification in South Africa sets the standards for Testing and Calibration Laboratories. With the certification, Laboratories can demonstrate that they can work skillfully and provide valid results. ISO audit services in South Africa concentrates on two main requirements is Management requirements and technical requirements. It is crucial for smooth operations like sample testing, calibration and provides valid results.
How to get ISO 17025 certification in South Africa? – Our effective implementation steps: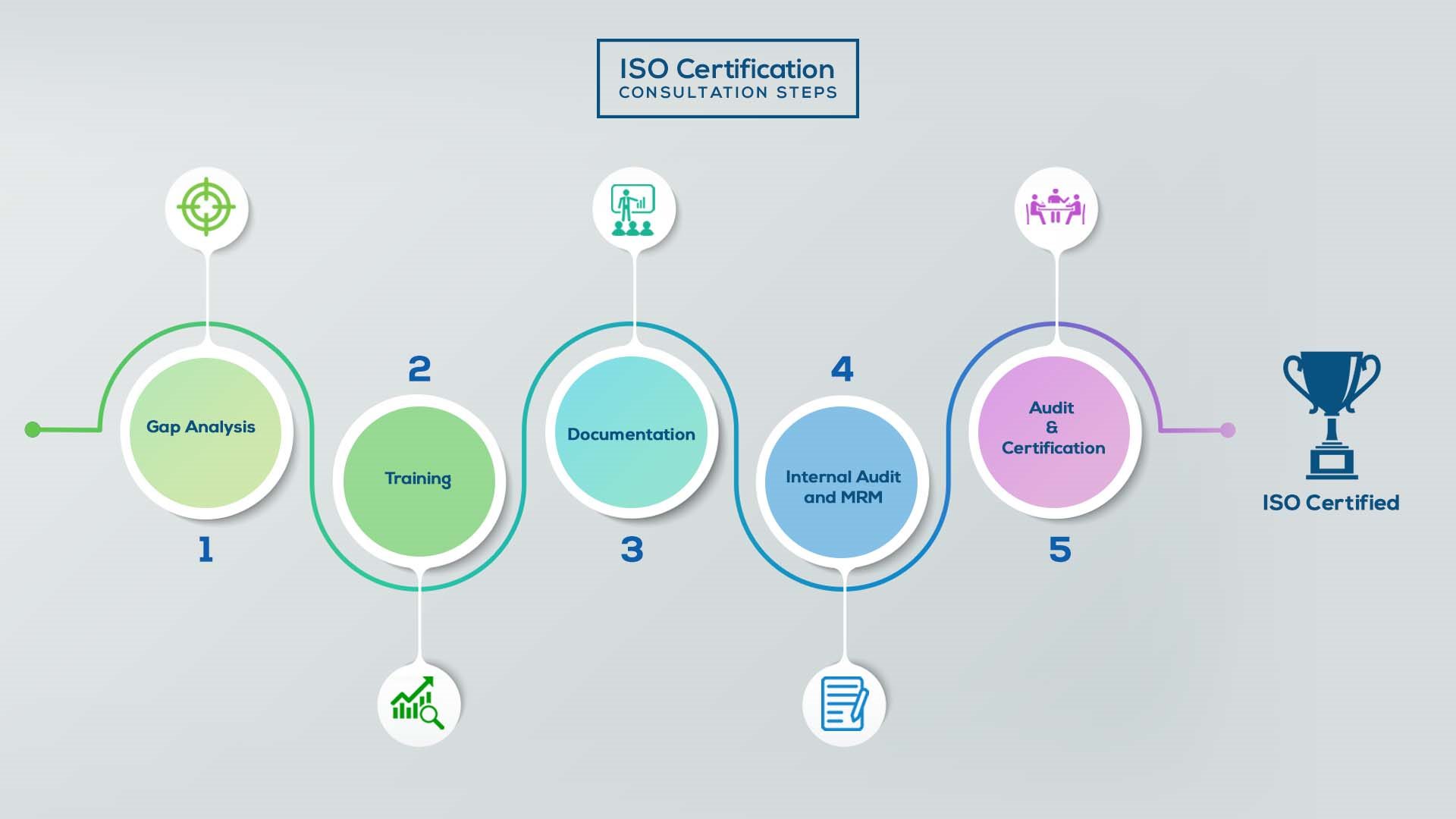 ISO Certification In South Africa
Our method/steps are easy, unique, time-bound, and result-oriented.
Interacting and detailed study of current work flows in different departments, operating procedures, documentation and practices.

Identifying any shortcomings of your organization against the requirements of ISO.

Generating a Gap report and planning for implementation
Creating awareness about ISO standard and its importance.

A formal training session/s.

It includes training on internal auditing, documentation training, mock audit and trainings to conduct management review meeting.
Documentation is the manifestation for your entire organizations process, procedure and results.

End-to-End support on preparing documentation as per ISO requirements.
Internal Audit (IA) as a tool, it is a cross departmental audit to ensure zero loophole in the system of your organization.

MRM: Management review meeting (MRM) helps top management to guide and ensure the whole organization is up to the mark as per the standard requirements.
Certivatic – Your certification is our responsibility!

With our 100% track record of success, we make sure Certification is achieved successfully.
ISO 17025 certification in South Africa which is awarded to the companies which follow all the requirements which are present in the standard and those organisations who cleared the audit proving that they continuously improvise and follow all the necessary procedures required for an organisation to make sure that the testing and calibration which is being carried out in the laboratories have consistent test results and meet the customer requirements.
What are the clauses of ISO 17025 Certification in South Africa?
Unlike other ISO standards ISO 17025 only has eight clauses and those clauses are as follows.
Scope
Normative references
Terms and definitions
General requirements
Structural requirements
Resource requirements
Process requirements
Management system requirements
The first three clauses are specific to the standard and are non-auditable, the focus is on Remaining 5 clauses which can be physically implemented into the management practises of an organisation and can be audited to make sure that they have been in line with the requirements of the standard and depending on the same certificate can be awarded to the organisation who follow the same.
Who can get us ISO 17025 certification in South Africa?
Certivatic is one of the most recognised organisation which can help you to achieve ISO 17025 certification in South Africa, with number of experts and many clients in South Africa we stand as one of the only organisation who is well versed in providing any kind of ISO certification not only in South Africa but all across the globe. All you need to do is to connect with us and give us your requirement by writing to us directly at contact@certivatic.com once we receive the enquiry we make sure that you do not go empty handed which means we guarantee you the certification of ISO 17025 in South Africa and we make sure that the whole process is quick simple and it really cost effective.
ISO 17025 Certification in South Africa satisfies the overall necessity of competency for testing and adjustment Laboratories. A portion of the nations has just made the execution of ISO 17025 standard required in numerous clinical fields and Laboratories compulsory strategy.