ISO 9001 Certification In Philippines
ISO 9001 Certification in Philippines
ISO 9001 Certification In Philippines, Certivatic is specialized in providing ISO 9001 Certification and Consultation in Philippines. We provide the best ISO Consultant services in Cebu City, Manila, Pasig, Makati, and other major cities in Philippines with the service of consultation, implementation, documentation, training, auditing, and registration. We do provide CE mark Certification, HALAL Certification around the world at an affordable cost.
What is ISO 9001 certification?
ISO 9001 certification specifies the requirements of a quality management system. ISO 9001 was first published in 1987 by the International Organization for Standardization (ISO) in order to improve the performances system focusing on customer satisfaction and continual improvement.
ISO 9001 Certification in Philippines & Its Significance
ISO 9001 Certification in Philippines is one of the powerful marketing tools published by international organizations for standardization focusing on customer satisfaction and continual improvement. It is the foundation for all the international standards which provide guidelines acceptable by any industry. It helps your organization to gain a competitive advantage and grow and it is a complete organizational or operational tool that is designed to improve the performances specifying the requirements of a quality management system. The standard is very flexible and agile so it works for your organization and that's how it adds value.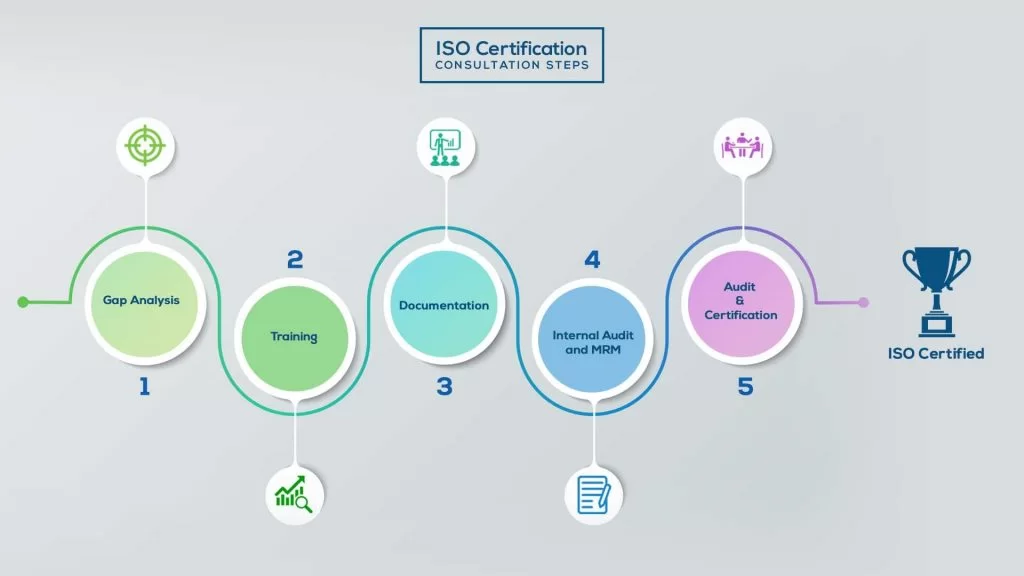 ISO Certification In Philippines
Our method/steps are easy, unique, time-bound, and result-oriented.
Interacting and detailed study of current work flows in different departments, operating procedures, documentation and practices.

Identifying any shortcomings of your organization against the requirements of ISO.

Generating a Gap report and planning for implementation
Creating awareness about ISO standard and its importance.

A formal training session/s.

It includes training on internal auditing, documentation training, mock audit and trainings to conduct management review meeting.
Documentation is the manifestation for your entire organizations process, procedure and results.

End-to-End support on preparing documentation as per ISO requirements.
Internal Audit (IA) as a tool, it is a cross departmental audit to ensure zero loophole in the system of your organization.

MRM: Management review meeting (MRM) helps top management to guide and ensure the whole organization is up to the mark as per the standard requirements.
Certivatic – Your certification is our responsibility!

With our 100% track record of success, we make sure Certification is achieved successfully.
To get certified for ISO Certification there are some checklists that need to follow but don't worry we will help you to get certified, We have the best-accredited service provider in Philippines. ISO certification in Philippines can be achieved easily with certivatic, Get in touch with us at contact@certivatic.com for ISO 9001, ISO 45001, ISO 27001, ISO 14001, ISO 22000 standards. 

Objectives of ISO 9001 Certification in Philippines
ISO 9001 Certification in Philippines belongs to an international standards family established by the international organizations for standardization for promoting the industries by enabling continual improvement and customer satisfaction. 
It acts as a basic tool for improving the efficiency of your organization by meeting the needs and expectations of the customers. 
It provides a framework that helps your organization to focus by ensuring you anticipate your business activities and performances. 

The standard can be integrated with the other management system by keeping its consistency and can be applied to any organization which wants to have quality factors as it is very flexible and agile and this is how it adds value to your organization by building a brand image.

Sales and market play a useful role in bringing up the capital into the organization. An organization must understand the importance of the implementation of the ISO standards. 
By seeing the logo of ISO certified organization on the website, the customer will run toward the organization in order to get the best quality of work or service.  
ISO standards not only improve individual performance but also it will boost the overall performance of the organization. t

he main object of 

ISO 9001 Certification in Philippines

 is to maintain a quality system in the organization.