ISO 45001 Certification In Philippines
ISO 45001 Certification in the Philippines
ISO 45001 Certification In Philippines, Certivatic is specialized in providing ISO 45001 Certification and Consultation in Philippines. We provide the best ISO Consultant services in Cebu City, Manila, Pasig, Makati, and other major cities in Philippines with the service of consultation, implementation, documentation, training, auditing, and registration. We do provide CE mark Certification, HALAL Certification around the world at an affordable cost.
ISO 45001 Certification in Philippines & Its Significance
ISO 45001 Certification in Philippines specifies the requirement for health and safety in the workplace that is been developed by international organization for standardization. The standard would make sure to provide a structured Framework for having safer and healthy workplace. 
Getting certified by ISO 45001 standards demonstrates your organization that it is meeting the compliance with the law of health and safety. In other terms we can say the occupational health and safety management system would proactively improve its safety performances by preventing all kind of ill health and injuries. ISO 45001 Certification in Philippines provides a method to the industries for improving the occupational health and safety performances by taking a necessary steps to prevent all kind of injuries, poor health conditions and other safety in the workplace.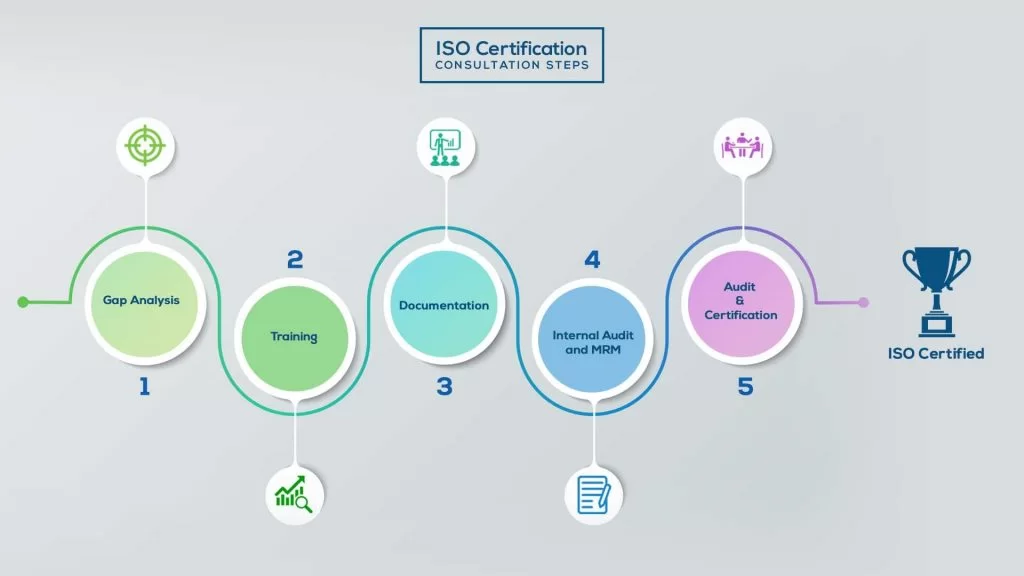 ISO Certification In Philippines
Our method/steps are easy, unique, time-bound, and result-oriented.
Interacting and detailed study of current work flows in different departments, operating procedures, documentation and practices.

Identifying any shortcomings of your organization against the requirements of ISO.

Generating a Gap report and planning for implementation
Creating awareness about ISO standard and its importance.

A formal training session/s.

It includes training on internal auditing, documentation training, mock audit and trainings to conduct management review meeting.
Documentation is the manifestation for your entire organizations process, procedure and results.

End-to-End support on preparing documentation as per ISO requirements.
Internal Audit (IA) as a tool, it is a cross departmental audit to ensure zero loophole in the system of your organization.

MRM: Management review meeting (MRM) helps top management to guide and ensure the whole organization is up to the mark as per the standard requirements.
Certivatic – Your certification is our responsibility!

With our 100% track record of success, we make sure Certification is achieved successfully.
Important factors for implementing ISO 45001 Certification in Philippines
Previously the top executives and the companies are been responsible legally for their workers health and safety. To help this kind of incidents the international organization for standardization came upfront to help the organization facing such kind of difficulties by enabling requirements that are suitable for health and safety of the employees and considering all the aspects related to the industries. Apart from legal and moral responsibilities in world to maintain a competitive edge in the marketplace the organization should be unique. Implementing the requirements of ISO 45001 standards enables your organization to follow a systematic procedure for improving the occupational health and safety performances and the methodologies involve
It creates an awareness of health and safety risk which are associated with business activities
Policies and procedures of occupational health and safety has to be developed including the objectives
The employees must take initiative in providing an active role for identifying the risk and threats and driving towards improvement.
Implementing the controls to manage the risk of occupational health and safety management system including all the requirements
Assessing of occupational health and safety performance and taking a necessary or an effective approach towards the improvement factors.
How ISO 45001 Certification in Philippines can be helpful
Implementing the requirements of ISO 45001 certification in philippines enables the organization to improve it's a performances in a larger scale.
Implementing and developing of occupational health and safety and objectives and policies
Its helps to establish a systematic process that can be tailored according to the organizations complexity
Determining the risk and threats which are associated to the work activities and by applying a proper procedure and eliminating them
It helps to meet the customer needs and expectations
it acts as one of the branding factor for your organization giving fame towards your occupational health and safety factors
ISO 45001 is a process based approach which mainly concentrates on providing the health and safety performance measures for the employees working in the organization.
It helps your organization to attract your customers and give confidence to employees so that their productiveness in the work can be increased.
It helps to reduce all kind of work-related injuries and therefore the insurance cost can also be reduced that would be an added advantage for your organization