ISO 17025 Certification In Philippines
ISO 17025 Certification in the Philippines
ISO 17025 Certification In Philippines, Certivatic is specialized in providing ISO 17025 Certification and Consultation in Philippines. We provide the best ISO Consultant services in Cebu City, Manila, Pasig, Makati, and other major cities in Philippines with the service of consultation, implementation, documentation, training, auditing, and registration. We do provide CE mark Certification, HALAL Certification around the world at an affordable cost.
ISO 17025 Certification in Philippines & Its Significance
ISO 17025 Certification in Philippines is one of the voluntary standards that specify the general requirements for the competency of testing and calibration laboratories. It demonstrates the organizations capacity or competency to provide desired results. ISO 17025 Certification in Philippines is been published by the international organization for standardization that can be applied to all the organizations which are conducting the laboratory activities irrespective of the size and location. 
The standard will not thrust on how to conduct a test but it makes implementation compulsory for a quality system in order to ensure the technical competency. In Parallel the employees can generate the valid results which are very accurate, timely and verifiable. By implementing the required requirements the organization in short period can identify the impartiality, competency and other consistency in the laboratories.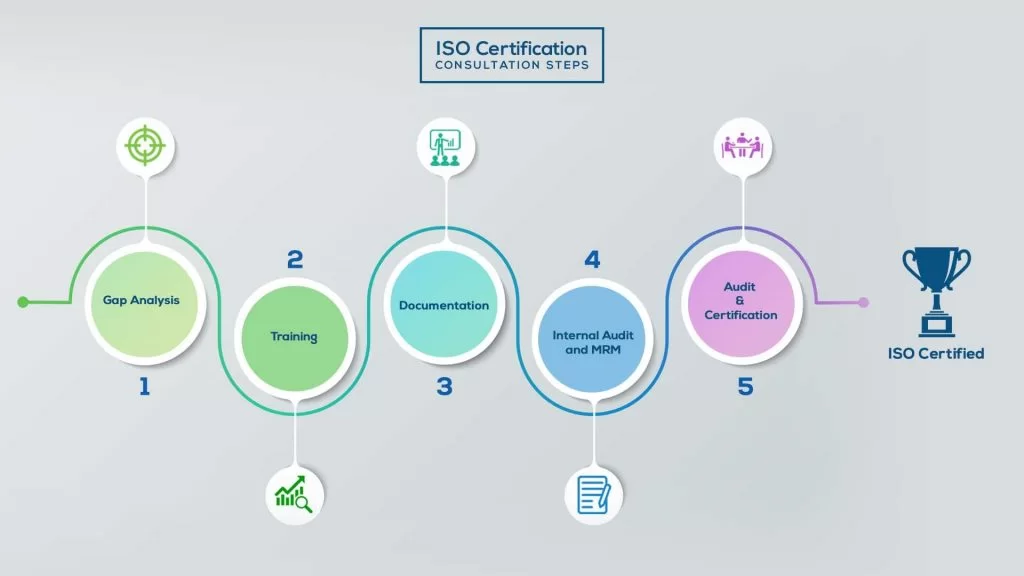 ISO Certification In Philippines
Our method/steps are easy, unique, time-bound, and result-oriented.
Interacting and detailed study of current work flows in different departments, operating procedures, documentation and practices.

Identifying any shortcomings of your organization against the requirements of ISO.

Generating a Gap report and planning for implementation
Creating awareness about ISO standard and its importance.

A formal training session/s.

It includes training on internal auditing, documentation training, mock audit and trainings to conduct management review meeting.
Documentation is the manifestation for your entire organizations process, procedure and results.

End-to-End support on preparing documentation as per ISO requirements.
Internal Audit (IA) as a tool, it is a cross departmental audit to ensure zero loophole in the system of your organization.

MRM: Management review meeting (MRM) helps top management to guide and ensure the whole organization is up to the mark as per the standard requirements.
Certivatic – Your certification is our responsibility!

With our 100% track record of success, we make sure Certification is achieved successfully.
Benefits of ISO 17025 Certification in Philippines
There are numerous benefits for implementing ISO 17025 standard. It is necessary to understand that having ISO 17025 in place would help your organization with the long-term goals making it worth
It helps your organization to have an international reputation by showing to the world that it has high level of standards by keeping apart all the competitors. And having good reputation among all the regulatory departments and auditors will help the organization to boost up its confidence not only nationally but internationally
It acts as one of the cost reduction process by enabling the organization with the strict guidelines so that all kind of risk and threats can be reduced and directly we can focus on getting a accurate results
It helps to have an improved customer satisfaction level. By providing a genuine results the customers will get to know the quality of work what your providing and you can gain more confidence by your customers feedback
It is one of the boosting factors for the organization to enhance the confidence level for the employees along with the lab activities.
It helps to follow a systematic approach in their operational activities as a result it helps to keep all the protocols in the place.
It helps to meet all kind of a requirements whether it may be legally or from the clients