ISO 27001 Certification In Philippines
ISO 27001 Certification in the Philippines
ISO 27001 Certification In Philippines, Certivatic is specialized in providing ISO 27001 Certification and Consultation in Philippines. We provide the best ISO Consultant services in Cebu City, Manila, Pasig, Makati, and other major cities in Philippines with the service of consultation, implementation, documentation, training, auditing, and registration. We do provide CE mark Certification, HALAL Certification around the world at an affordable cost.
ISO 27001 Certification in Philippines & Its Significance
ISO 27001 Certification in Philippines is one of the most reputable international standard which is been published by international organization for standardization for providing a requirements of information security management system. It belongs to ISO 27000 family which is been replaced by British standard BS 7799 and has become one of the international standard for managing the information security systems.
ISO 27001 certification in Philippines is considered to be one of the important standard in the family of ISO 27000 which provides a comprehensive strategic approach for securing the information in the organization that includes all the data's and information's such as assets, documents and technologies. In accordance with ISO 9001, ISO 27001 works similarly by involving a continual improvement of the process for securing the information management system using a PDCA model. An Information security management is a collection of policies and procedures that includes all physical, legal and technical controls which are involved in the risk management process of organization.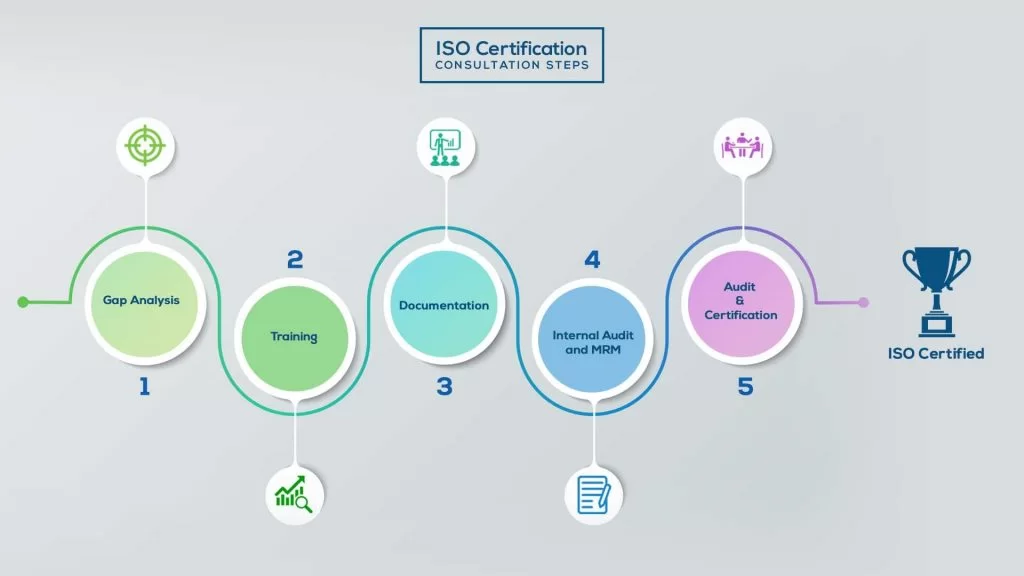 ISO Certification In Philippines
Our method/steps are easy, unique, time-bound, and result-oriented.
Interacting and detailed study of current work flows in different departments, operating procedures, documentation and practices.

Identifying any shortcomings of your organization against the requirements of ISO.

Generating a Gap report and planning for implementation
Creating awareness about ISO standard and its importance.

A formal training session/s.

It includes training on internal auditing, documentation training, mock audit and trainings to conduct management review meeting.
Documentation is the manifestation for your entire organizations process, procedure and results.

End-to-End support on preparing documentation as per ISO requirements.
Internal Audit (IA) as a tool, it is a cross departmental audit to ensure zero loophole in the system of your organization.

MRM: Management review meeting (MRM) helps top management to guide and ensure the whole organization is up to the mark as per the standard requirements.
Certivatic – Your certification is our responsibility!

With our 100% track record of success, we make sure Certification is achieved successfully.
Risk assessment as per 27001 – ISMS
Risk assessment process of ISO 27001 standards helps the industries to analyze, evaluate and identify the weakness in their security processes. It is considered to be one of the main core parts of the standard ISO 27001, which describes the best practice for maintaining and implementing the information security management system.
Risk assessment plays a prominent role that is essential for the process by helping the organization to:
Understand the specific situation in which data and other information could be compromised
Identifying or evaluating the damage that situations that could cause
Identifying the root cause of the situations that  might occur
Risk assessment is quite complicated job and it involves six basic steps:
Risk assessment methodology of ISO 27001
Risk assessment implementation
Risk treatment implementation
Information security management system risk assessment report
Risk treatment plan
Main principles of ISO 27001 Certification in Philippines
Integrity: It states that there should be a completeness and accuracy of the information in the organization.
Availability:It states that only the authorized user should have a complete access to the information's which are needed.
Confidentiality:It states that all the information is accessible only to the authorized users.
Why you need ISO 27001 Certification in Philippines – ISMS?
When it comes to securing the information there are more benefits that an organization can achieve by implementing the requirements of ISMS
Meets all the legal requirements:we know there will be more number of regulations, laws and other contractual requirements that are related to information security and all these factors can be solved by implementing ISO 27001 Certification in Philippines which gives a exact methodology to comply with all requirements.
Competitive advantage:when your organization gets a certified by the ISO 27001 standard you can have an competitive advantage by meeting all the requirements which are specific to international standards
It prevents all kind of security threats that will be affecting the operations of the organization so hence the investment on these issues would be reduced and acts as a cost cutting factor
The standard mainly focuses on securing the information and involving in continual improvement due to which your organization could be more better than other companies which have adopted for ISO 27001 Certification in Philippines