ISO 14001 Certification In Philippines
ISO 14001 Certification in the Philippines
ISO 14001 Certification In Philippines, Certivatic is specialized in providing ISO 14001 Certification and Consultation in Philippines. We provide the best ISO Consultant services in Cebu City, Manila, Pasig, Makati, and other major cities in Philippines with the service of consultation, implementation, documentation, training, auditing, and registration. We do provide CE mark Certification, HALAL Certification around the world at an affordable cost.
ISO 14001 Certification in Philippines & Its Significance
ISO 14001 Certification in Philippines is a performance tool that evaluates your environmental management system. It is one of the internationally agreed standards that increase your organizations environmental performance by efficient use of resources and by reducing of waste. 
It is one of the generic standards that can be applied to any organization which is a looking to improve their environmental factors and is considered to be one of the voluntary standards that can be integrated with the other management systems to add more value to the organization.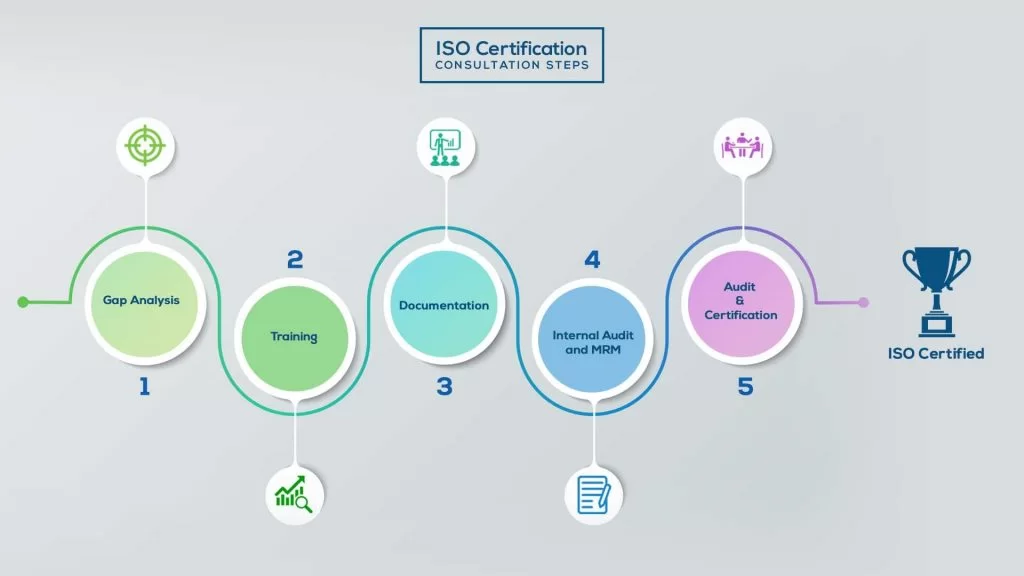 ISO Certification In Philippines
Our method/steps are easy, unique, time-bound, and result-oriented.
Interacting and detailed study of current work flows in different departments, operating procedures, documentation and practices.

Identifying any shortcomings of your organization against the requirements of ISO.

Generating a Gap report and planning for implementation
Creating awareness about ISO standard and its importance.

A formal training session/s.

It includes training on internal auditing, documentation training, mock audit and trainings to conduct management review meeting.
Documentation is the manifestation for your entire organizations process, procedure and results.

End-to-End support on preparing documentation as per ISO requirements.
Internal Audit (IA) as a tool, it is a cross departmental audit to ensure zero loophole in the system of your organization.

MRM: Management review meeting (MRM) helps top management to guide and ensure the whole organization is up to the mark as per the standard requirements.
Certivatic – Your certification is our responsibility!

With our 100% track record of success, we make sure Certification is achieved successfully.
Brief of ISO 14001 Certification in Philippines
For the effective implementation of ISO 14001 requirements it is better to follow plan do check act cycle. The first phase includes in planning and developing the environmental policies of environmental management system. The second involves in implementing the environmental management system.Third is reviewing and checking and the fourth phase involves in the continuous improvement of environmental system objectives.
Elements of ISO 14001 Certification in Philippines
There are many elements in ISO 14001 standards that has to be met by the industries which seek to have recognition for environmental management system and it include:
Environmental policy has to be developed that reflects on the commitment of organization
A person has to be initiated in order to co-ordinate the environmental management system
Identifying the requirements to know how the organization interact with the environment
Identifying of potential and actual environmental impacts
Objective, targets and programs of environmental management system has to be established.
Monitoring, measuring and reviewing of the process has to be achieved in order to check the environmental performances
Corrective and preventive actions have to be identified for the continuous improvement of the environmental performances.