ISO 22000 Certification In Philippines
ISO 22000 Certification in the Philippines
ISO 22000 Certification In Philippines, Certivatic is specialized in providing ISO 22000 Certification and Consultation in Philippines. We provide the best ISO Consultant services in Cebu City, Manila, Pasig, Makati, and other major cities in Philippines with the service of consultation, implementation, documentation, training, auditing, and registration. We do provide CE mark Certification, HALAL Certification around the world at an affordable cost.
ISO 22000 Certification in Philippines & Its Significance
ISO 22000 Certification in Philippines is an international standard which has recognition worldwide for specifying the requirements of food safety management system. It is a combination of ISO 9001 approach and HACCP principles for assuring the food safety at all the levels. It helps the organization to demonstrate its ability to control the safety and other hazards that food is safe. 
ISO 22000 can be implemented to any organization within the food supply chain as we all know food safety is one of the global concerns. In order to obtain ISO 22000 Certification in Philippines, the food safety management system has to be properly maintained, sustained and built. And this refers to documenting all the process individually or as a whole to make up the food safety management system.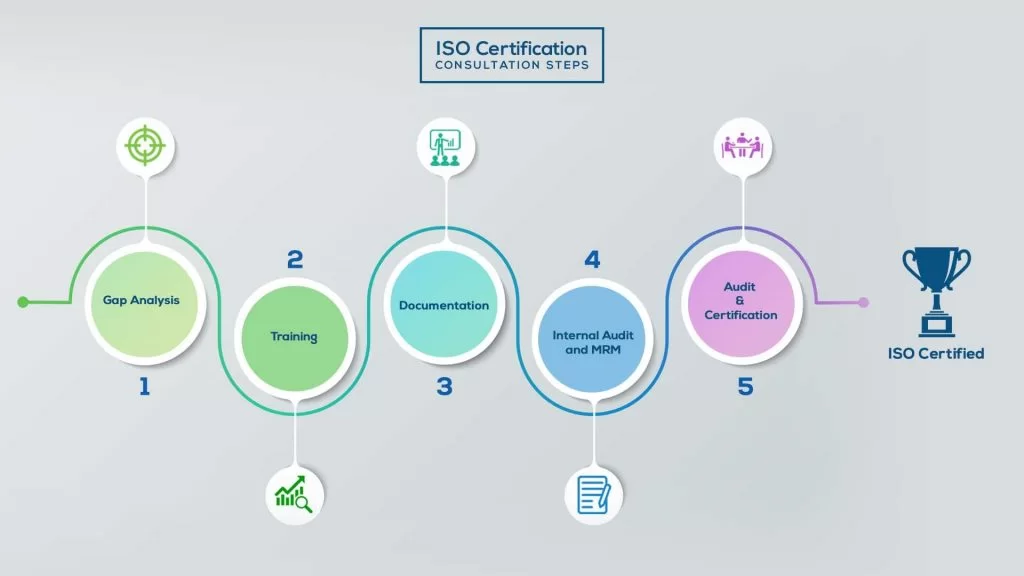 ISO Certification In Philippines
Our method/steps are easy, unique, time-bound, and result-oriented.
Interacting and detailed study of current work flows in different departments, operating procedures, documentation and practices.

Identifying any shortcomings of your organization against the requirements of ISO.

Generating a Gap report and planning for implementation
Creating awareness about ISO standard and its importance.

A formal training session/s.

It includes training on internal auditing, documentation training, mock audit and trainings to conduct management review meeting.
Documentation is the manifestation for your entire organizations process, procedure and results.

End-to-End support on preparing documentation as per ISO requirements.
Internal Audit (IA) as a tool, it is a cross departmental audit to ensure zero loophole in the system of your organization.

MRM: Management review meeting (MRM) helps top management to guide and ensure the whole organization is up to the mark as per the standard requirements.
Certivatic – Your certification is our responsibility!

With our 100% track record of success, we make sure Certification is achieved successfully.
Objective of ISO 22000 Certification in Philippines in brief
Identifying the food safety management system policy that would be compliant with both regulatory and statutory requirements and food safety requirements depending upon the mutual agreement between the customers
Appointing a food safety team leader or an initiative
For timely update of information's, the internal communication has to be established for the production and conditions, regulatory requirements, products and personal management activities.
Maintenance and implementation of process and procedure for any emergency situations and accident management that can impact food safety
Allocation of relevant raw materials and human resource
The food safety management system analysis of the organization has to ensure the adequacy effectiveness and continual improvements
During the hazard identification and assessment, a detailed description of the substances or raw materials has to be given.
Identifying the hazards related to biological, physical and chemical factors and taking control measures depending upon the occurrence by using  HACCP principle along with the prerequisite programs
After the implementation process it is necessary to validate the controls are the combination of controls for the final improvement of food safety management system.
ISO 22000 Certification in Philippines : Food Safety Hazards
A food safety hazard is a condition or a factor that could potentially affect the human health. Factors could be biological, physical or chemical and it can be either in or on food also. Otherwise the condition of the food itself could be hazardous. The hazards can be found in the animal feed or its ingredients so a precautionary measure has to be taken before consumption of food.
The organization which indirectly handles a food may compromise on food safety which might include packing materials, producing materials and other cleaning agents that would come in contact with food materials. In case of these conditions when it comes in contact there would be a great adverse effect on the human health.
Hazard analysis of ISO 22000 Certification in Philippines
A food safety hazard analysis is conducted in order to identify the hazard which needs to be controlled; in what factors or a ratio it has to be controlled and what are the measures can be take to make sure that the food are safe. And according to the requirements of ISO 22000 food safety analysis is carried out in following terms:
The food safety hazards in your organization has to be identified
Acceptable hazard levels has to be specified
Identifying the hazard and deciding how to control it
Taking proper control measures in order to control the hazards
Focusing on the improvements for reducing hazards