HALAL Certification In Kuwait
Halal Certification In Kuwait
The Halal certification is a record that ensures that products and services focused on the Muslim people meet the necessities of Islamic law and those are appropriate for consumption in both Muslim nations and in western nations where there are major public who practice Islam. Halal certification is a procedure which guarantees the structures and excellence of the items as per the guidelines built up by the Islamic Council that permit the utilization of the mark Halal. 
It is for the most part applied to meat items and other food items, for example, milk, canned food and added substances. In particular, for meat items Halal guarantees that the animals were slaughtered in a single cut, altogether drained and their meat have not been in contact with animals slaughtered in any case and particularly with pork. Items that are Halal ensured are regularly set apart with a Halal image. Consumption of meat of dead animals or other which does not follow halal process is prohibited in Islam. Please note that the halal certified foods or products are not prohibited for other communities. Anyone following any faith can eat halal certified food and products.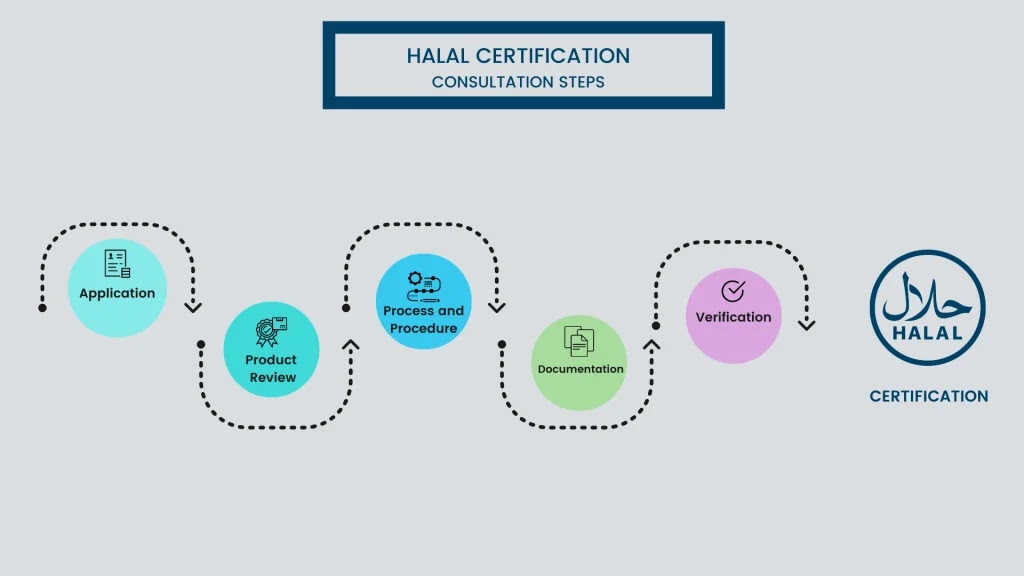 Step1:
 Apply for the HALAL certification
Step 2: Provide the list & specifications of the product produced along with the required documents
Step 3: Identify the product to be complied with HALAL practices
Step 4: Inspection of the process & procedures
Step 5: Achieve the HALAL certification!
Benefits of being Halal certified are:  
Better credibility and dynamic image in the market
Improve the food preparation hygienic system
Improve the food quality in the global market
It will assist with guaranteeing Halal customers in importing countries
Compliance with specific halal standards and globally recognized quality management standards.
Avoid losing Muslim customers and gain more business.
Build customer confidence and trust
The wellbeing of human lives by consuming only that which is nutritious and healthy
What is Halal and Haram?
Halal is an Arabic word that indicates 'allowable or legal'. Halal is identified with Islam and its dietary laws and is exactly identified with meat handled and arranged according to the conditions of the laws.
Haram is an Arabic word that indicates 'prohibited or illegal. According to the Quran, there are a few items that are haram for the Muslims or those who follows Islam. For example Alcohol, dead animals before its slaughter, blood, pork, and shocked meat (without halal procedure).
Particularly in the Middle East region the countries where the living population consists a large number of Muslims. The organization that is into Food Industry in this area will generally go for Halal certification. Oman is one such beautiful country wherein economic growth plays a major role. The contribution from the food import and export business will also have a very good role to play in this administration with this Halal Certification in Kuwait.
ISO Certification In Kuwait