CE Mark Certification in Jordan
CE Mark Certification In Jordan
What is CE Mark Certification In Jordan – European Conformity?
Countries in the European Union market, as well as non-member countries, share many standardized trade regulations that make it easier for businesses to tap into the future of 500 million customers is the important first step to selling in the region is to determine if your product requires CE marking. CE marking certification Mark affects your product indicates a manufacturer's declaration of product conformity with relevant EU directives and regulations. These laws cover health, safety, energy, efficiency, and environmental protection requirements. 
To know if your products require CE marking you must check whether individual products are correct and supplied. Some common CE Mark Certification In Jordan covers machinery safety, electromagnetic compatibility equipment, medical devices, and Restriction of Hazardous Substances (RoHS). Some products may be within the scope of more than one directive. For example, three directives that may apply to a machinery product or the safety of machinery electromagnetic compatibility and low voltage equipment directives. Electrical and electronic products are subject to the CE Mark Certification In Jordan, which restricts the use of specific hazardous substances such as mercury, lead, chromium, and tabs.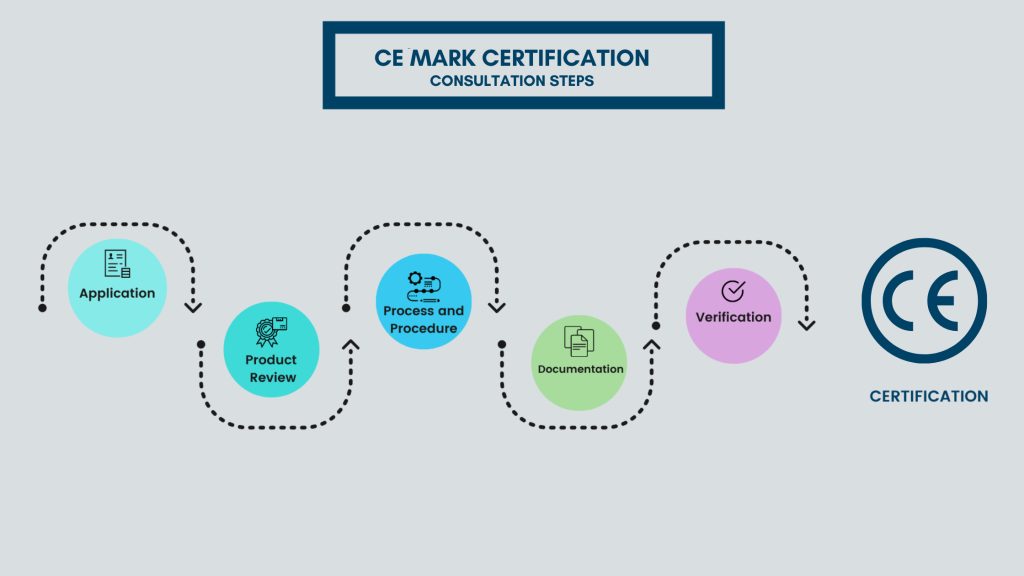 Our steps are easy, unique, time-bound, and result oriented.
Determine the EU Directives that apply to your product.
Classifying the product and identifying the applicable Directives & Regulations.
More than one Directive/Regulation might be applicable to your product!
Identify & Cover the applicable requirements of the directive(S)
Identifying & evaluating your product against the essential requirements.
Ensure the product meets all those requirements.
Compilation of technical documentation
Preparing for the technical formalities and evidence.
Review of the technical aspects related to the design, manufacture, and/or operations of the product.
Creating a Declaration of Conformity (DOC)
An acknowledgement by the manufacturer stating that the product meets all relevant product safety requirements of the applicable CE marking directives.
Creating and signing a Declaration of Conformity.
Affixing the CE mark!
Labeling and marking the product as per the specifications.
Finally, affixing the correct CE marking label on the product.
Benefits of being CE Mark certified are:  
CE Mark is a permit for your product to enter the international market
Use logos of CE Mark on your product and become a global exporter
Gain customer confidence and satisfaction
CE mark products will be safe for the consumers and this may equally reduce the risk
CE mark products are reliable and secure.
It helps in getting more business
Improves product and company image
Reduce liability claims and provide safety at the workplace.
Four important steps in the process to meet the CE Mark Certification In Jordan requirement for a product:
Perform a conformity assessment on the product by following the applicable CE marking directive or directives.
Create a technical file that includes a risk assessment report a document with key product details and the test results.
Affix a CE marking label.
Draw up an EU declaration of conformity to accompany each shipment to Europe, conformity assessment is a method of proving compliance with relevant CE marking directives.
ISO Certification In Jordan