ISO 14001 Certification In Malaysia
ISO 14001 Certification In Malaysia, Certivatic is specialized in providing ISO 14001 Certification and Consultation in Malaysia. We provide the best ISO Consultant services in Kuala Lumpur, George Town, Malacca, Johor Bahru, and other major cities in Malaysia with the service of consultation, implementation, documentation, training, auditing, and registration. We do provide CE mark Certification, HALAL Certification around the world at an affordable cost.
ISO 14001 – Environmental Management System
ISO 14001 certification in Malaysia states the requirement for an effective Environmental Management System. The standard helps organizations in plan and accomplishes environmental aspects, addresses risks and opportunities, meets legal responsibilities and builds trust within your stakeholders and clients. The requirements are planned to be related to any organization, regardless of its size, type and place. All elements of the ISO 14001 standard are compulsory.
The certification ensures that organizations' operations do not impact the environment in any way. ISO 14001 Certification in Malaysia confirms that organizations check the ecology through continuous evaluation and audits. The ISO 14001 Certification applies to all the organizations in Malaysia, irrespective of their size.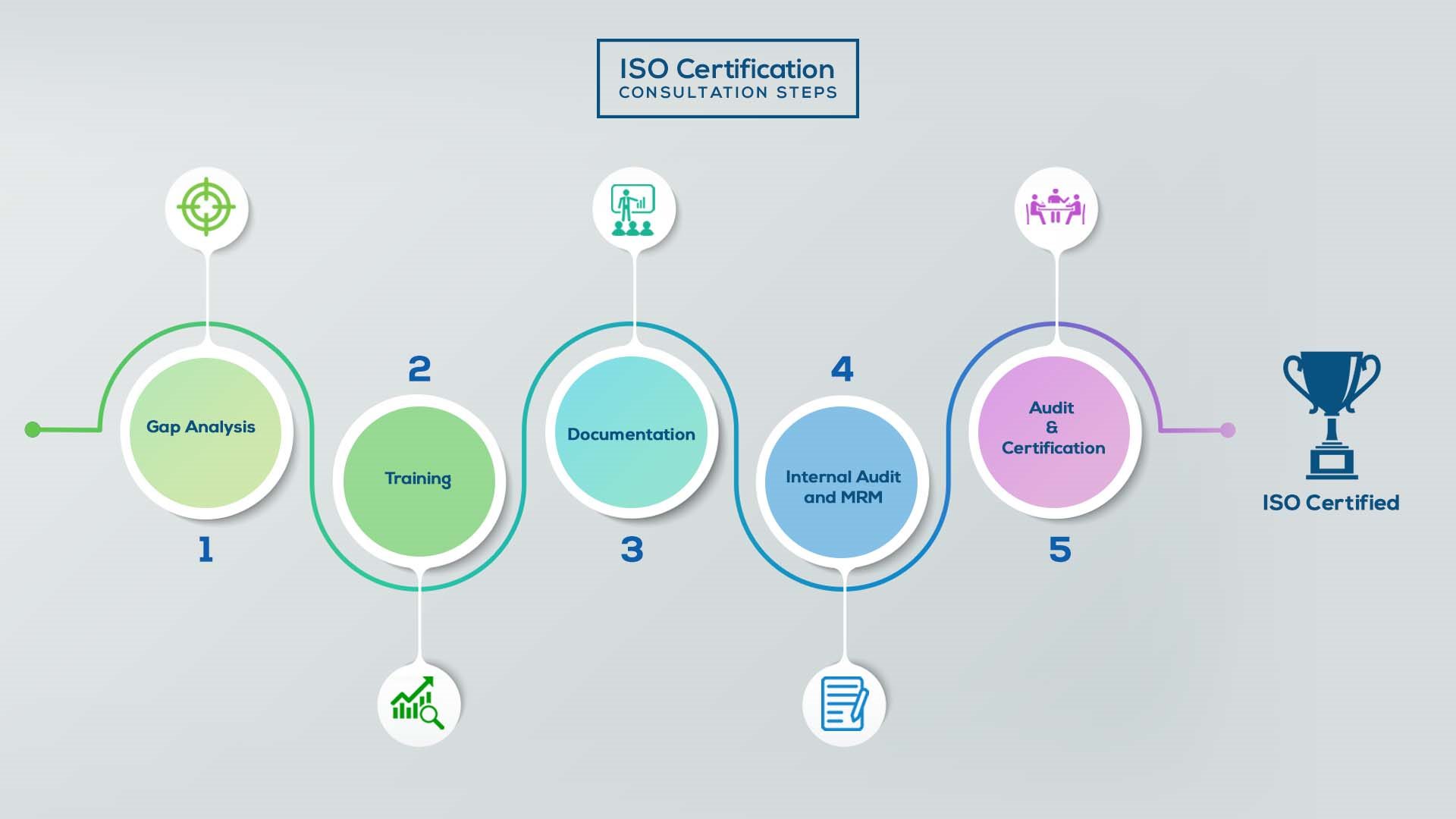 ISO Certification In Malaysia
Our method/steps are easy, unique, time-bound, and result-oriented.
Interacting and detailed study of current work flows in different departments, operating procedures, documentation and practices.

Identifying any shortcomings of your organization against the requirements of ISO.

Generating a Gap report and planning for implementation
Creating awareness about ISO standard and its importance.

A formal training session/s.

It includes training on internal auditing, documentation training, mock audit and trainings to conduct management review meeting.
Documentation is the manifestation for your entire organizations process, procedure and results.

End-to-End support on preparing documentation as per ISO requirements.
Internal Audit (IA) as a tool, it is a cross departmental audit to ensure zero loophole in the system of your organization.

MRM: Management review meeting (MRM) helps top management to guide and ensure the whole organization is up to the mark as per the standard requirements.
Certivatic – Your certification is our responsibility!

With our 100% track record of success, we make sure Certification is achieved successfully.
Benefits of being ISO 14001 certified are
Reduce cost in waste, reprocessing and consumption
Environmental risk management
Capability to win more orders
Deliverdeclaration that environmental impact is being measured
Determines commitment to improving the environment
Engagement of employees
How the organization is managing their management system on a day to day basis?
It includes 7 sections and they are as below
Roles, responsibilities and authority.
Competence training and awareness
Communication
Documentation
Control of documents
Operation and
Emergency response
Roles, resources, responsibility and authority is really the structure by which the management system is operated resources refer to skills, people within the organization that will be employed in the operation of the management system finance is involved in the operation of a management system and also technology, equipment processes, new technology that may be employed as a resource to improve the Environmental Management System. Competence training and awareness is a very important section. This is where you really start to involve members of their staff in the upper rotation of your environmental management system. You need to define training needs, you need to exercise the training plan that you have developed and also on an ongoing basis make sure that the staff that you have employed in your organization is familiar, aware and competent to do their tasks, while minimizing their impact on the environment. Common weaknesses that you would see in development of a process for identifying the training. Creating requirements in the competency requirements of individuals in an organization would be that first of all, they do not identify. Organizations typically do not identify well.
What competency is required of a specific role?
To do that the standard requires that you carry out a training needs analysis for the bureau. You match it in terms of what training this individual has had in their past already, and then you identify the gaps. So once you have identified the gaps that should form the focus of a company's training plan going forward.