ISO 9001 Certification In Malaysia
ISO 9001 Certification In Malaysia, Certivatic is specialized in providing ISO 9001 Certification and Consultation in Malaysia. We provide the best ISO Consultant services in Kuala Lumpur, George Town, Malacca, Johor Bahru, and other major cities in Malaysia with the service of consultation, implementation, documentation, training, auditing, and registration. We do provide CE mark Certification, HALAL Certification around the world at an affordable cost.
ISO 9001– Quality Management System
ISO 9001 standard states the requirement for Quality Management System.Organizations use the standard to determine the ability to regularly provide products and services that meet consumer and government requirements. It is the most popular and also known as mother of all management system standards. ISO 9001 certification in Malaysia standard can be obtained by any organizations regardless of its type, size and nature of business.  QMS also confirms that customers get regular worth products and services which in sequencebring many professional benefits.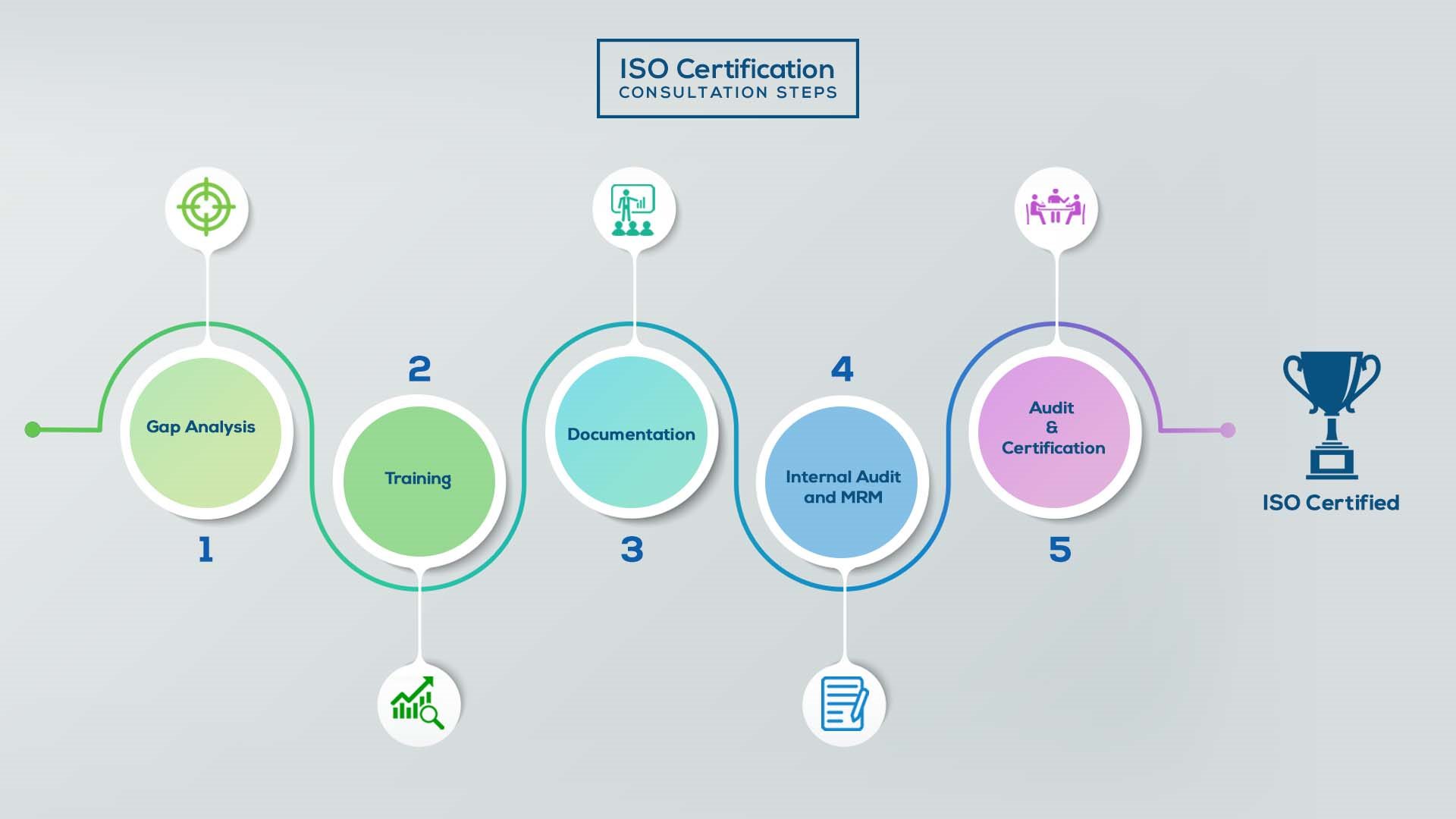 ISO Certification In Malaysia
Our method/steps are easy, unique, time-bound, and result-oriented.
Interacting and detailed study of current work flows in different departments, operating procedures, documentation and practices.

Identifying any shortcomings of your organization against the requirements of ISO.

Generating a Gap report and planning for implementation
Creating awareness about ISO standard and its importance.

A formal training session/s.

It includes training on internal auditing, documentation training, mock audit and trainings to conduct management review meeting.
Documentation is the manifestation for your entire organizations process, procedure and results.

End-to-End support on preparing documentation as per ISO requirements.
Internal Audit (IA) as a tool, it is a cross departmental audit to ensure zero loophole in the system of your organization.

MRM: Management review meeting (MRM) helps top management to guide and ensure the whole organization is up to the mark as per the standard requirements.
Certivatic – Your certification is our responsibility!

With our 100% track record of success, we make sure Certification is achieved successfully.
Benefits of being ISO 9001 certified are:
Improves your processes
Improves your products quality
Effective operations
Reduces costs and provides continual improvement
Engagement of employees and marketing opportunities
Customer satisfaction
Risk Management and brand image
Understanding the sub clauses of clause 7 – Support
Clause 7.1 Resources, clause 7.1.1 General – The organization shall consider the capabilities of the organization has to determine the resources that your QMS needs and then provide those resources. This may all appear to be so self-evident as to be overlooked as a formal activity. Since this is a requirement however you need to be able to demonstrate that the organization is doing due diligence in this regard an organization must show that it understands its capabilities and constraints and where it must rely on outside providers for gaps in its internal capabilities.
The same goes for clause 7.1.2 people be able to demonstrate that you have all the people you need to effectively operate and control the processes of your QMS.
Clause 7.1.3 Infrastructure demonstrate that you have determined and resourced all the infrastructure such as buildings, equipment, utilities and technologies with the hardware or software needed for the QMS processes to be effective for achieving conformity of products and services.
Clause 7.1.4 Environment for the operation of processes. Similarly to infrastructure, demonstrate that you have determined and provided and can maintain social, psychological and physical environment needed for the QMS processes to be again effective for achieving conformity of products and services.
Clause 7.2 competence this requirement is really a specific extension of organizational knowledge. It requires the organization to identify elements of competence that affect quality and ensure that people acquire competence, whenever shortcomings are discovered such training must be documented and evaluated.
Clause 7.3 Awareness as stated previously everyone in the organization needs to be aware of the quality policy, and the particular quality objectives that apply to them. They also need to know those parts of the QMS that impact them, and the implication of not conforming to the QMS requirements.