ISO 45001 Certification In Malaysia
ISO 45001 Certification In Malaysia, Certivatic is specialized in providing ISO 45001 Certification and Consultation in Malaysia. We provide the best ISO Consultant services in Kuala Lumpur, George Town, Malacca, Johor Bahru, and other major cities in Malaysia with the service of consultation, implementation, documentation, training, auditing, and registration. We do provide CE mark Certification, HALAL Certification around the world at an affordable cost.
ISO 45001 OHSMS – Occupational Health and Safety Management System
ISO 45001 certification in Malaysia is an international standard which sets out criteria for Occupational Health and Safety Management System and standard helps in protection of workers globally. It is set to extremely develop stages of workplace health and safety. ISO 45001 certification in Malaysia standard is designed and developed to take into account other existing occupational health and safety standards such as OHSAS 18001.
An ISO 45001 Certification in Malaysia will demonstrate brand duty by devoting to risk-free, healthy, balanced, and sustainable jobs. ISO 45001 is the global occupational health and wellness system for all businesses. It enhances an organization's image with customers, partners, and the public. It thus reduces downtime and the expenses of interruption to operations.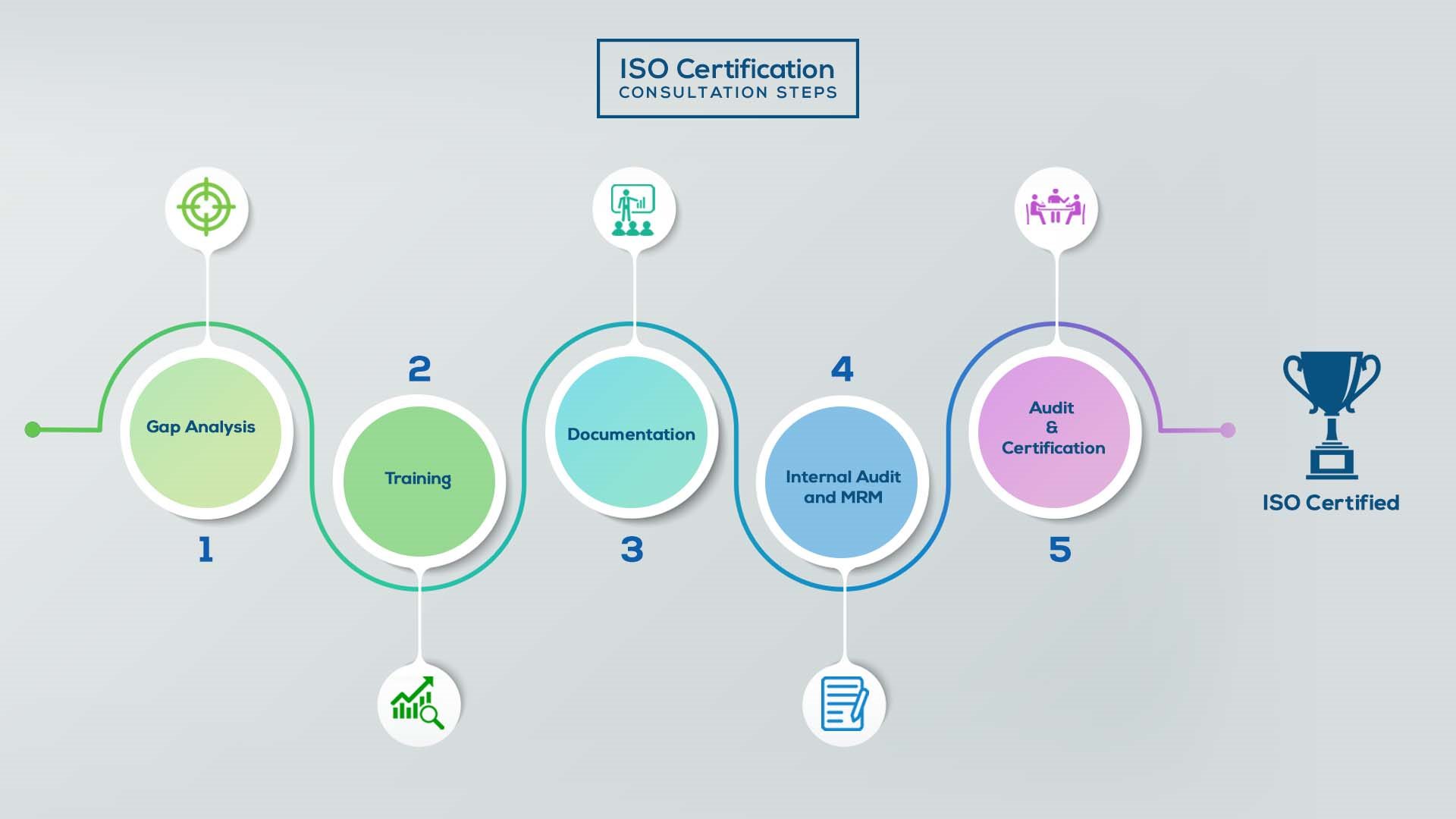 ISO Certification In Malaysia
Our method/steps are easy, unique, time-bound, and result-oriented.
Interacting and detailed study of current work flows in different departments, operating procedures, documentation and practices.

Identifying any shortcomings of your organization against the requirements of ISO.

Generating a Gap report and planning for implementation
Creating awareness about ISO standard and its importance.

A formal training session/s.

It includes training on internal auditing, documentation training, mock audit and trainings to conduct management review meeting.
Documentation is the manifestation for your entire organizations process, procedure and results.

End-to-End support on preparing documentation as per ISO requirements.
Internal Audit (IA) as a tool, it is a cross departmental audit to ensure zero loophole in the system of your organization.

MRM: Management review meeting (MRM) helps top management to guide and ensure the whole organization is up to the mark as per the standard requirements.
Certivatic – Your certification is our responsibility!

With our 100% track record of success, we make sure Certification is achieved successfully.
Benefits of being ISO 45001 certified are
Ensure you have an effective OHS policy and objectives
Manages OH&S hazards
Risk based thinking for OHSMS and its risks
Establish your commitment to health and safety to internal and external interested parties.
Develops trust
Reduces insurance premiums
Understanding the sub clauses of clause 5 – Leadership
Clause 5 leadership, and sub clause 5.1 focus on how leadership is required to demonstrate commitment to the OH&S management system, they are required to take accountability and responsibility for the OH&S management system and its performance. It was set direction and objectives and review performance. They must ensure that occupational health and safety is integrated into the business processes and the importance of health and safety is communicated. Then ensure they provide resources which is both human capital and infrastructure. There must support, direct and protect workers. ISO 45001 is one of the first standards to ensure that top management has to implement a positive culture and ensure a positive climate within the organization. Top management needs to ensure that there are health and safety committees functioning within the business. They also have to ensure effective worker consultation and participation.
Clause 5.2 focuses on occupational health and safety policy. This is management's opportunity to define exactly what their commitments are to the health and safety management system, top management commitments in the policy must include a commitment to provide a safe and healthy working environment, prevent work related injury and ill health, comply with legal and other requirements. Eliminate hazards and reduce OH&S risk, continually improve the OH&S management system and ensure effective worker consultation and participation. The policy must be relevant and appropriate to the organization. It must be documented, communicated and available as documented information.
Course 5.3 focuses on organizational roles, responsibilities and authorities. Here's where top management can demonstrate how they cascade all the various roles, responsibilities and authorities throughout the organization. Roles and Responsibilities must be communicated and available as documented information. So management can assign responsibilities through a variety of different documents, such as legal appointment letters, job descriptions, contracts and work instructions for low level operators.
Clause 5.4 focuses on work consultation and participation this is a great emphasis in ISO 45001 and key to ensuring effective consultation and participation is the first part of clause 5.4 where the company must provide time, training and timely access to information they must identify barriers and remove obstacles in terms of consultation and participation. In essence, an organization can't hope to have effective consultation and participation of workers. If they're not providing information which is understandable within a reasonable time frame for workers to be able to apply their mind to give a suitable response.
Worker consultation is required around the occupational health and safety policy needs of interested in effective parties, the assignment of roles and responsibilities in the organization, compliance planning and objectives, external providers, OH&S performance, the audit program and improvements. Worker participation is required especially around the process was to find how workers will participate and be consulted. Risks and opportunities hazards and how to eliminate them and how to reduce risks competency requirements for workers, communication, risk controls and investigations.
 What is the difference between consultation and participation?
Consultation is you are basically asked your opinion before management makes a decision. Participation means that you are actively involved in the decision making process.