CE Mark Certification In Malaysia
CE Marking- European Confirmative 
Have you ever felt like your product should be available in the wider market? Imagine expanding your customer base to a potential 500 million people. The European community has a population of over 500 million people. If you have to expand your business to new markets in Europe. You have to ensure that your product is CE compliant for the European market. CE mark Certification in Malaysia allows free movement and sale of goods throughout the European Economic Area (EEA). For you to grow your business and distribute your products in the European market CE marking is mandatory for many products. It is a self-declaration process that your product complies with the directives, which may include EMC, wireless radio testing and low voltage directives.
How to get CE Mark certification in Malaysia? – Our simple 5 steps: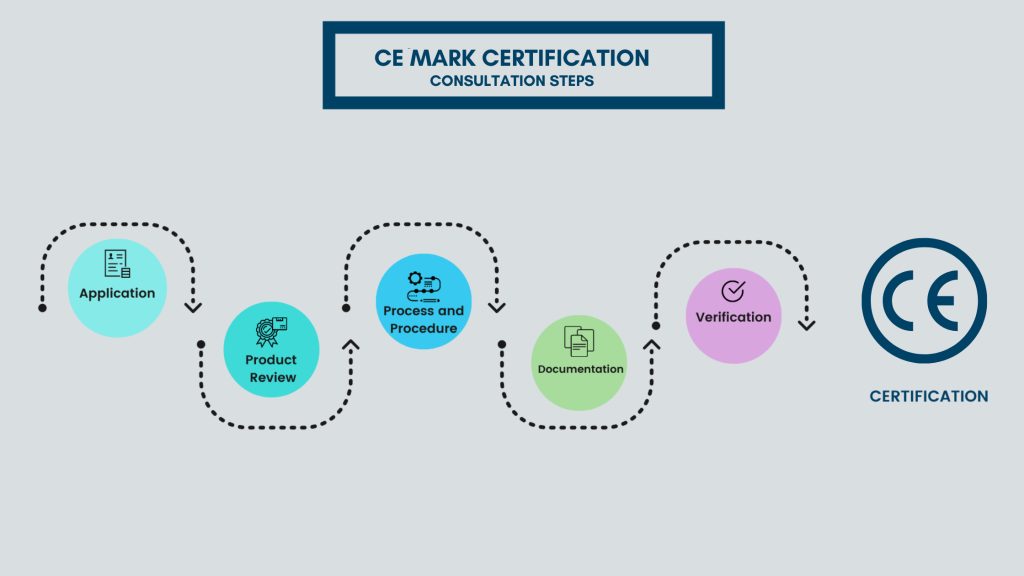 Our steps are easy, unique, time-bound, and result oriented.
Determine the EU Directives that apply to your product.
Classifying the product and identifying the applicable Directives & Regulations.
More than one Directive/Regulation might be applicable to your product!
Identify & Cover the applicable requirements of the directive(S)
Identifying & evaluating your product against the essential requirements.
Ensure the product meets all those requirements.
Compilation of technical documentation
Preparing for the technical formalities and evidence.
Review of the technical aspects related to the design, manufacture and/or operations of the product.
Creating a Declaration of Conformity (DOC)
An acknowledgement by the manufacturer stating that the product meets all relevant product safety requirements of the applicable CE marking directives.
Creating and signing a Declaration of Conformity.
Affixing the CE mark!
Labeling and marking the product as per the specifications.
Finally, affixing the correct CE marking label on the product.
Benefits of being CE Mark certified are:
Enables easy trade-in both European Union and on a global level
CE Mark is mandatory for your product to enter European Economic Area
CE Mark certified means the product's safety and health is guaranteed
CE Marking is a great value for sales of your product
Gain customer and suppliers confidence and satisfaction
CE mark products are trustworthy and safe to use.
How do you get a CE Mark certification in Malaysia for your product?
First, we identify what directives are applied. This may include electromagnetic compatibility (EMC), radio equipment, and low voltage directives. CE marking usually requires EMC testing for electronic and electrical products. But, what is EMC – EMC or electromagnetic compatibility testing it is how we can effectively ensure that one product does not affect another product in an electromagnetic environment.
The next step is to gather evidence that the product complies with the applicable directives. These can be achieved through compliance testing.
Prepare a single EU declaration of conformity; this is basically a document stating that the product conforms to the requirements of the applicable directives.
Compile a compliance folder for the product including all of the evidence as the product complies with the directives, such as test reports, risk analysis, etc.
Securely affixed the CE mark logo to the product, in accordance with the CE labeling requirements.
Changeability directives as relevant standards for changes as it may be necessary for a future date to perform additional top-up testing.
ISO Certification In Malaysia