ISO 17025 Certification In Malaysia
ISO 17025 Certification In Malaysia, Certivatic is specialized in providing ISO 17025 Certification and Consultation in Malaysia. We provide the best ISO Consultant services in Kuala Lumpur, George Town, Malacca, Johor Bahru, and other major cities in Malaysia with the service of consultation, implementation, documentation, training, auditing, and registration. We do provide CE mark Certification, HALAL Certification around the world at an affordable cost.
What is ISO 17025 Certification in Malaysia?
ISO 17025 Certification in Malaysia is an internationally recognized standard it specifies the general requirements for the competence of testing and calibration laboratories. The standard was developed and published with the collaboration with the International Organization for Standardization ISO and International Electrotechnical Commission IEC. ISO 17025 standard can be implemented by any laboratory regardless of its size which carries out testing and calibration practices.
The ISO 17025 Certification is useful for any organization that requires recognizing product packaging testing methods for their products. It includes all sorts of laboratories, whether owned and operated by the government, industry, or any other company.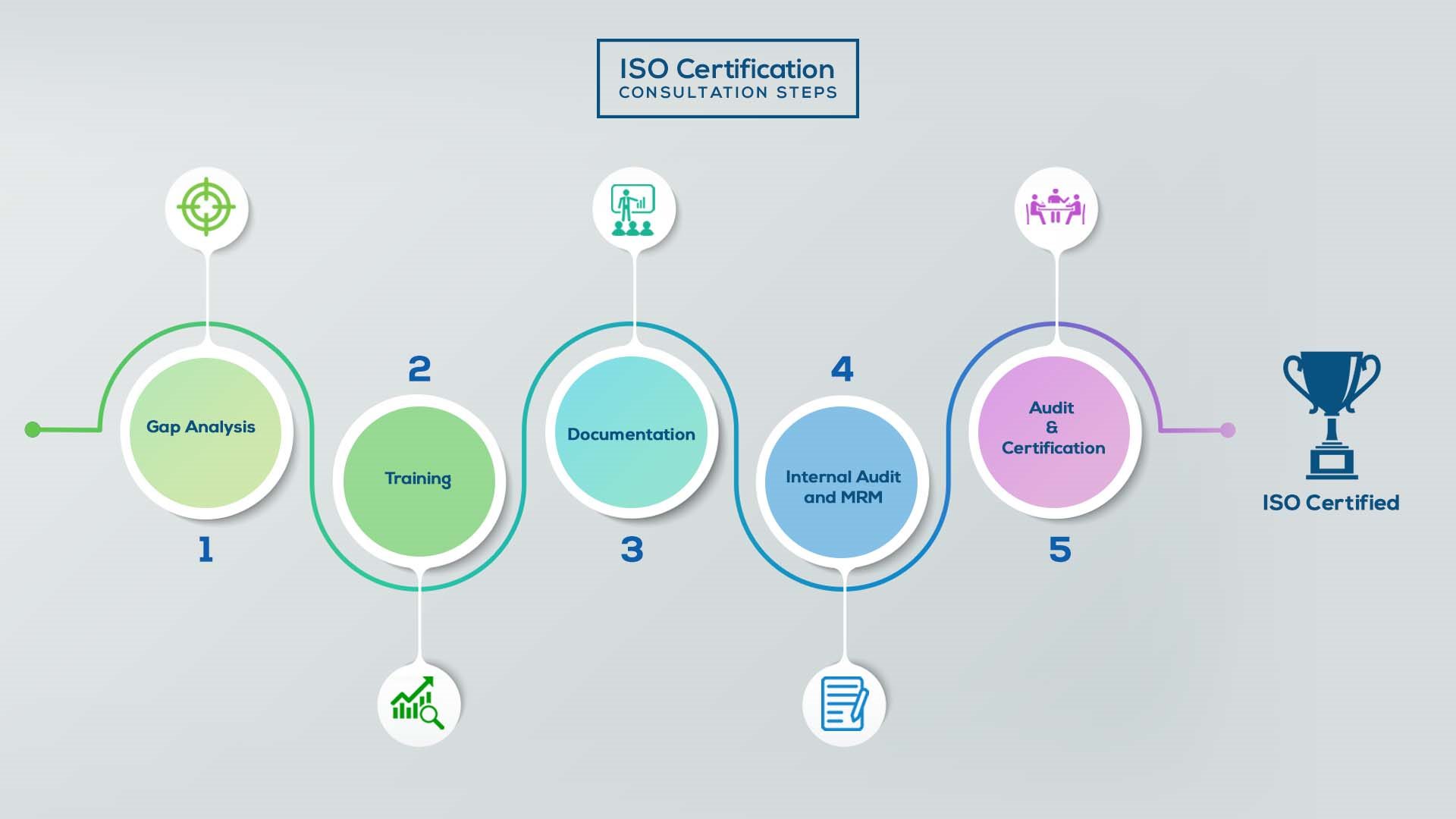 ISO Certification In Malaysia
Our method/steps are easy, unique, time-bound, and result-oriented.
Interacting and detailed study of current work flows in different departments, operating procedures, documentation and practices.

Identifying any shortcomings of your organization against the requirements of ISO.

Generating a Gap report and planning for implementation
Creating awareness about ISO standard and its importance.

A formal training session/s.

It includes training on internal auditing, documentation training, mock audit and trainings to conduct management review meeting.
Documentation is the manifestation for your entire organizations process, procedure and results.

End-to-End support on preparing documentation as per ISO requirements.
Internal Audit (IA) as a tool, it is a cross departmental audit to ensure zero loophole in the system of your organization.

MRM: Management review meeting (MRM) helps top management to guide and ensure the whole organization is up to the mark as per the standard requirements.
Certivatic – Your certification is our responsibility!

With our 100% track record of success, we make sure Certification is achieved successfully.
Benefits of being ISO 17025 certified are: 
Generates new business networks
Improve your reputation
Improvement for more contracts for testing and calibration
Increase in profits and develops work processes
Develop operations and reduces risks
Increase lab credibility and customer satisfaction
Promotes confidence in test results and reports
Understanding the sub clauses of clause 4 of ISO 17025 – General Requirements
Clause 4 General requirements this clause is further divided into sub clauses, sub clause 4.1 provides requirements on impartiality whereas sub cause 4.2 is dedicated to confidentiality.
As per the standard impartiality means presence of objectivity. In simple words, it is freedom from conflict of interest for laboratory, activities, which adversely influence test or calibration results validating. In other words, impartial means conducting laboratory activities without any bias. A few examples of impartiality are the Managers putting pressure on technicians and deviate from testing procedures to get better turnaround time or to overlook it first results that will not set a client to undue pressure would also include providing financial incentives for the number of tests conducted.
The requirements for the clause 4.1 which is dedicated to impartiality has five sub clauses and here you will get to know about 2 sub clauses, as per the clause 4.1.1 all laboratory activities shall be conducted in partially organization structure as laboratory and laboratory process to perform laboratory operations shall be managed in a way to safeguard impartiality. For example, the laboratory is a part of big organization it shall not report to the production head from where samples are being received. Clause 4.1.2 requires a demonstration of laboratory management commitment towards impartiality.