ISO 9001 Certification In UAE
An ISO 9001 Certification in UAE, ensures that the top management is not overlooking any of the key quality objectives necessary to ensure the success of your operation. We can also assist you with ISO 9001 certification in the UAE through our consultant.  
ISO 9001 & its significance
ISO 9001 certification in UAE is one of the world's most recognized international standard specifying the requirements of quality management system. 
Over 1 million organizations across the globe have been adopted for this international standard to get the quality requirements for their organization so they can have continual improvement and increase their quality of the services and products. It is considered to be one of the most powerful business tools that provide a guidance and Framework that is essential to increase the consistency to meet the customer needs and expectation and other regulatory requirements.
ISO 9001 standard is considered to be one of the basic and most generic international standard that is been published by the international organization for standardization and it can also be called as one of the most commonly used management tool across the globe. 
It is designed in such a way that the requirements of the standard make sure that it meets all the needs and expectationsof the customers and other stakeholders.
How to get ISO 9001 certification in UAE? – Our effective implementation steps: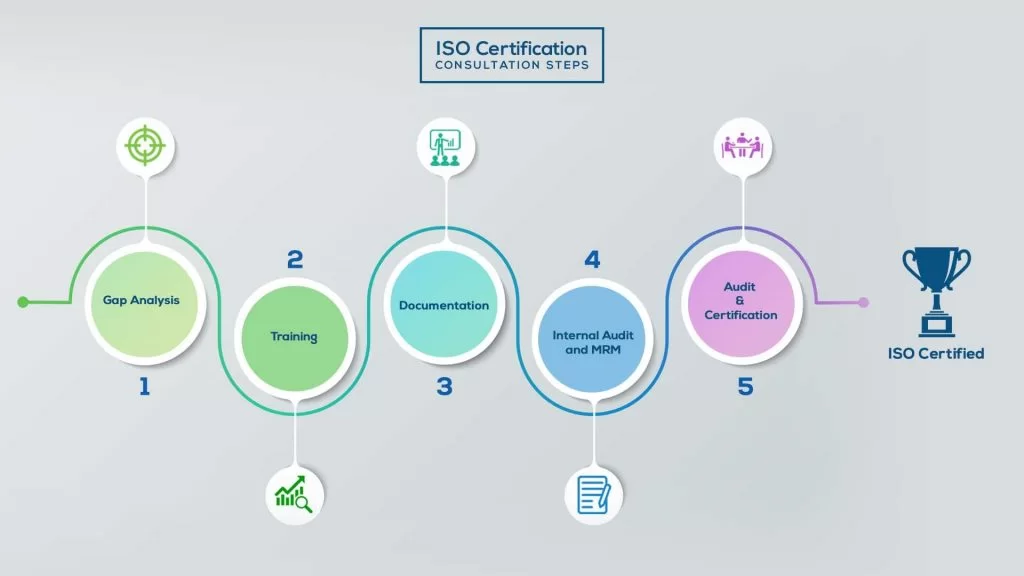 Our method/steps are easy, unique, time-bound, and result-oriented.
Interacting and detailed study of current work flows in different departments, operating procedures, documentation and practices.

Identifying any shortcomings of your organization against the requirements of ISO.

Generating a Gap report and planning for implementation
Creating awareness about ISO standard and its importance.

A formal training session/s.

It includes training on internal auditing, documentation training, mock audit and trainings to conduct management review meeting.
Documentation is the manifestation for your entire organizations process, procedure and results.

End-to-End support on preparing documentation as per ISO requirements.
Internal Audit (IA) as a tool, it is a cross departmental audit to ensure zero loophole in the system of your organization.

MRM: Management review meeting (MRM) helps top management to guide and ensure the whole organization is up to the mark as per the standard requirements.
Certivatic – Your certification is our responsibility!

With our 100% track record of success, we make sure Certification is achieved successfully.
Merits of ISO 9001 – Quality management system
One of the best solutions for your organization in order to streamline your processes is opting for the quality management system, because it reduces errors and improves all the overall management system. There are many other benefits let us see one by one:
ISO 9001 certification in UAE helps to increase the efficiency in your production process by implementing the industry's best practices by focusing on quality issues that will reduce the cost
It is one of the best factor for increasing your revenue which increases the brand image of your organization by implementing the requirements of ISO 9001 due to which you can get more number of contracts and tenders and being efficient you can attract your customers and retain your customers by your experience
The standard mainly focuses on customer satisfaction because every organization's goal is to achieve the needs and expectation of their customers due to which they can be reliable on their services and products.
It helps to increase the suppliers relationship because the quality management systems ensures the best industry practices by keeping all in place so which can directly contribute to more efficient supply chains
It helps to increase the morale of the employees by having a best internal communication involving every employees working towards one goal
By implementing the robust and effective quality management system to your industries helps them to focus on the important the departments of your business activities so that it can be improved in every ways. The processes that are been established to the management it would have a solid Foundation that would lead to increased productivity and revenue to the organization and this in turn will improve your clients acquisition and retention.
There are numerous benefits and merits when it comes to quality management system which is very essential for every organization to build a strong foundation for their production activities and to maintain their quality factors towards their customers. So being certified by ISO 9001 is one of the best decisions can organization make.
As we know ISO 9001 certification in UAE is mainly for Quality Management System and It suitable for all kind of business.