ISO 45001 Certification In UAE
As one of the top providers of ISO 45001 certifications in UAE, Certivatic is one of the leading ISO 45001 certification providers. Providing ISO 45001 Consultants in Dubai, Abu Dhabi, Sharjah, Ajman, Al Ain Umm al-Qaiwain, Fujairah, and other major cities in UAE with services of implementation, training, auditing, and registration.
One of the international standards is ISO 45001 certification in UAE. ISO 45001 certification in Dubai is also used as a guideline for health and safety management systems. ISO 45001 stands for occupational health and safety system.
ISO 45001 & its significance
ISO 45001 certification in UAE is one of the new international standards specifying the requirements for occupational health and safety management system that is been published by international organization for standardization. It is one of the independent standards that organizations can adopt to implement, maintain, establish and improve their organizational health and safety management system. 
The requirements of the standards are designed in such a way that it can be applied to any organization irrespective of size, type or location. So having a systematic approach in your business activities to manage the health and safety would bring more benefits for the people and also to the organization and therefore good safety and good health could bring good business.
The occupational health and safety management system provides a Framework for managing the work related injuries, ill health and death. The main goal of ISO 45001 standards is to provide a safe and healthy workplace for the employees and other persons who are being in contact with the organizational activities. 
The development and implementation process of occupational health and safety management system includes objectives and policies that should be taken into account in order to meet all kind of requirements to which the organization is committed to.
How to get ISO 45001 certification in UAE? – Our effective implementation steps: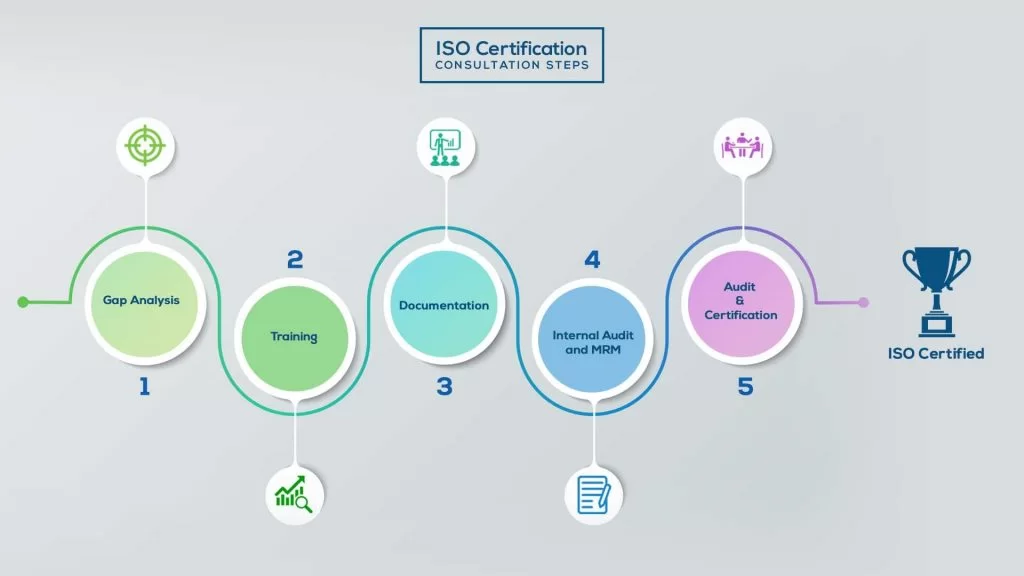 Our method/steps are easy, unique, time-bound, and result-oriented.
Interacting and detailed study of current work flows in different departments, operating procedures, documentation and practices.

Identifying any shortcomings of your organization against the requirements of ISO.

Generating a Gap report and planning for implementation
Creating awareness about ISO standard and its importance.

A formal training session/s.

It includes training on internal auditing, documentation training, mock audit and trainings to conduct management review meeting.
Documentation is the manifestation for your entire organizations process, procedure and results.

End-to-End support on preparing documentation as per ISO requirements.
Internal Audit (IA) as a tool, it is a cross departmental audit to ensure zero loophole in the system of your organization.

MRM: Management review meeting (MRM) helps top management to guide and ensure the whole organization is up to the mark as per the standard requirements.
Certivatic – Your certification is our responsibility!

With our 100% track record of success, we make sure Certification is achieved successfully.
Key features of ISO 45001
ISO 45001 is one of the standards which have been established newly by the international organization for standardization but its Foundation already exists and those requirements are formed by keeping OHSAS 18001 as its reference. Sothe organizations which have already implemented the occupational health and safety management system according to OHSAS 18001 standard can easily transit to ISO 45001 standard because their requirements are almost same
Key improvements – ISO 45001
ISO 45001 is one of the international standard and it is also a generic standard that implements the high-level structure by giving a common Framework like other management systems such as a quality management system (ISO 9001) and environmental management system (ISO 14001)
ISO 45001 enables the organization with a greater responsibility by including the top management.
The standard includes the workers who are not permanently employed but still in other ways they are working under the responsibility of the organization such as contracts or subcontractors who has been outsourced in their entirety
It also introduces a term called 'opportunities' as one of the new column in the field of occupational health and safety management system where it covers all the factors which are beyond minimization and elimination of risk and hazards.
In order to survive in this competitive world it is necessary for the organization to be active to manage all kinds of business activities and there is no exception for occupational health and safety.The standard will provide numerous benefits for the organization to improve in all factors related to health and safety of the employees, apart from this it also helps the organization to improve the morale and provides motivation to the employees and workers to work productively.
ISO 45001 certification in UAE helps to maintain workers safety and healthy.