CE Mark Certification In UAE
The CE Mark certification in UAE verifies that the organization's products meet relevant European safety, health, and environmental standards. In other words, it is a directive given to a product in line with EU legislation. Products can be tested by the CE Mark logo to demonstrate that they comply and can be traded across 30 different European countries.
CE is an abbreviation for Conformity Europeene, which means European conformity. EC marking was the term originally used to match the French phrase now it is officially known as 'CE marking'.
CE marking & its significance
CE marking is a product certification which indicates the conformity towards health safety and other environmental protection for the products which are sold within the European economic area. 
The products which are sold outside the European economic area can also be certified by CE mark because of its standard requirements which have been accepted globally. Due to this reason it acts as a globally recognized standard even for the customers who are unaware about the European economic area. 
The logo of CE mark is required on all the products which are being traded in the Europeaneconomic area because it acts as one of the visible sign that the manufacturers of the product is been confirmed with all the directives and are safer to use.
How to get CE Mark certification in UAE? – Our effective implementation steps: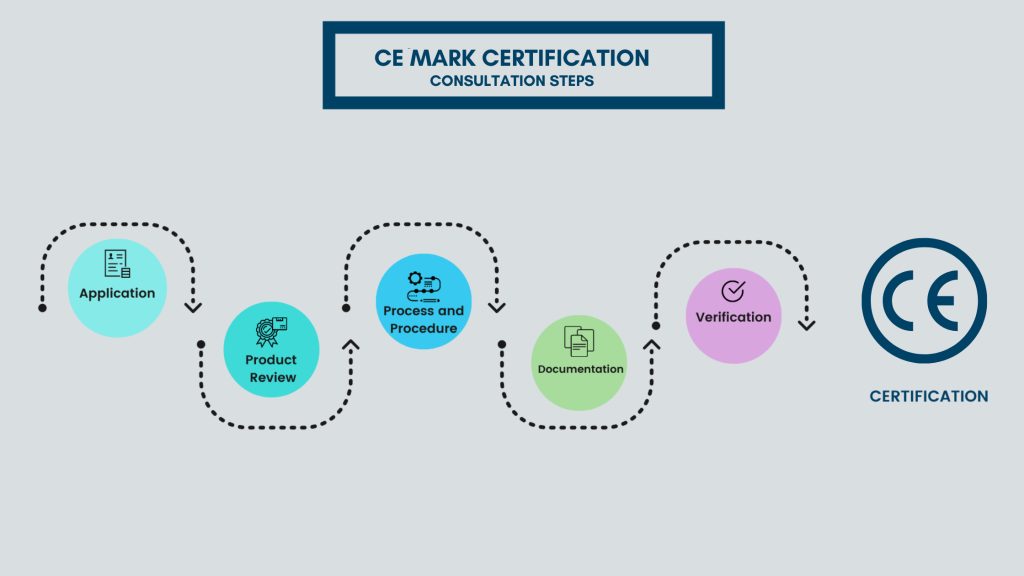 Our method/steps are easy, unique, time-bound, and result-oriented.
Interacting and detailed study of current work flows in different departments, operating procedures, documentation and practices.

Identifying any shortcomings of your organization against the requirements of ISO.

Generating a Gap report and planning for implementation
Creating awareness about ISO standard and its importance.

A formal training session/s.

It includes training on internal auditing, documentation training, mock audit and trainings to conduct management review meeting.
Documentation is the manifestation for your entire organizations process, procedure and results.

End-to-End support on preparing documentation as per ISO requirements.
Internal Audit (IA) as a tool, it is a cross departmental audit to ensure zero loophole in the system of your organization.

MRM: Management review meeting (MRM) helps top management to guide and ensure the whole organization is up to the mark as per the standard requirements.
Certivatic – Your certification is our responsibility!

With our 100% track record of success, we make sure Certification is achieved successfully.
When&Why is CE mark required?
The manufacturer, distributor, or an important wants to place their products in the European market has to undergo CE mark. And this includes the products which are very 'new' to Europe or the second-hand products which are put into services or any other existing products which are modified substantially in order to be considered as a new. It is the responsibility of any person who places their product in the European economic area or puts into any services for the first time. And according to law when the person is certified by CE marking then he is considered to be most responsible because he focuses on factors like health, safety, and other environmental protection. Ce Mark Certification in UAE Plays An Major Role. Ce Mark is a sign which confirms health, safety, and environmental protection standards for products.
Merits of CE marking
Like other international standards, CE marking is also one of the standards which are being recognized globally for its benefits now let us see a few of them
CE marking is a product certification that enables your product that they are very healthy, safer, and is having all the environmental protection before placing the product in a European economic area.
If you are certified by CE marking then you can export and import your products over 30 different countries due to which you can expand your market
It helps you to meet all kinds of regulations which are legal
It helps to build confidence and trust in your products for your end-users
It acts as one of the powerful branding tools for your organization and hence provides worldwide recognition.
These are the advantages of getting CE mark certification in UAE