HALAL Certification In UAE
About Halal foods
In general killing of animals according to the Islamic religion is only permissible for two main factors that are – to be eaten or to eliminate the hazards or the dangers. Firstly for an animal to be slaughtered it has to be Halal. It is considered to be Halal only when the products are raised and slaughtered according to the Islamic laws and regulations. And the meat products to get certified by Halal it has to be acceptable such as cow, lamb or chicken and they have to be slaughtered according to the Islamic laws. The main focus of Halal certification in UAE is to provide food which is clean and hygienic so that when the consumers depend on that product they should not face any kind of problems.
How to get HALAL certification in UAE? – Our 5 simple steps: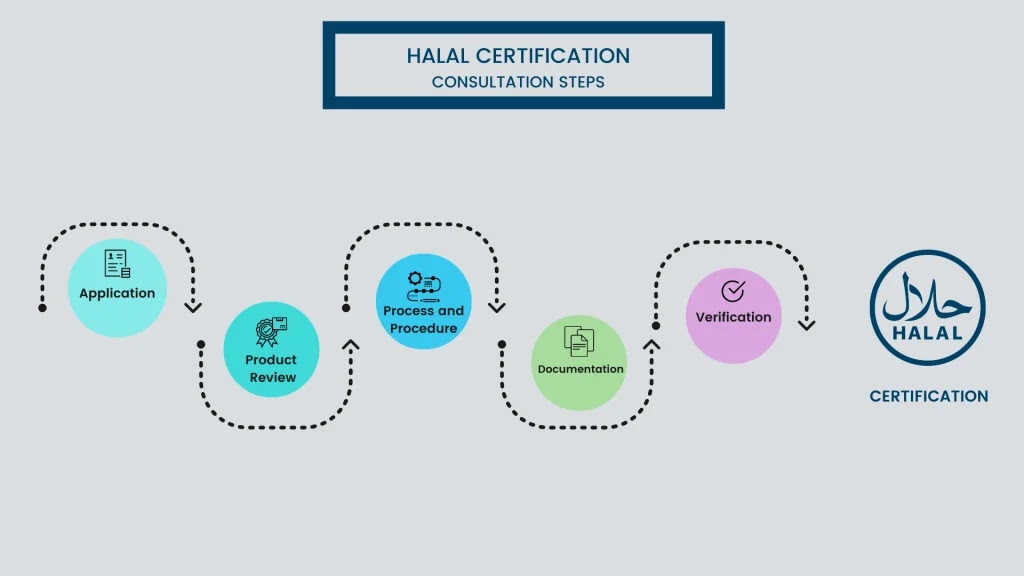 Step1: Apply for the HALAL certification
Step 2: Provide the list & specifications of the product produced along with the required documents
Step 3: Identify the product to be complied with HALAL practices
Step 4: Inspection of the process & procedures
Step 5: Achieve the HALAL certification!
Some of the advantages of Halal certification in UAE
The standard requirements of Halal focus on providing a clean and hygienic process that is according to their beliefs.
It helps to increase the ethical beliefs by reducing the pain for animals causing a slaughter in  long term or short-term stress when compared to actual modern techniques
It helps to check that food whatever they eat is of the highest quality and they are lesser to toxins
It helps in exporting and importing your products to other countries.
It helps you to meet all kinds of legal obligations
It helps to provide you confidence in your products that you are following the safety procedures and processes which can attract the Muslim customers
Halal food tastes better because they take certain procedures so they are tenderer and taste better and it also stays fresh for a longer duration in the absence of blood due to which the restrictions of bacteria can be done.
HALAL Certification in UAE, this certification helps to maintain hygienic food, and as per Islamic law having this certification is good.