ISO 22000 Certification In UAE
Certivatic is one of the top ISO 22000 Certification providers in the UAE. The ISO 22000 Consultant service we offer Dubai, Abu Dhabi, Sharjah, Ajman, Al Ain, Umm al-Qaiwain, Fujairah, and other major cities in the UAE with implementation, training, auditing, and registration services.
It is an international standard that specifies the requirements for all food safety systems in an organization. Businesses that are involved in the food chain operations can directly or indirectly benefit from this ISO 22000 certification in Dubai, such as producers of animal feed, producers of feed ingredients, food item manufacturers, service providers, retailers, catering services, food logistics, food storage equipment, packaging suppliers, and any other food producers and contact materials.
ISO 22000 & its significance
ISO 22000 certification in UAE is one of the strategic decisions for an industry to improve its overall performances in food safety. It is been published by the international organization for standardization in order to help the businesses which are interrelated with the food chain.
 ISO 22000 standards is a reflection of the core elements of HACCP principles and ISO 9001 which is very necessary for the business activities of any size which wants to demonstrate that they can consistently manage and protect the food from hazards by following the best practices.
The food safety management system can be utilized by any organization related to food supply chain starting from farm to food services, transportation, processing and storage via packing to retail. Like other management system the food safety management system also follows a high level structure which canbe compatible with the organizations needs and expectations and it can also be integrated with the other standards in order to reduce the duplications of efforts and cost.
How to get ISO 22000 certification in UAE? – Our effective implementation steps: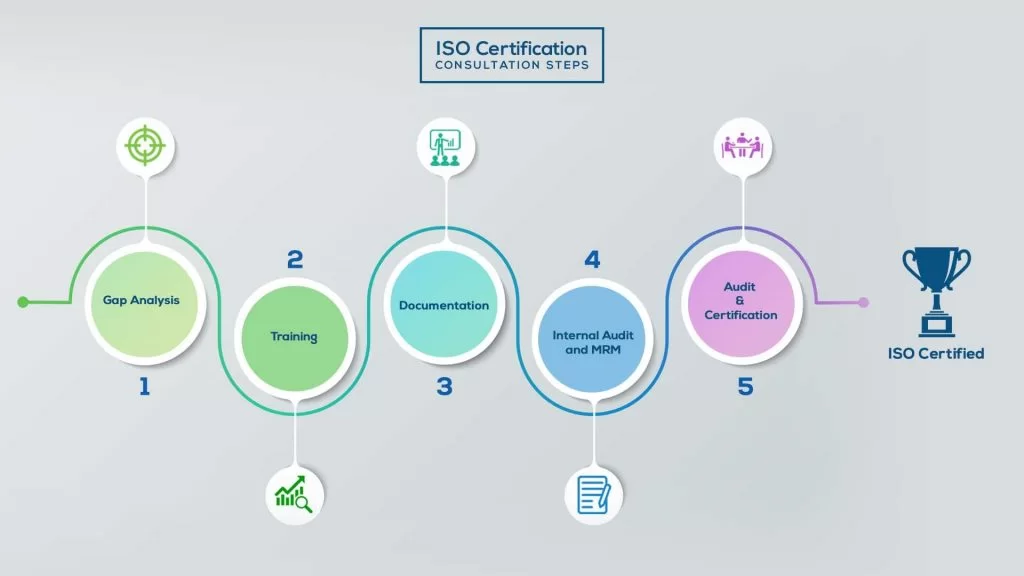 Our method/steps are easy, unique, time-bound, and result-oriented.
Interacting and detailed study of current work flows in different departments, operating procedures, documentation and practices.

Identifying any shortcomings of your organization against the requirements of ISO.

Generating a Gap report and planning for implementation
Creating awareness about ISO standard and its importance.

A formal training session/s.

It includes training on internal auditing, documentation training, mock audit and trainings to conduct management review meeting.
Documentation is the manifestation for your entire organizations process, procedure and results.

End-to-End support on preparing documentation as per ISO requirements.
Internal Audit (IA) as a tool, it is a cross departmental audit to ensure zero loophole in the system of your organization.

MRM: Management review meeting (MRM) helps top management to guide and ensure the whole organization is up to the mark as per the standard requirements.
Certivatic – Your certification is our responsibility!

With our 100% track record of success, we make sure Certification is achieved successfully.
Key Factors of FSMS – ISO 22000
The food safety management system provides a systematic Framework for the organizations by gathering all the procedures into one system those effects on the responsibilities and competencies. Getting certified by ISO 22000 to your organization shows the dedication towards a food safety to your stakeholders and customers. It provides a global recognition that your organization is certified by international standard that consist of standard policies, procedures, records & documents due to which the organization could have a brand of its own.
Merits of FSMS – ISO 22000
There are many benefits when it comes to international standards because it has a global recognition and provides a wide variety of requirements that is compatible to the organization, now let us see some more benefits:
It helps to meet all kind of food safety regulatory and legal conditions in the food safety system.
It helps the organization to demonstrate its commitment towards stakeholders and customers by satisfaction that it meets all the essential integrity of the food supply chain and other production operations
In order to make the implementation more effective it follows a codex steps due to which the principles of HACCP can be embedded within the standard
The standard has a international recognition due to which it makes your organization to sell your products or trade your products through domestic and global food chains very easily without any hazel condition
The standard is designed in such a way that it can be integrated with the other or existing ISO standards and provides a greater effectiveness in maintaining and protecting the auditing part of your system.
It is one of the key factors that improves the control over food safety by detecting and eliminating the threats and hazards that  are related to food
It helps your organization to reach a continual improvement in food safety by providing the requirements that is suitable for your organization
It acts as one of the branding tool to market your products anywhere.
ISO 22000 certification in UAE, This certification plays a major role in hotel management and Its mainly for food safety.