ISO 13485 Certification In UAE
We are one of the top leading ISO 13485 Certification providers in the UAE. We provide ISO 13485 consultants in Dubai, Abu Dhabi, Sharjah, Ajman, Al Ain, Umm al-Qaiwain, Fujairah, and other major cities in UAE, including implementation, training, auditing, and registration.
Among the most widely accepted international standards used by the medical industry for a quality management system is ISO 13485 certification in UAE. ISO 13485 certification in Dubai was published by the international organization for standardization with the main aim of publishing the rules having a specific set of requirements.
ISO 13485 & its significance
ISO 13485 certification in UAE is an international standard that is related to quality management system specifying the requirements of medical devices industries and other supporting functions. It is designed to help the industries to make sure that it is compliant to all the regulatory requirements while providing the effective and a safer production services. 
The requirements of ISO 13485 standard are almost similar to that of the other management systems in order to make the implementation and maintenance process very easy for the manufacturers. Implementing the requirements of ISO 13485 standard organization in coordination planning and preparation of all the documents which are necessary to meet the needs and expectation of the customers and other stakeholders.
ISO 13485 certification in UAE standards can be applied to any organization which is related to medical devices and it does not consider size or type of the organization. 
ISO 13485 is an international standard which follows a process approach like a quality management system, apart from establishing the quality management system that meets with standard requirements it also complies with the services and products of technical regulations.
How to get ISO 13485 certification in UAE? – Our effective implementation steps: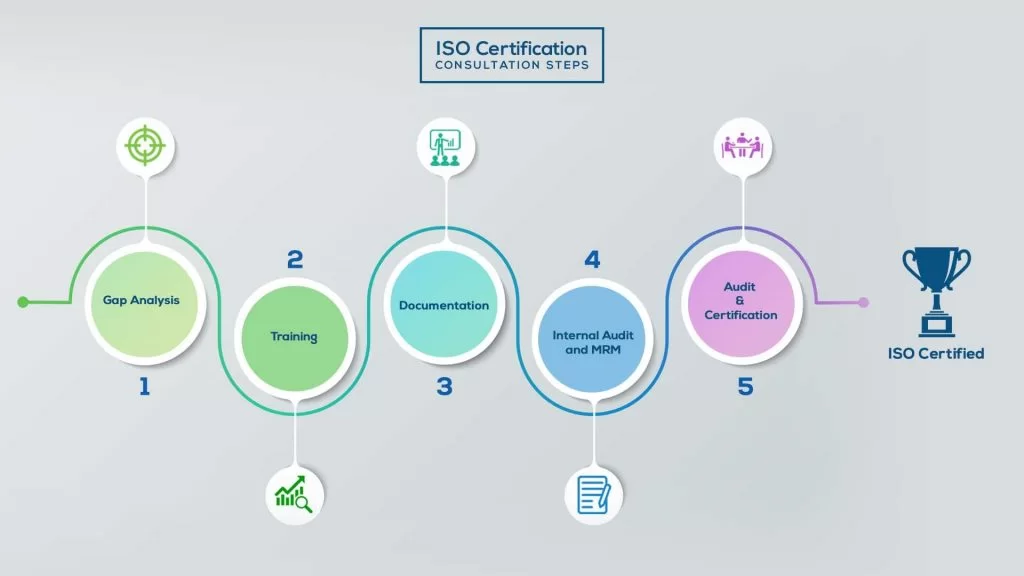 Our method/steps are easy, unique, time-bound, and result-oriented.
Interacting and detailed study of current work flows in different departments, operating procedures, documentation and practices.

Identifying any shortcomings of your organization against the requirements of ISO.

Generating a Gap report and planning for implementation
Creating awareness about ISO standard and its importance.

A formal training session/s.

It includes training on internal auditing, documentation training, mock audit and trainings to conduct management review meeting.
Documentation is the manifestation for your entire organizations process, procedure and results.

End-to-End support on preparing documentation as per ISO requirements.
Internal Audit (IA) as a tool, it is a cross departmental audit to ensure zero loophole in the system of your organization.

MRM: Management review meeting (MRM) helps top management to guide and ensure the whole organization is up to the mark as per the standard requirements.
Certivatic – Your certification is our responsibility!

With our 100% track record of success, we make sure Certification is achieved successfully.
Key factors of ISO 13485 certification in UAE
It helps the organization by setting the objectives, metrics and monitoring a performances
It helps to meet the expectations of management
It involves in careful preparation and planning for the resources that are needed to meet the quality requirements.
Merits of ISO 13485 certification in UAE
 The importance of the standard cannot be overstated. The organization of all sizes can be benefited by cost, time and other improvements by the use of efficient quality management system ISO 13485 standard.
It helps your organization to have an improved credibility and image because the standard has an international recognition due to which the customers and other clients would be sure that your organization is very serious about the quality of your products and services and make sure that all these systems are in place. So it can be one of the powerful marketing tool to increase your images and grab more opportunities
Customer satisfaction is all about the quality of your products, hence it involves in providing the best practices so that you could benefit.
It is one of the best continual improvement factor due to which the organization can identify and eliminate the threats and hazards that are occurring within the processes.
ISO 13485 certification In UAE, its mainly to maintain a quality management system of medical devices.