ISO 17025 Certification In UAE
As one of the leading ISO 17025 Certification providers in the UAE, Certivatic offers ISO 17025 certification. The company provides the best ISO 17025 Consultant service in Dubai, Abu Dhabi, Sharjah, Ajman, Al Ain, Umm al-Qaiwain, Fujairah, and other states in UAE, with services of implementation, training, auditing, and registration.
ISO 17025 certification in UAE is one of the most recognized standards throughout the world, defining the requirements for the competence of laboratories. For calibration and testing of laboratories, ISO 17025 Certification in Dubai is one of the most comprehensive standards available.
ISO 17025 & its significance
ISO/IEC 17025 describes the requirements for testing and calibration of laboratories. ISO 17025 certification in UAE has been published by the international organization for standardization in order to perform the testing and calibration using standard methods, non standard methods and other developed methods in laboratory. 
Being certified by ISO 17025 standards ensures that the laboratory can demonstrate its ability that they are competently providing the data's which are very precise, proficient and accurate.
 It is considered to be one of the voluntary standards that provides a requirements which are reviewed by the third parties to make sure that all the labs quality system are evaluated thoroughly so that they remain technically competent and compliance with the ISO 17025.
How to get ISO 17025 certification in UAE? – Our effective implementation steps: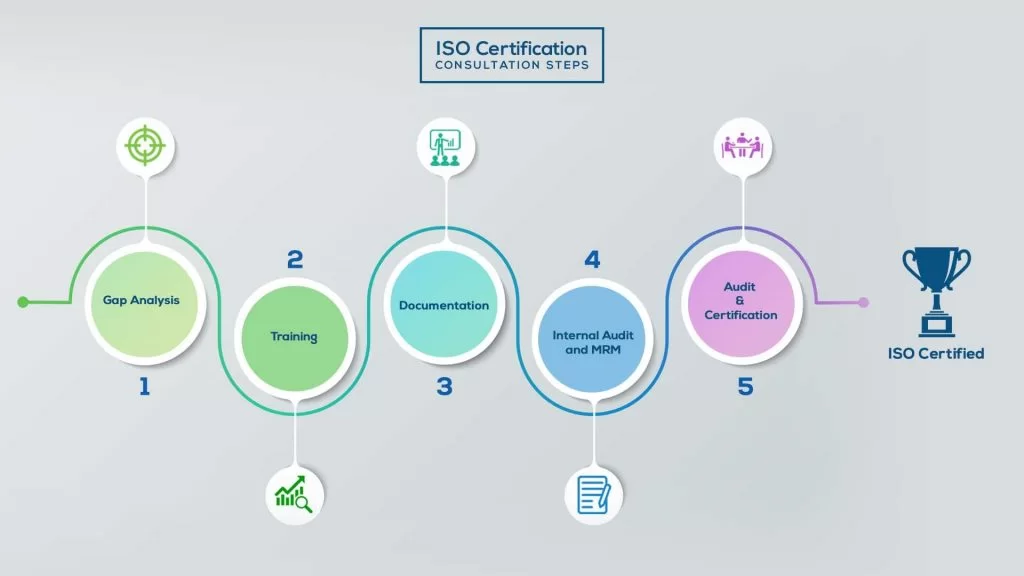 Our method/steps are easy, unique, time-bound, and result-oriented.
Interacting and detailed study of current work flows in different departments, operating procedures, documentation and practices.

Identifying any shortcomings of your organization against the requirements of ISO.

Generating a Gap report and planning for implementation
Creating awareness about ISO standard and its importance.

A formal training session/s.

It includes training on internal auditing, documentation training, mock audit and trainings to conduct management review meeting.
Documentation is the manifestation for your entire organizations process, procedure and results.

End-to-End support on preparing documentation as per ISO requirements.
Internal Audit (IA) as a tool, it is a cross departmental audit to ensure zero loophole in the system of your organization.

MRM: Management review meeting (MRM) helps top management to guide and ensure the whole organization is up to the mark as per the standard requirements.
Certivatic – Your certification is our responsibility!

With our 100% track record of success, we make sure Certification is achieved successfully.
Key elements involved in ISO 17025 certification in UAE to provide accurate, precise and proficient test and calibration data source and this includes:
Traceability of calibrations and measurements to both international and national standards
Competency of laboratory staff technically
Maintenance of test equipment
Assurance related to quality for test and calibration data's
Verification and validation of test methods
Proper handling and transportation of test products
Merits of ISO 17025 certification in UAE
There are many benefits when it comes to standards which have an international recognition because they would have filled with a lot of requirements that suffice the organizational goals and objectives and let us see some more benefits
ISO 17025 certification in UAE standard helps all the laboratories to minimize all kind of risk by making sure that you are technically competent and has all the quality system in place
It helps to avoid all kind of race testing which are very expensive due to which you can improve your confidence In your services and products by sharing that it has been verified by competent and independent testing and calibration laboratories which has been assessed by the third parties.
The standard provides you a systematic approach in order to keep all the lab protocols in place
It helps your organization to have a better and improved lab testing environment
One of the most important factors of all is satisfying the customers, since the standard has an international recognition so the organization would get more confidence about their services and products.
ISO 17025 Certification in UAE, This certification was introduced specifically for a medical device and for laboratories.