ISO 9001 Certification In Qatar
As a quality management system, ISO 9001 certification in Qatar is one of the International standards published by the International organization for standardization. 
In addition to helping implement the standard, ISO 9001 certification in Qatar also provides a set of guidelines that will ensure that your organization does not overlook any of the elements according to ISO 9001 certification services in Qatar.
 As a result, we can conclude that organizations that choose to register for ISO 9001 in Qatar will benefit from meeting the requirements of the quality system.  
ISO 9001 – Implementation & Certification
ISO 9001 certification is one of the world's most recognised and implemented standard, latest understand more about this particular standard and how would it help any organisation to make sure that it is reaching the expected outcomes and satisfying the customers.
 This standard is drafted and published by an organisation called international organisation for standardization which was created in the year 1947, this particular organisation helps the whole world by publishing standards relevant to different domains. 
Till today This organisation has published twenty-one thousand standards and still it is working on other new standards. Because of the immense popularity of this particular organisation It is no wonder that today it holds 162 member nations.
How to get ISO 9001 Certification in Qatar? – Our effective implementation steps: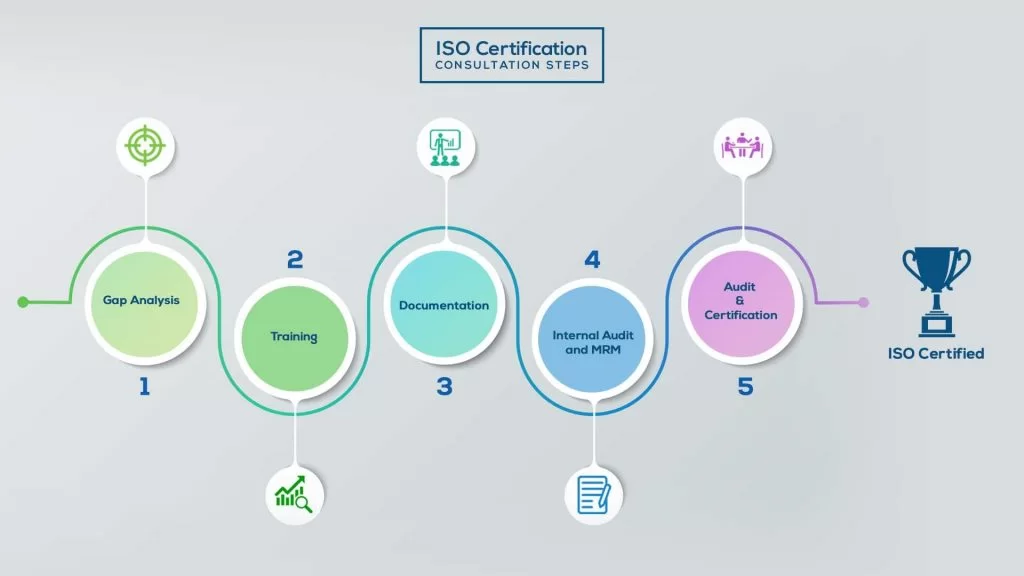 ISO Certification In Qatar
Our method/steps are easy, unique, time-bound, and result-oriented.
Interacting and detailed study of current work flows in different departments, operating procedures, documentation and practices.

Identifying any shortcomings of your organization against the requirements of ISO.

Generating a Gap report and planning for implementation
Creating awareness about ISO standard and its importance.

A formal training session/s.

It includes training on internal auditing, documentation training, mock audit and trainings to conduct management review meeting.
Documentation is the manifestation for your entire organizations process, procedure and results.

End-to-End support on preparing documentation as per ISO requirements.
Internal Audit (IA) as a tool, it is a cross departmental audit to ensure zero loophole in the system of your organization.

MRM: Management review meeting (MRM) helps top management to guide and ensure the whole organization is up to the mark as per the standard requirements.
Certivatic – Your certification is our responsibility!

With our 100% track record of success, we make sure Certification is achieved successfully.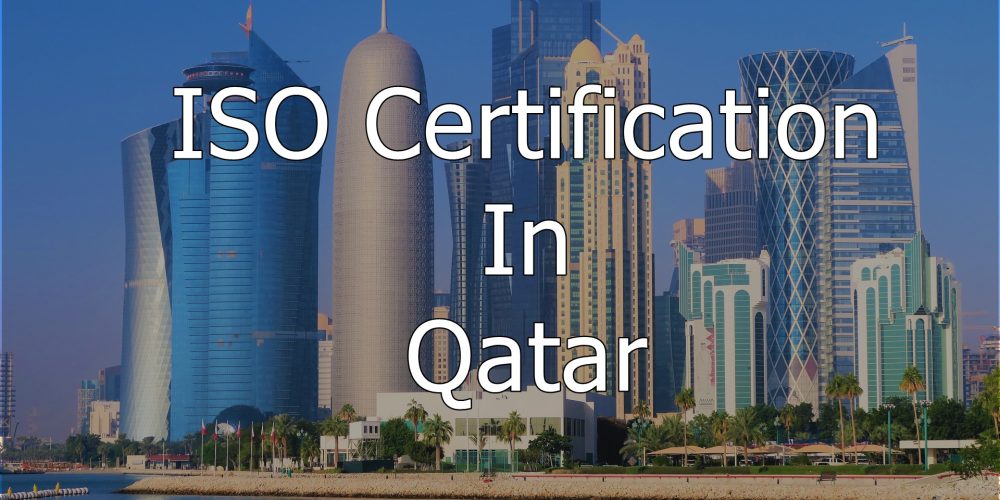 All about ISO 9001 Certification in Qatar
Let us understand what ISO 9001 Certification in Qatar is and what it focuses on. The two important pillars of this particular standard are customer satisfaction and continual improvement. This standard has 10 number of clauses and each clause explains us different parameters and helps organisations to implement all the 10 clauses to make sure it reaches the highest level of customer satisfaction and it keeps on improvising itself with the help of continual improvement. since the standard is very vast it is not very easy to any organisation To implement this particular standard all by itself hence the requirement for a consulting organisation which can help any company achieve this particular certification by implementing all the 10 clauses. Certivatic is one such organisation which is recognised all across the globe and have help hundreds of organisations to achieve this certification.There are a number of advantages, which a company can avail if they are certified for this particular ISO 9001 certification. Let us understand few of those advantages and see what this standard offers.Thousands of organizations have achieved the following advantages after they have certified for ISO 9001 Certification in Qatar.
Increased customer satisfaction
Increased overall efficiency
Reduced downtime
Tender eligibility
Employee satisfaction and retention
Market recognition And better market penetration
Increased profits
Better relationship among the vendors and the clients
These are only few of the advantages but there are more such advantages which any company can avail.
How Certivatic can be helpful?
Certivaticis one of the world's most recognised organisation Which offers all the services related to any kind of ISO standard or certification. Our expert advisors and consultants would help you to implement this standard with a very interesting and risk free techniques which are also simple and easily understandable, as a company help improve other organisations to achieve this certification. We make sure that we stay with you until you get satisfied so once you get in touch with our firm we make sure that we take you past horizon by making sure the audit is cleared and you achieve the certification. All you need to do to get in touch with us is just visit our website www.certivatic.com And fill up the form or you can also chat with our helpdesk assistants who Available 24/7 at your service, or if you prefer connecting with us through WhatsApp then we also have a WhatsApp icon on our website by clicking on which you directly get in The chat box of WhatsApp or you can even give a call to the number which is present on our website. we have our experts put up in many different countries and cities so whichever city or country you stay in We would make sure that we reach you and help you to get certified. Our advice is that you should not think much about getting the process started because once it started then we could take it forward for you.
ISO 9001 certification in Qatar allows the organisation to have this communication among the department and smooth running of the processes within the infrastructure.