CE Mark Certification In Qatar
CE Mark Certification in Qatar
CE Mark Certification In Qatar, Certivatic is specialized in providing CE Mark Certification and Consultation in Qatar. We provide the best CE Mark Consultant services in Al Ray yan, Doha, Al Wakrah, Al Khor, and other major cities in Qatar with the service of consultation, implementation, documentation, training, auditing, and registration. We do provide ISO Certification, HALAL Certification around the world at an affordable cost.
CE mark certification in Qatar, CE mark certification is a must-have if any product is to be marketed in the European Union Region. The CE standard is so drafted that it makes sure the product is safe to be used by humans and would not cause any harm to the health or safety of any individual who is using the particular product. 
In the present day, there are a lot of countries who are asking for CE mark certification if they would have to approve any product to be marketed in their country which means not only the European Union but also many other countries are asking for CE mark certification.
Why should I get a CE mark for my product?
CE is a universally accepted standard and having the CE certificate for your product showcases that your product is safe to use, any product from toys to medical devices you can opt for CE Mark certification Because there are a lot of directives, and your product would fall in one of those directives also the CE mark certificate would clearly define in which category your product is falling to showcase that you have followed all the precise procedures published in this standard while manufacturing your product and this would be a gateway to enter into any international markets. You would be eligible to participate in many public and private sector tenders if you are having this product certification.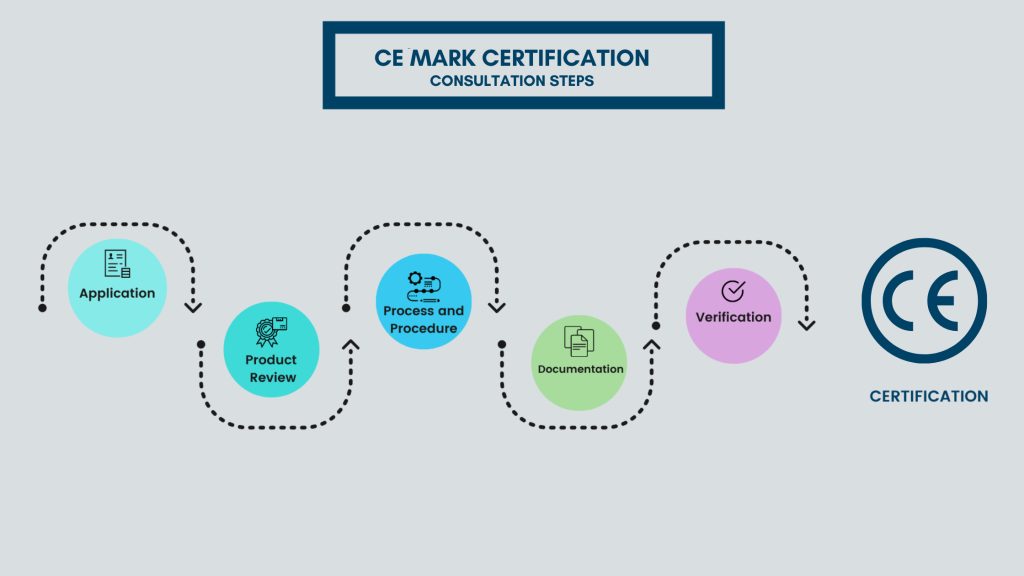 ISO Certification In Qatar
Our method/steps are easy, unique, time-bound, and result-oriented.
Interacting and detailed study of current work flows in different departments, operating procedures, documentation and practices.

Identifying any shortcomings of your organization against the requirements of ISO.

Generating a Gap report and planning for implementation
Creating awareness about ISO standard and its importance.

A formal training session/s.

It includes training on internal auditing, documentation training, mock audit and trainings to conduct management review meeting.
Documentation is the manifestation for your entire organizations process, procedure and results.

End-to-End support on preparing documentation as per ISO requirements.
Internal Audit (IA) as a tool, it is a cross departmental audit to ensure zero loophole in the system of your organization.

MRM: Management review meeting (MRM) helps top management to guide and ensure the whole organization is up to the mark as per the standard requirements.
Certivatic – Your certification is our responsibility!

With our 100% track record of success, we make sure Certification is achieved successfully.
How do I get my products certified for CE in Qatar?
The answer is as simple as getting connected with our company because we are a one stop solution Service provider for any kind of product certification and CE mark certification in Qatar is one of the most opt for certification from our organisation and we have helped multiple companies to get their products certified for CE.
What is the cost of CE mark certification in Qatar?
The cost of CE mark certificate depends on multiple factors and also depends on the company which you are opting for to get your products certified, Certivatic is a company which can help you to get this particular certification with very minimal cost and also we provide a hassle free process helping you to get the certificate with quick and simple techniques as we have a vast experience in this particular field and have many customers across the globe. So we advise you that if you're looking for CE mark certification in Qatar for your product's then we would be on our toes to help you and guide you through the process and make sure that you achieve the seamark certification to your product's at any cost. Connect with us on www.certivatic.com Send us an inquiry through multiple ways available on our website and we would be awaiting to get your inquiry.
CE mark certification in Qatar is made mandatory in order to getting marketing clearance for the products to have their selling product in European countries. Marking fulfill Steel safety and mandatory requirements which are described by the derivatives of European Union.