ISO 27001 Certification In Qatar
ISO Certification In Qatar, Certivatic is specialized in providing ISO Certification and Consultation in Qatar. We provide the best ISO Consultant services in Al Ray yan, Doha, Al Wakrah, Al Khor, and other major cities in Qatar with the service of consultation, implementation, documentation, training, auditing, and registration. We do provide CE mark Certification, HALAL Certification around the world at an affordable cost.
ISO 27001 certification in Qatar – An introduction
ISO 27001 certification in Qatar Is one such certification which all IT companies and companies which deal with data are looking forward to achieve because Are you sure 27001 stands for information security management and is widely recommended and recognised all across the globe. 
This standard is published by an organisation called international organisation for standardisation and this is an information security specific standard. 
we all know that in this 21st century there helping a lot of cyber threats cyber-attacks and data theft, to work on this kind of situation and to make sure the information which is being processed in any organisation is safe, secured and also not vulnerable to be exploited by any wanted individual.
How to get ISO 27001 Certification in Qatar? – Our effective implementation steps: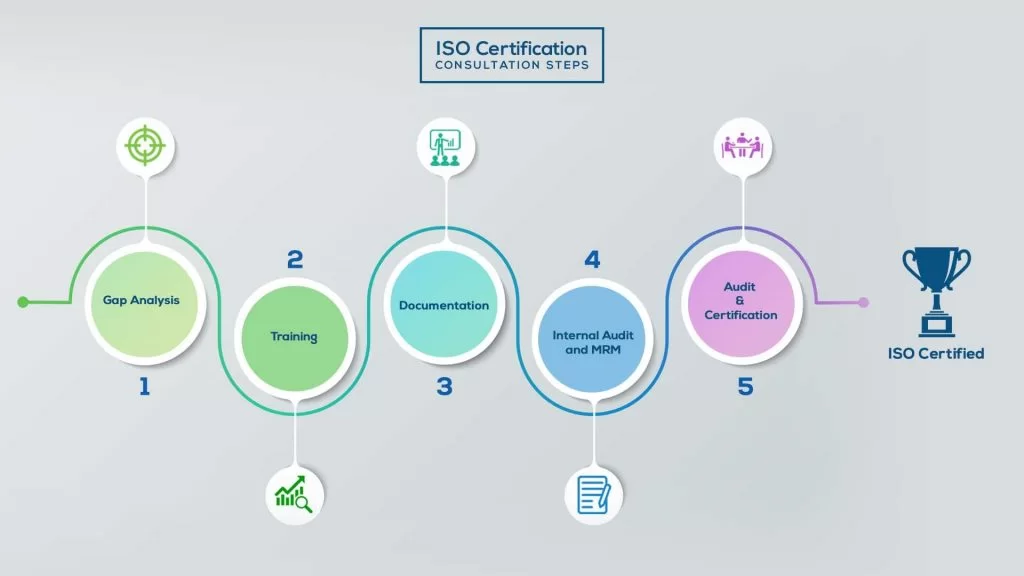 ISO Certification In Qatar
Our method/steps are easy, unique, time-bound, and result-oriented.
Interacting and detailed study of current work flows in different departments, operating procedures, documentation and practices.

Identifying any shortcomings of your organization against the requirements of ISO.

Generating a Gap report and planning for implementation
Creating awareness about ISO standard and its importance.

A formal training session/s.

It includes training on internal auditing, documentation training, mock audit and trainings to conduct management review meeting.
Documentation is the manifestation for your entire organizations process, procedure and results.

End-to-End support on preparing documentation as per ISO requirements.
Internal Audit (IA) as a tool, it is a cross departmental audit to ensure zero loophole in the system of your organization.

MRM: Management review meeting (MRM) helps top management to guide and ensure the whole organization is up to the mark as per the standard requirements.
Certivatic – Your certification is our responsibility!

With our 100% track record of success, we make sure Certification is achieved successfully.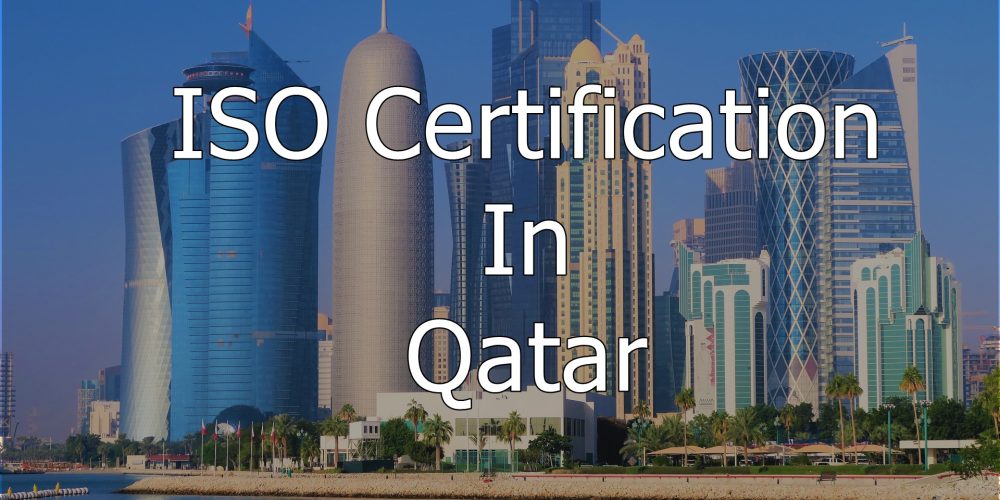 What exactly is ISO 27001?
As explained earlier this is information security management system and it is a standard which outlines the importance of information security and also provides a framework for any organisation to follow a management practise which will help them to make sure that each and every data and information is out of the reach some unauthorised party. this particular standard has 10 number of clauses add 114 controls which takes care of all the areas which needs to be focused and applicable controls to be implemented which would make sure that there are no possible loopholes through which the data can be breached.
How to get ISO 27001 certification in Qatar?
Now that you know it is a vast standard and it is highly difficult for any organisation to implement the standard by itself to get certified hence the simple solution would be to hire a one stop solution consulting company who would help you to implement this particular ISO 27001 standard into your organisational management practises and then would help you to face the audit and clear the audit to achieve the certificate of ISO 27001.
How do we choose a consulting company who can help us to get ISO 27001 in Qatar?
There are a lot of factors to keep in mind when you are selecting a company that can possibly offer you a one stop solution and provide you the support from the beginning till you get certified. You need to understand that the company should be well recognised and also pass expert consultants who can guide you through the process and understand your organisation and keep your organisation ready for the audit and make sure that you clear the audit. Certivatic is one such Which you can opt for make sure that we stand with you until organisation is certified satisfied and beyond. Our expert consultantshave their own tailor made techniques and understanding and implementing the required ISO standard into your management system practises and help train your resources to understand and follow the same. About worldwide presence and satisfied clients and one very big reason for you to choose us as your consulting company and we would walk you through the process in a quick and simple manner.
How to get a quote for ISO 27001 certification?
You can connect to us through our website www.certivatic.com and simply fill up the form to reach us or you can directly email us on contact@certivatic.com.We even have 24/7 available helpdesk to guide you when you visit our website and also we have a lot of social media presence through which you can Connect with us so we advise you not to wait anymore and start the journey of getting certified in a quick simple and cost effective manner.
ISO 27001 Certification in Qatar was developed to help organizations, of any size or any industry, to protect their Data in a systematic through Certivatic with the adoption of an Information Security Management System (ISMS).