ISO 22000 Certification In Singapore
ISO 22000 Certification in Singapore
ISO 22000 Certification In Singapore, Certivatic is specialized in providing ISO 22000 Certification and Consultation in Singapore. We provide the best ISO Consultant services in Hougang, Tampines, Pasir Ris, Yishun, and other major cities in Singapore with the service of consultation, implementation, documentation, training, auditing, and registration. We do provide CE mark Certification, HALAL Certification around the world at an affordable cost.
What are the important factors of ISO 22000 certification in Singapore?
ISO 22000 certification in Singapore is mainly dealing with food safety and it is developed and published by international organizations for standardization. The presence of food hazards in the food during the consumption period must be eliminated. any organization involved in the food chain at any stage must go with the implementation of a food safety management system. some of the organizations to get international recognition and to satisfy the customer requirement generally go with the implementation of ISO 22000 certification in Singapore. 
Food spoilage or food hazard can appear at any stage of the food chain it is very important to have control over the place where food is served, prepared, transported, stored and many other stages concerned. ISO 22000 certification in Singapore can also be integrated with other management systems and also can be implemented independently based upon the requirements for the organization.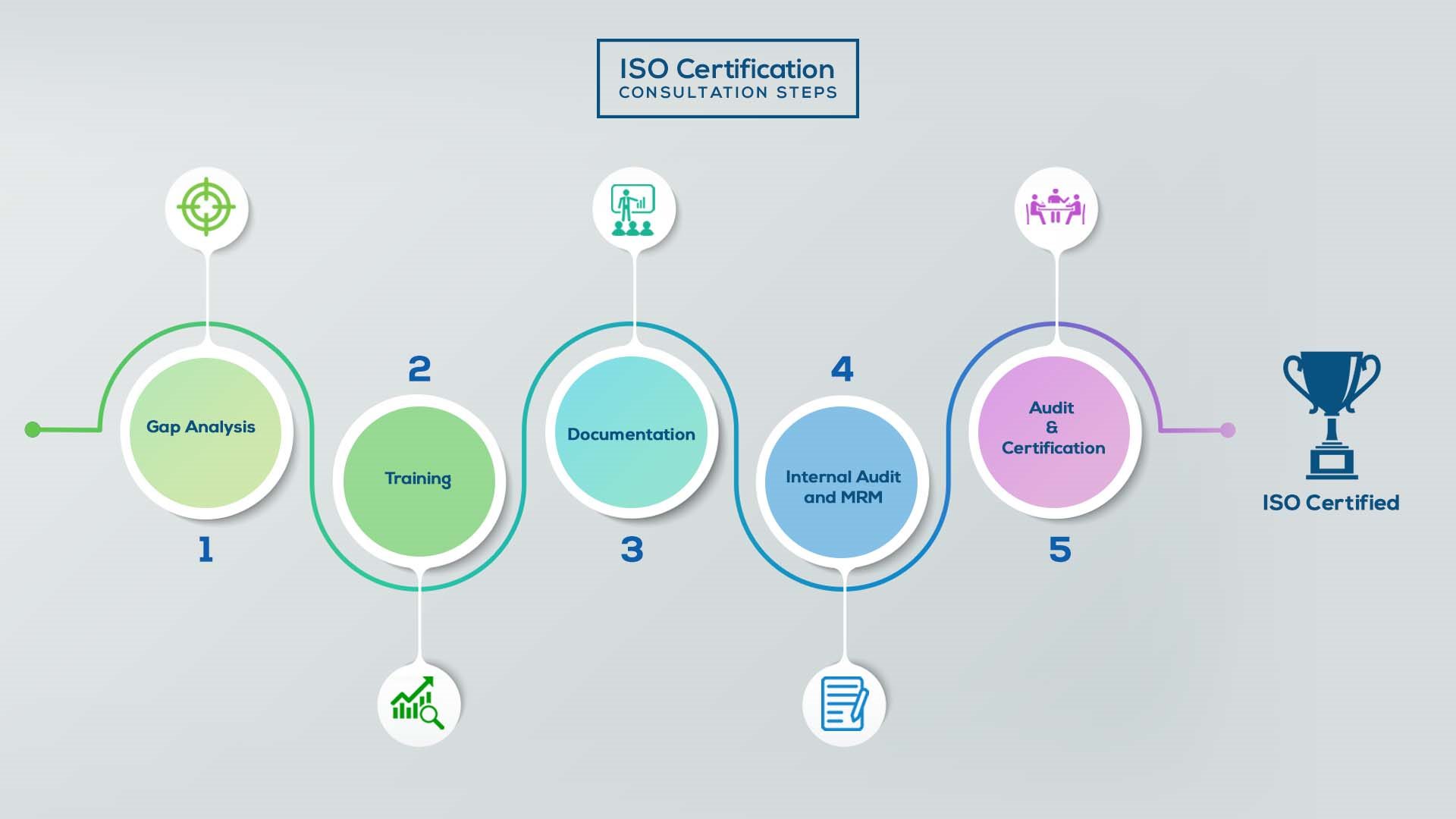 ISO Certification In Singapore
Our method/steps are easy, unique, time-bound, and result-oriented.
Interacting and detailed study of current work flows in different departments, operating procedures, documentation and practices.

Identifying any shortcomings of your organization against the requirements of ISO.

Generating a Gap report and planning for implementation
Creating awareness about ISO standard and its importance.

A formal training session/s.

It includes training on internal auditing, documentation training, mock audit and trainings to conduct management review meeting.
Documentation is the manifestation for your entire organizations process, procedure and results.

End-to-End support on preparing documentation as per ISO requirements.
Internal Audit (IA) as a tool, it is a cross departmental audit to ensure zero loophole in the system of your organization.

MRM: Management review meeting (MRM) helps top management to guide and ensure the whole organization is up to the mark as per the standard requirements.
Certivatic – Your certification is our responsibility!

With our 100% track record of success, we make sure Certification is achieved successfully.
What does a pre-requisite program in ISO 22000 certification in Singapore includes?
It is a most essential factor to be considered to protect the food in all forms such as chemically, biologically, and physically. implementing prerequisite programs in the organization during the implementation of a food safety management system will certainly ensure the protection of the food in all forms and in all stages. Food defense must be set as an objective, with respect to providing a warehouse or storage unit for the food manufacturing industry. Pest control, personal hygiene, staff briefing, healthy facility, cleansed clothes, utensils with appropriate cleaning devices, establishing management for purchasing material and storing the material. The above-mentioned facilities may vary based upon the type of food manufacturing or the organization involved in any stages of the food chain must be taken care of.
What are the requirements of ISO 22000 certification in Singapore?
Food safety management system establishment follows the same methodologies as other well-known management systems. The establishment of food safety policy developing objectives in order to implement ISO 22000 certification in Singapore remains the same as in the priority.
The documentation of any process such as storing the raw material or purchasing the material must be recorded with the well-maintained system.
The management system must be planned, designed, and implemented within appropriated documenting technology.
Along with this, a contingency plan must be set in case the main plan fails to succeed.
Implementation of hazard analysis critical control point (HACCP) principles must be placed in control in the management system.
An organization with a well-organized structure can easily go with appointing certain resources into this phenomenon as a food safety team.
Management review meeting soon after going with the performance evaluation must be set in order to understand the conformity and nonconformity importance.
Based upon the obtained results corrective actions are incorporated in order to set up a perfect framework for the management system.
Measuring monitoring and controlling all the processes at all points in time in order to reach the everyday objective.
Internal audit is conducted in order to make sure the implemented processes are at a progressive level.
The initial response from the top management team plays an essential role in setting up a successful food safety management system. Providing sufficient resources in order to maintain a food safety management system is very important.