ISO 27001 Certification In Singapore
ISO 27001 Certification in Singapore
ISO 27001 Certification In Singapore, Certivatic is specialized in providing ISO 27001 Certification and Consultation in Singapore. We provide the best ISO Consultant services in Hougang, Tampines, Pasir Ris, Yishun, and other major cities in Singapore with the service of consultation, implementation, documentation, training, auditing, and registration. We do provide CE mark Certification, HALAL Certification around the world at an affordable cost.
What are the important factors of ISO 27001 certification in Singapore?
ISO 27001 certification in Singapore is one of the well-known International standards focusing particularly on information security management system (ISMS). Any organisation which is ISO 27001 certified will have more opportunities for business expansion and more professional authenticity. ISO 27001 standard is designed and published by international electrotechnical commission (IEC) and international organisation for standardization (ISO). Both the organisations are internationally recognised and have the association along with each other in order to publish this standard in order to ensure information security management system (ISMS).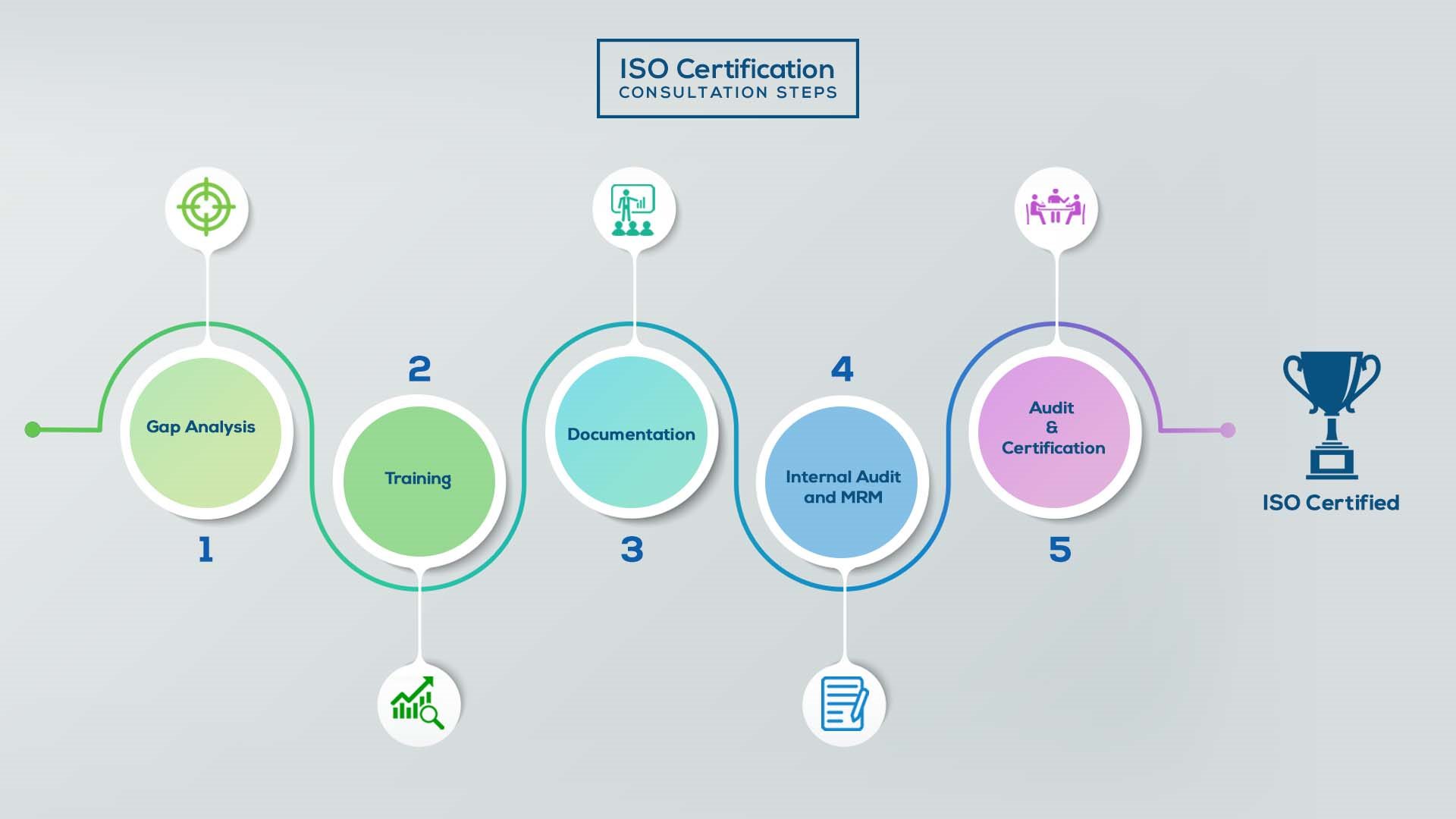 ISO Certification In Singapore
Our method/steps are easy, unique, time-bound, and result-oriented.
Interacting and detailed study of current work flows in different departments, operating procedures, documentation and practices.

Identifying any shortcomings of your organization against the requirements of ISO.

Generating a Gap report and planning for implementation
Creating awareness about ISO standard and its importance.

A formal training session/s.

It includes training on internal auditing, documentation training, mock audit and trainings to conduct management review meeting.
Documentation is the manifestation for your entire organizations process, procedure and results.

End-to-End support on preparing documentation as per ISO requirements.
Internal Audit (IA) as a tool, it is a cross departmental audit to ensure zero loophole in the system of your organization.

MRM: Management review meeting (MRM) helps top management to guide and ensure the whole organization is up to the mark as per the standard requirements.
Certivatic – Your certification is our responsibility!

With our 100% track record of success, we make sure Certification is achieved successfully.
One of the major assumptions that an organisation consider regarding the implementation of information security management system is that the only IT department will be responsible for going with the implementation of this standard.
ISO 27001 certification in Singapore is not only dedicated to information technology department but also to all the levels of management system. Data flow within the organisation must be taken care by some system in order to address all kind of data breaches. Implementation of information security management system will take care of this particular factor throughout the organisation. The benefit of implementation of ISO 27001 standard is not only for the marketing purpose, this is one of the major assumptions that has been considered with this particular International standard.
What are the important  ISO 27001 certification in Singapore checklist for management?
Implementation of information security management system is not only preferred to IT department but all other levels of management system. The security policies that are established during the initial stages of implementation must be brought into trial and the result must be verified. to understand the exact implementation process of information security management system in the administration it may take time as much as required for the management system. Once the results are obtained evaluation of these results will provide the management system with the better framework.
Business object must be set up in order to secure the information within the walls of the organisation. Human resource must be available when it comes to providing enough security and enough investment must be given. Complete agreement from the management system must be taken in order to initiate the process of ISO 27001 certification in Singapore implementation. The involvement of top management system must be sufficient in order to define the roles and responsibilities that are subjected to secure information at all levels of management system. Publishing policies and reviewing them often is unexpected job description that comes along with the implementation of ISO 27001 Certification in Singapore.
What is ISO 27001 certification in singapore risk assessment methodology?
Information security management system particularly concentrates on making sure the assets that belong to organisation must be protected. Establishing levels of security to the management system requires involvement of each and every individual from the top management system.
Risk assessment methodology states that the bigger the problem the bigger the assessment method that must be implemented in the organisation. Is the problem is arrived at any department, the involvement of the department people must be considered in order to scale down the risk to acceptable level or to completely eliminate it.