ISO 9001 Certification in Lebanon
ISO Certification In Lebanon, Certivatic is specialized in providing ISO Certification and Consultation in Lebanon. We provide the best ISO Consultant service in  Beirut, Tripoli, Sidon, Byblos, Baalbek, and other major cities with the service of consultation, implementation, documentation, training, auditing, and registration. We do provide CE mark Certification, HALAL Certification around the world at an affordable cost.
ISO 9001 certification in Lebanon is a quality standard published by the international organization for standardization which has recognition worldwide and it has been accepted by millions of organization. It helps the organization to implement the best practices so they could have an effective quality management system.
The standard enables the organization to run more profitably and efficiently by providing the best practices according to the requirements of international standard. The standard is generic and can be applied to any organization irrespective of size, scope or location. 
And we can see more evidently that the organizations who have adopted the quality management system can facilitate growth and development.ISO 9001 is considered to be the heart of all the management system standards.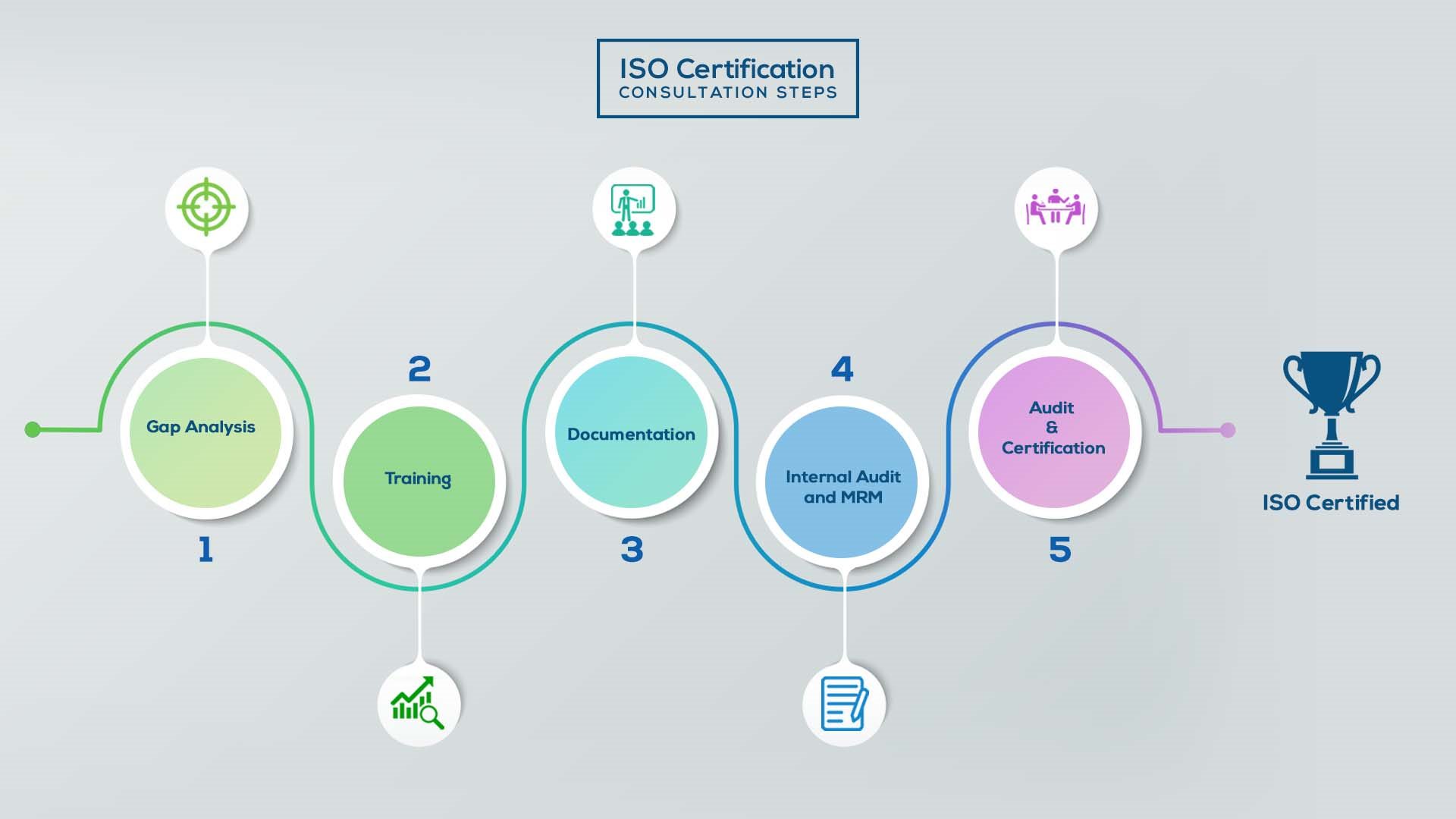 ISO Certification In Lebanon
Our method/steps are easy, unique, time-bound, and result-oriented.
Interacting and detailed study of current work flows in different departments, operating procedures, documentation and practices.

Identifying any shortcomings of your organization against the requirements of ISO.

Generating a Gap report and planning for implementation
Creating awareness about ISO standard and its importance.

A formal training session/s.

It includes training on internal auditing, documentation training, mock audit and trainings to conduct management review meeting.
Documentation is the manifestation for your entire organizations process, procedure and results.

End-to-End support on preparing documentation as per ISO requirements.
Internal Audit (IA) as a tool, it is a cross departmental audit to ensure zero loophole in the system of your organization.

MRM: Management review meeting (MRM) helps top management to guide and ensure the whole organization is up to the mark as per the standard requirements.
Certivatic – Your certification is our responsibility!

With our 100% track record of success, we make sure Certification is achieved successfully.
Scope of ISO 9001 Certification in Lebanon
In order to meet the requirements for quality management system the organization has to:
Demonstrates its ability to consistently furnish the product or services to meet the customer needs and expectation and other applicable statutory and regulatory requirements
The objective of the quality management system is to enhance the customer satisfaction by effective implementation of the requirements that includes processes for continual improvement and providing an assurance to conformity.
Adopting a quality management system should be one of the strategic decisions and the system includes the design and implementation which is been influenced by:
Organization's environment and associated changes or risks
Different needs or varying needs
Specific Objectives
Services or products offered
Size and organizational structure
Processes
Importance of ISO 9001 Certification in Lebanon:
The main aim of ISO 9001 Certification in Lebanon is to provide a workable and a practical quality management system for the organization to improve and monitor in all the areas of organization. Implementing the requirements of quality management system helps your organization to manage the process by building a sound Foundation that will lead your organizational activities to have profit and productivity and therefore you can have a customer acquisition and retention as well.
It is not about establishing a set of procedures, polices or processes which are very difficult and complicated to manage but it is tailored Framework that helps the management to achieve their goals.
Other benefits include in ISO 9001 Certification in Lebanon
The standard is suitable for any kind of an organization irrespective of a size type or a scope
It helps to have better internal management system by providing best practices compatible with the organizational objectives &goals.
It helps to increase the productivity, efficiency and conspiracy
Provides global marketing as the standard is recognized globally
Compatible and can be integrated with the other management system standards
The requirements are so beautiful that it reduces waste in the process or a production by providing strategic decisions.
Being certified by ISO 9001 will bring you more benefits in fact few companies would come in relation with you if you are certified by ISO 9001 because it gives them an assurance that your organization are following necessary steps to quality factors and it is been assessed constantly
ISO 9001 certification in Lebanon is generally called as QMS which stands for Quality Management System. As the name itself suggest this particular national standard which is published by ISO is one of the vastly used International standard across the globe.
Certivatic is a had practical experience in giving ISO 9001 certification in Lebanon and affirmations. We bolster associations in acquiring universal standard confirmations like ISO 9001, ISO 14001, ISO 45001, ISO 27001, ISO 22000, ISO 22301, ISO 13485, CE MARK, EU GDPR, GMP, BIFMA in the most fitting, satisfactory, prudent, productive, time-bound and basic way.