ISO 45001 Certification in Lebanon
ISO 45001 Certification in Lebanon
ISO 45001 Certification In Lebanon, Certivatic is specialized in providing ISO Certification and Consultation in Lebanon. We provide the best ISO Consultant service in  Beirut, Tripoli, Sidon, Byblos, Baalbek, and other major cities with the service of consultation, implementation, documentation, training, auditing, and registration. 
We do provide CE mark Certification, HALAL Certification around the world at an affordable cost.
ISO 45001 certification in Lebanon describes the requirement for management system for occupational health and safety management along with the guidance on how to use. It provides a framework to establish the occupational health and safety management objectives, processes, policies and governance and other related facility for an organization to achieve its set goals.
 It is designed in such a way that it is very effective and efficient which involves in continual improvement of occupational health and safety performances. It enables the organization to provide healthy and safe workplaces by reducing work-related injuries. It is an updated version of OHSAS 18001 standard which provides a similar requirements.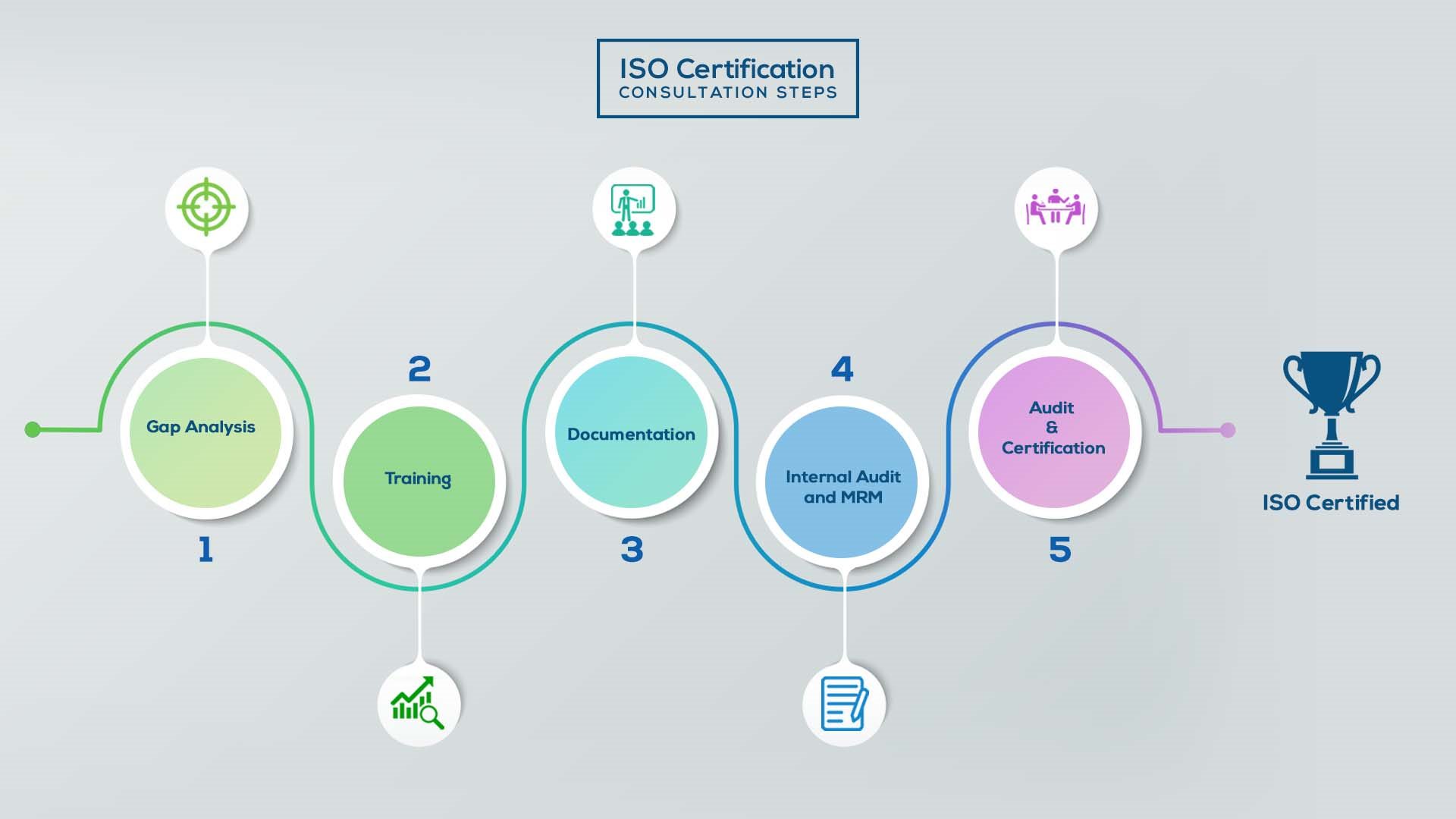 ISO Certification In Lebanon
Our method/steps are easy, unique, time-bound, and result-oriented.
Interacting and detailed study of current work flows in different departments, operating procedures, documentation and practices.

Identifying any shortcomings of your organization against the requirements of ISO.

Generating a Gap report and planning for implementation
Creating awareness about ISO standard and its importance.

A formal training session/s.

It includes training on internal auditing, documentation training, mock audit and trainings to conduct management review meeting.
Documentation is the manifestation for your entire organizations process, procedure and results.

End-to-End support on preparing documentation as per ISO requirements.
Internal Audit (IA) as a tool, it is a cross departmental audit to ensure zero loophole in the system of your organization.

MRM: Management review meeting (MRM) helps top management to guide and ensure the whole organization is up to the mark as per the standard requirements.
Certivatic – Your certification is our responsibility!

With our 100% track record of success, we make sure Certification is achieved successfully.
Why ISO 45001 Certification in Lebanon is important?
Confirming the requirements of ISO 45001 certification in Lebanon can support the industries that are striving for continuous improvement, culture of proactive which can drive the organization's efficiency and effectiveness in the achievement of the highest levels of occupational health and safety performance. It is one of the best standards where it brings the best practices into the system due to which the organization can improve its occupational health and safety management system.
Implementing and developing the occupational health and safety management systems framework, objectives and policies based on the standard enables the external and internal parties such as  customers, investors, workers, regulators and so on that the industries are managing its performances and other related risk in a very effective manner.
It is one of the standards which have been published by international organization for standardization hence it has a global recognition that provides a reliable Framework awakening the organization by providing consistency in occupational health and safety management practices. It can be integrated with other management system standards such as ISO 9001, ISO 14001 and many more so that they can act together and provide an effective system with best practices to face all kind of operation.
Key factors for adopting ISO 45001 certification in Lebanon
The standard is based on occupational health and safety system that enables the organization to improve its performance by these factors
Implementing and developing the occupational health and safety objectives and policies
Establishing a strategic process that consists of factors such as context, risk and opportunities and other legal requirements
Identifying the hazards and risk related to occupational health and safety with its operations; analyzing to eliminate them by implementing new controls to minimize their effectiveness
Determining the controls related to operations to manage their risk and other related activities by creating awareness of occupational health and safety systems risk
Assessing the performance and seeking its improvements by taking proper corrective and preventive actions
Ensuring the workers would participate in occupational health and safety matters.
It is one of the generic standards and can be applied to all the organizations that include profitable or non-profitable industries, public or private sectors, small or large companies and so on.  The organization which wants to have best practices of health and safety related to their employees in the organization can go for ISO 45001 standard. Everybody can be benefited from ISO 45001 certification in Lebanon requirements because it can be scaled or tailored to fit a particular organizations needs and expectations.
ISO 45001 certification in Lebanon is developed in order to take care Health and safety at work and this International standard provides a great commitment in terms of government regulatory also.