ISO 27001 Certification in Lebanon
ISO 27001 Certification in Lebanon
ISO 27001 Certification In Lebanon, Certivatic is specialized in providing ISO Certification and Consultation in Lebanon. We provide the best ISO Consultant service in  Beirut, Tripoli, Sidon, Byblos, Baalbek, and other major cities with the service of consultation, implementation, documentation, training, auditing, and registration. 
We do provide CE mark Certification, HALAL Certification around the world at an affordable cost.
ISO 27001 certification in Lebanon & its significance
ISO 27001 certification in Lebanon outlines a Framework for the industries information security management system that includes processes and policies which are relevant in controlling data and information. 
It is one of the best marketing tools that provide numerous solutions for the organization facing risk and threats related to information and data which would bring more value to your organization by providing the security requirements which has been accepted globally. Implementing the information security management system should be one of the strategic decisions for an organization. The implementation of the organizations security system is influenced by their objectives and needs, processes, security requirements and the structure of the organization.
How to get ISO 27001 certification in Lebanon? – Our effective implementation steps: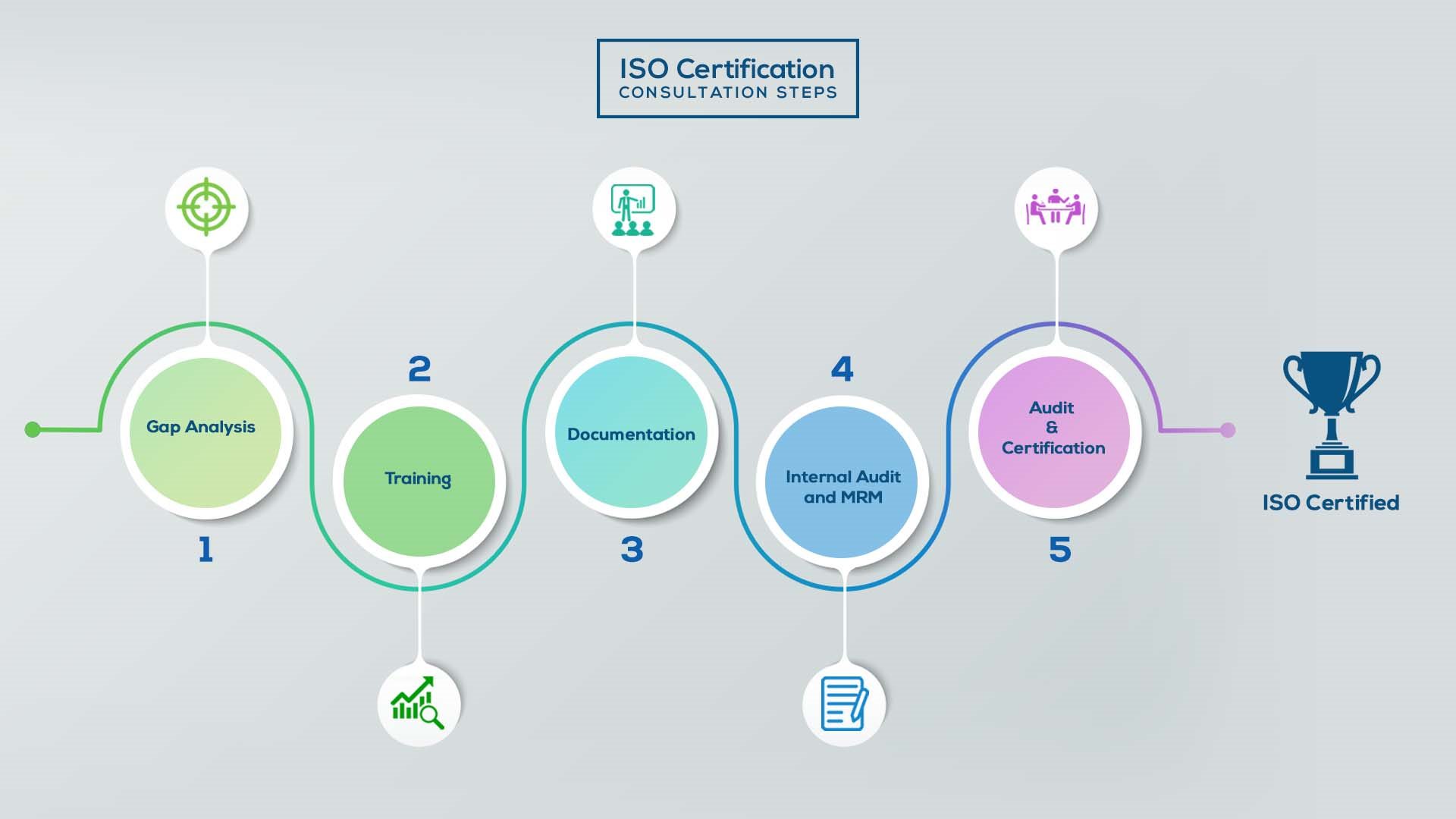 ISO Certification In Lebanon
Our method/steps are easy, unique, time-bound, and result-oriented.
Interacting and detailed study of current work flows in different departments, operating procedures, documentation and practices.

Identifying any shortcomings of your organization against the requirements of ISO.

Generating a Gap report and planning for implementation
Creating awareness about ISO standard and its importance.

A formal training session/s.

It includes training on internal auditing, documentation training, mock audit and trainings to conduct management review meeting.
Documentation is the manifestation for your entire organizations process, procedure and results.

End-to-End support on preparing documentation as per ISO requirements.
Internal Audit (IA) as a tool, it is a cross departmental audit to ensure zero loophole in the system of your organization.

MRM: Management review meeting (MRM) helps top management to guide and ensure the whole organization is up to the mark as per the standard requirements.
Certivatic – Your certification is our responsibility!

With our 100% track record of success, we make sure Certification is achieved successfully.
The standard was established to provide a high degree of information security protection. ISMS sets out a different controls that are required to be in place to measure and analyze the requirements such as
Determining the potential risk of information security
Providing highly secured Framework for managing and implementing the controls
Managing the compliance with laws and regulations properly
Framing the objectives of information security management system
Emphasizing the information security standards, policies and processes thathave to be followed by the business.
How it works?
ISO 27001 certification in Lebanon is considered to be one of the top down, technology-unbiased and threat based approach. The requirements of the standard consists of six planning processes which includes security policies, risk assessment, scope of ISMS, managing the access to risks, selecting the control objectives which are to be implemented and preparing the document called as statement of applicability.ISO 27001 Certification in Lebanon coordinates with all the departments in an organization and improves the management responsibility and ensuring the continual improvement by conducting the audits and taking corrective and preventive actions.It finally makes sure that all these systems are in place.
ISO/IEC 27001 standard provides a requirement for information security management system and it has many benefits when it comes to securing the data source. It will help your organization to comply with all the regulations and gains trust and businesses.  It provides a new way for approaching a security system by helping the workers in the organization to be more aware of what exactly the standard says and what are the security policies and responsibilities for securing the data.
Some required controls of ISO 27001 certification in Lebanon
An information security management system will not compel on specific security controls but it provides a check list controls which has to be accompanied by the organizations code of practice.
Depending upon the organization scope and activities the standard checks on what are the controls that has to be put front and what not to be and the main sections includes
Security policy
Information security
Risk management process
Asset management process
Human resources security
Security related to environment
Operations and communications management system process
Access control
Acquisition of information system
Incident management system of information security
Business continuity management system
Compliance requirements
ISO 27001 certification in Lebanon can be considered as a greatest management tool. ISO 27001 standard will majorly benefit any organisation where the data in any form will play a major role.