ISO 22000 Certification in Lebanon
ISO 22000 Certification in Lebanon
ISO 22000 Certification In Lebanon, Certivatic is specialized in providing ISO Certification and Consultation in Lebanon. We provide the best ISO Consultant service in  Beirut, Tripoli, Sidon, Byblos, Baalbek, and other major cities with the service of consultation, implementation, documentation, training, auditing, and registration. 
We do provide CE mark Certification, HALAL Certification around the world at an affordable cost.
ISO 22000 certification in Lebanon & its significance
ISO 22000 Certification in Lebanon is a voluntary standard that specifies and defines the requirement for implementing a food safety management system. 
It outlines what an organization has to do to demonstrate its ability to control the hazards so that food is safe. The standard is applicable for those industries who are involved in food supply chain. It aims to meet the international harmonization leading to greater food safety system throughout all the food supply chain in the organization.
It is one of the international standards and was published in the year 2005 by the international organization for standardization to meet the needs and expectations of the organization under food supply chain.
How to get ISO 22000 certification in Lebanon? – Our effective implementation steps: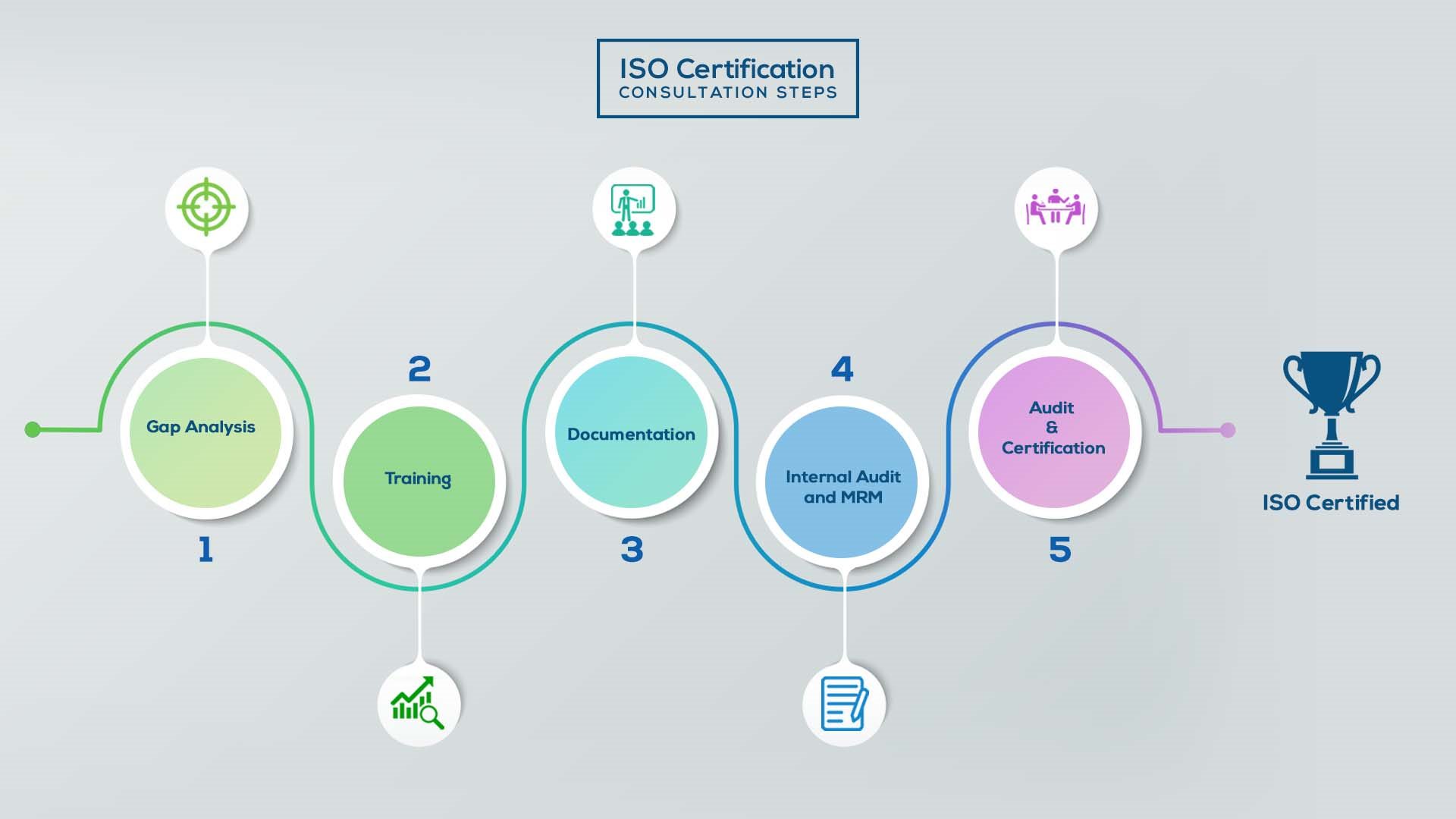 ISO Certification In Lebanon
Our method/steps are easy, unique, time-bound, and result-oriented.
Interacting and detailed study of current work flows in different departments, operating procedures, documentation and practices.

Identifying any shortcomings of your organization against the requirements of ISO.

Generating a Gap report and planning for implementation
Creating awareness about ISO standard and its importance.

A formal training session/s.

It includes training on internal auditing, documentation training, mock audit and trainings to conduct management review meeting.
Documentation is the manifestation for your entire organizations process, procedure and results.

End-to-End support on preparing documentation as per ISO requirements.
Internal Audit (IA) as a tool, it is a cross departmental audit to ensure zero loophole in the system of your organization.

MRM: Management review meeting (MRM) helps top management to guide and ensure the whole organization is up to the mark as per the standard requirements.
Certivatic – Your certification is our responsibility!

With our 100% track record of success, we make sure Certification is achieved successfully.
The objectives of ISO 22000 Certification in Lebanon
It ensures the customers protection and strength
Strengthening the food safety
Encouraging the cooperation between governments and industries
Improve the cost performances by food supply chain.
Setting up a ISO 22000 Certification in Lebanon enables the organization to make sure the safety of products and services. It is also known as improvement and prevention tool helping the organization to overcome the hazards. It uses an effective cycle called as PDCA that makes ISO 22000 Certification in Lebanon to be more accurate and along with it HACCP principles are added to make the implementation process more progressive
Requirements list of ISO 22000 certification in Lebanon
The top management in the organization have to prepare and overall food safety policy
The objectives has to be said because it will drive your organizational efforts to comply with the policies of food safety management system
Designing and planning the management system and documenting those food safety management system
Performance of the system records has to be maintained
A qualified individuals for a food safety team has to be established to take care of the things while implementing the requirements
Communication procedures has to be defined to make sure the effective communication within important connections outside the organization such as a suppliers, customers, regulators and others and to have an efficient internal communication
Emergency plan has to be defined
The management review meetings has to be evaluated to check the performance of food safety management system
For the effective operation of safety management system the adequate resources has to be provided that includes a qualified and trained persons, appropriate work environment and infrastructure to make sure the food safety
Prerequisite programs has to be implemented
HACCP principles has to be followed to make the standard more effective
Traceability system for identifying the products has to be established
preventive and corrective action systems and controls for non conforming product has to be established
A documented procedure for handling and non handling of products has to be maintained
Monitoring and measuring controlling devices has to be established
Maintaining and establishing the internal audit and its programs
Continually improving and updating the safety system of the organization
In food industry the and consumer must get a quality of word which is hygiene and consumable. ISO 22000 standard fulfill the basic requirements of managing the food safety in the food industry and every other organisation in many levels of food chain in lebanon as achieve ISO 22000 certification in Lebanon through certivatic.