The Complete Guide of ISO 9001 Certification and How to Use it to Grow your Business? 
ISO 9001 Certification specifies the requirements for a quality management system and is the only family standard that can be certified. It is a globally recognized Quality Management System (QMS) standard that can assist businesses of all sizes. Designed to be a powerful instrument for business growth.
How ISO 9001 Quality Management certification can help you to:
Improve continuously, streamline operations, and cut expenses.
Increase your revenue and compete in projects.
Boost your business and gain a competitive edge in project bids.
Develop a long-term business by being more robust.
Illustrate that you have good company governance.
Coordination with stakeholders and your supply chain is key.
Important Quality Management Principles:
Quality management principles (QMPs) form the backbone of ISO 9001 and other ISO quality management standards. These principles can help your organization optimize its QMS.
Focus on the customer: Customer satisfaction is the primary goal of quality management: fulfilling customer needs and exceeding customer expectations.
Leadership Qualities: At all levels, leaders build unity of purpose and direction, as well as conditions that encourage employees to participate in accomplishing the organization's quality goals.
Work Engagement: The quality management process requires skilled, motivated, and committed individuals at all levels of the business.
Methodical strategy: When business processes work together as a system, consistent and predictable results can be achieved more effectively and efficiently.
Continual improvement: A commitment made by successful organizations.
Making decisions based on evidence: Decisions based on information analysis and review are more likely to generate the desired outcomes.
Work Relationship management: An important skill to have. An organization's connections with interested parties, such as suppliers, must be managed for long-term success. 
Requirements for ISO 9001 Certification:
ISO 9001 Certification is a measure of an organization's total quality management, rather than defining the exact requirements for products and services. Aside from a QMS, ISO 9001 also has the following primary requirements:
The dedication of top management to quality.
Concentrate on the customer.
Resource availability.
Employee expertise.
Administration Process.
Planning of high quality.
Product and service development.
Customer complaint resolution procedures.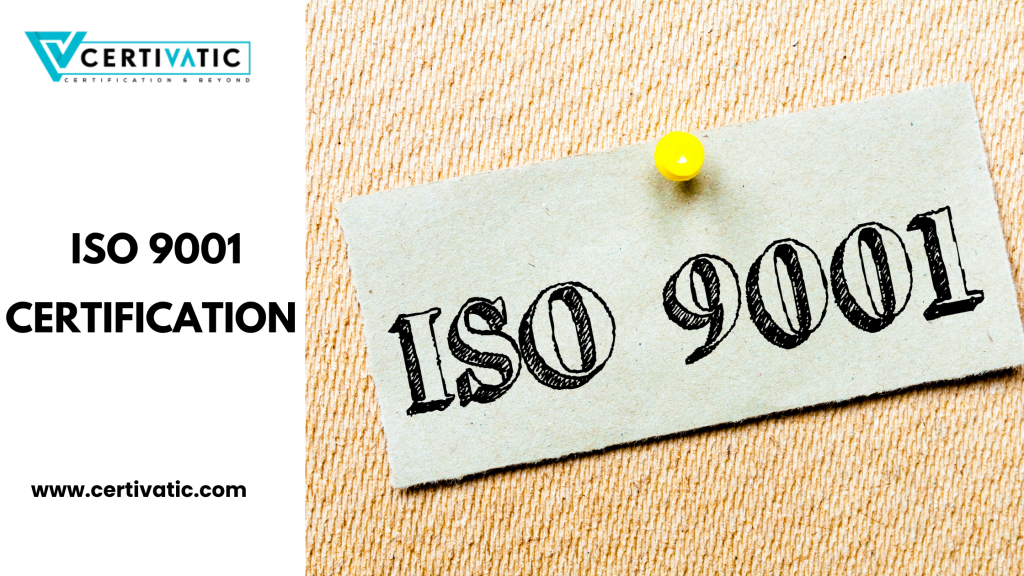 The following are some of the advantages of adding ISO 9001:
Make your operation more efficient and effective.
Increase client retention and satisfaction.
Reduce the cost of auditing.
Improve your marketing strategy.
Motivate, educate, and motivate your employees.
Encourage international commerce.
Profits are increased.
Waste reduction and increased production.
What is the procedure for receiving ISO 9001 certification?
The ISO 9001 certification process necessitates the implementation of ISO 9001:2015 requirements.
An organization must complete the registrar's audit once it has been deployed to ensure that the company system meets those requirements.
The auditor will question the company's management and staff to see if they still understand their roles and responsibilities in meeting ISO 9001 requirements.
The auditor can also examine the company's documentation to ensure compliance with ISO 9001 requirements.
The auditor will then create a detailed document outlining the aspects of the standard that the company did not achieve.
The business must adhere to a strict timeline to order to resolve any concerns. The firm engages in corrective sports to ensure that all issues are resolved. The agency can be certified once these shortcomings have been remedied and validated by the auditor.
If the organization wants to keep its ISO 9001 certification, it must continue to conduct regular monitoring and recertification audits.
For more information visit: ISO 9001 Certification