ISO Certification in Saudi Arabia
What Is ISO Certification in Saudi Arabia, and How Can It Help Your Business? The International Organization for Standardization (ISO) is a non-governmental organisation. An autonomous and global organisation whose mission is to produce standards that ensure the safety, quality, and overall efficiency of systems, services, and products. In Saudi Arabia, ISO certification successfully validates that a manufacturing process, management system, documentation procedure, or service meets all quality assurance and standardisation requirements. ISO certification in Saudi Arabia has its own set of criteria and standards and a unique number.
Other significant benefits of ISO certification in Saudi Arabia include the following:
 All of your company's systems and procedures are assessed and standardised.

It also gets simpler to explain. Things to your employees adequately.

It becomes much easier to train all new personnel.

It contributes to increased consumer satisfaction.

Any difficulties or challenges are rapidly identified, allowing the organisation to develop better solutions.

A better understanding of the various customer requirements.

Your company's market image will improve.

Suppliers are more likely to collaborate as business partners.

Overall, communication methods have improved significantly.

Your staff will be able to gain a deeper understanding of the organisation.

Your employees' participation and teamwork will improve.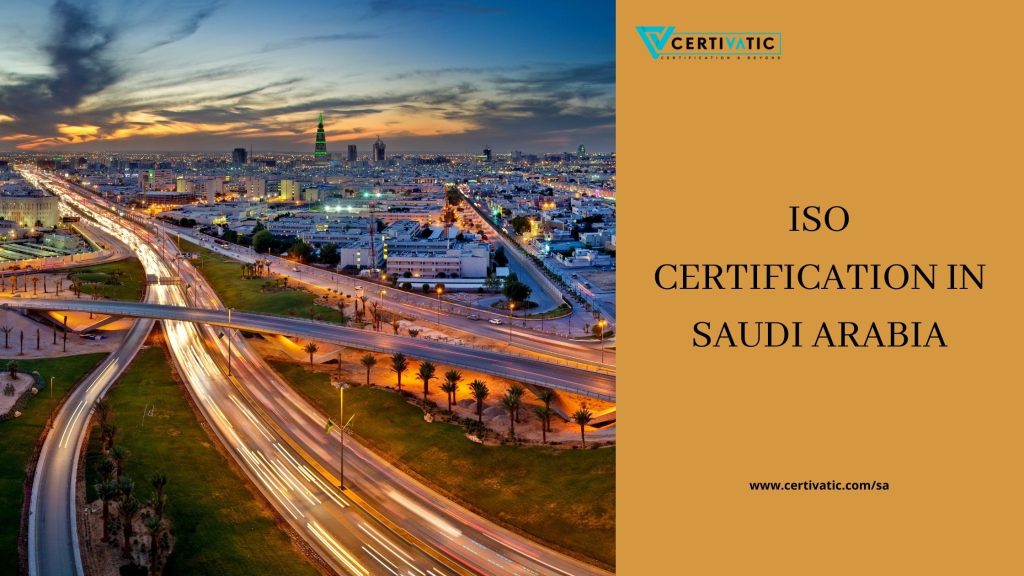 Companies of all sizes have recently taken an active role in obtaining ISO certification in Saudi Arabia, owing to a deeper understanding of the benefits that this may bring to their business. Companies that provide ISO certification consultation services have emerged, making it easier for even small businesses to register and improve their overall functioning efficiency on various levels.
If you haven't yet registered your firm for ISO certification in Saudi Arabia, here are some additional perks that should entice you:
It ensures that only the most acceptable practices are followed:
The ISO standards can introduce you to various internationally accepted procedures and best practices perfect for your company. These guidelines include environmental assessment, quality control, food safety, data protection, risk management, and health and safety.
It never fails to make customers happy:
ISO standards can considerably boost overall customer happiness by assuring tight quality check parameters, establishing compliance management practices, and ensuring that clients are constantly satisfied. Statistics show that having an ISO certification in Saudi Arabia reduces the likelihood of consumer complaints significantly.
ISO certification can boost productivity in the following ways:
You can efficiently outline and monitor your business processes when you have the necessary ISO certification in Saudi Arabia. You can also record them to develop better working strategies.
It can assist you in increasing your revenue:
An ISO Certification is a terrific approach to boost your sales and free up funds to expand your company. The income rise was much more than the boost experienced by non-ISO certified businesses.
It can significantly improve your team's accountability:
When you opt to follow ISO standards, you can aid in the development of a stronger and more capable staff. It has been repeatedly observed that ISO-certified organisations have higher job satisfaction, lower turnover, more resources, higher worker motivation, and better manager-employee interaction.
ISO certification in Saudi Arabia can help you tap into new market opportunities:
The ISO standards can help you break into new markets with ease. You may also qualify for government contracts that require strict adherence to various workable requirements. You can also improve your infrastructure and working methods to join supply chains linked with more giant corporations. Obtaining ISO certification in Saudi Arabia can also assist you in addressing numerous causes of potential and present issues through preventative and corrective work approaches. As a result, ISO can assist you in enhancing the task definition process and motivating your working teams and employees to develop a better system to mobilise them around your company's goals.
For more information visit: ISO Certification in Saudi Arabia