ISO Certification In Saudi Arabia
ISO Certification In Saudi Arabia, Certivatic is specialized in providing ISO Certification and Consultation in Saudi Arabia. We provide the best ISO Consultant service in Riyadh, Jeddah,Medina ,Dammam,Mecca,Al Khobar, with the service of consultation, implementation, documentation, training, auditing, and registration. We provide CE mark Certification, HALAL Certification and we do provide different ISO Standards like ISO 14001, ISO 45001, ISO 27001, ISO 22000, ISO 17025, ISO 13485, and many others.
About ISO
ISO stands for International Organization for Standardization; it is an organization whose headquarters is based in Geneva, Switzerland. ISO develops standards with the help of industry experts and publishes them with the intention for the unification of industry practices. So far ISO has developed 21000+ international standards covering almost all sectors of the industry.
Why do we need ISO Certification in Saudi Arabia?
International Standards are strategic tools and guidelines to help companies tackle some of the most demanding challenges of modern business. They ensure that business operations are as efficient as possible, increase productivity and help companies access new markets.
Tender eligibility – Implementing the standard requirement and achieving the certification will ensure your meeting the tender eligibility criteria and thus chances of winning the tender.
Cost savings – International Standards help optimize operations which will lead to cost reductions, and therefore improve the overall activities of business
Enhanced customer satisfaction – International Standards help improve quality, enhance customer satisfaction and increase sales
Access to new markets – International Standards help to prevent trade barriers and open up global markets, in this era of competition, implementing an international standard will lead a pavement in entering the Global market successfully.
Brand reputation

 – International standards and certification tagged with your name will significantly improve your brand value and reputation

Increased market share

 – International Standards help increase productivity and competitive advantage

Compliance with statutory and regulatory requirements

 – ISO standards are developed by experts. By integrating an ISO standard into national regulation, organizations can showcase their compliance to the law enforcement authorities.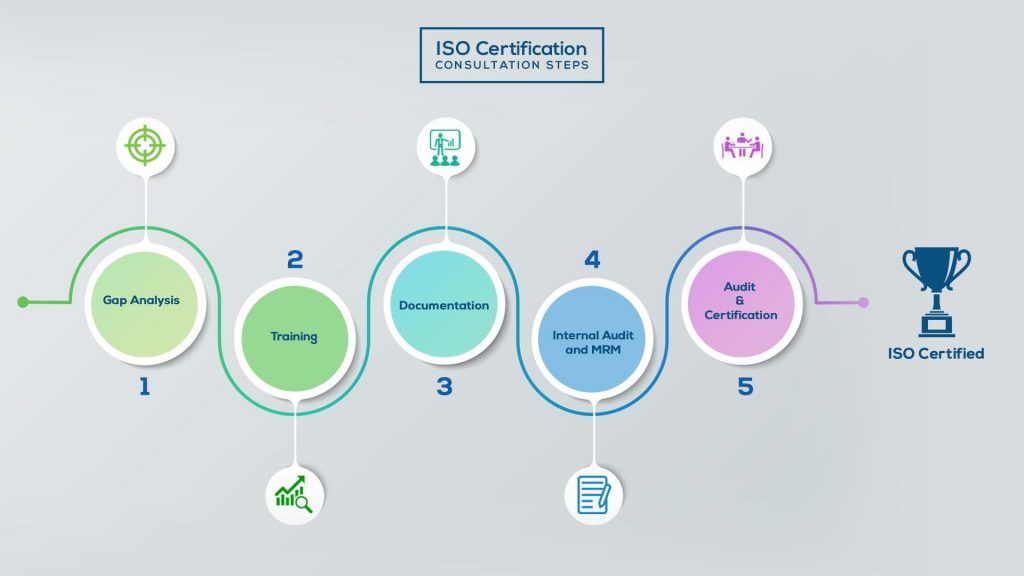 ISO Certification in Saudi Arabia
Our method/steps are easy, unique, time-bound, and result-oriented.
Interacting and detailed study of current work flows in different departments, operating procedures, documentation and practices.

Identifying any shortcomings of your organization against the requirements of ISO.

Generating a Gap report and planning for implementation
Creating awareness about ISO standard and its importance.

A formal training session/s.

It includes training on internal auditing, documentation training, mock audit and trainings to conduct management review meeting.
Documentation is the manifestation for your entire organizations process, procedure and results.

End-to-End support on preparing documentation as per ISO requirements.
Internal Audit (IA) as a tool, it is a cross departmental audit to ensure zero loophole in the system of your organization.

MRM: Management review meeting (MRM) helps top management to guide and ensure the whole organization is up to the mark as per the standard requirements.
Certivatic – Your certification is our responsibility!

With our 100% track record of success, we make sure Certification is achieved successfully.
Some more advantages of getting ISO certification in Saudi Arabia
Mention you are ISO certified on all your print material, like business cards, brochures, proposals, mail signatures, websites, etc. Do not forget to add the logos of your certification body and accreditation body
Display your certificate, quality policy, and quality objectives at all important places on your work premise and even on your website
The elimination of barriers between different functional units and the unification of their focus to the objectives of the organization
The encouragement and involvement of people, and the clarification of their responsibilities.
Certivatic is the one of top certified Providers of ISO Certification in Saudi Arabia ISO is an abbreviation of the international organization for standardization which involves only publishing the standards and it does not issue the certification to the organization. ISO certification bodies in Saudi Arabia will boost up your organization and well meet the requirements of consumers through needed Management systems.
Frequently Asked Questions