ISO 45001 Certification In Saudi Arabia
ISO 45001 Certification in Saudi Arabia
ISO 45001 Certification In Saudi Arabia, Certivatic is specialized in providing ISO Certification and Consultation in Saudi Arabia. We provide the best ISO Consultant service in Riyadh, Jeddah, Dammam, Al Khobar with the service of consultation, implementation, documentation, training, auditing, and registration. We do provide CE mark Certification, HALAL Certification around the world at an affordable cost.
About ISO 45001 Certification in Saudi Arabia
Earlier there was no standard from ISO for occupational health and safety (HSE) so it adopted OHSAS 18001 which was a widely accepted British standard for implementing health and safety management system. The new standard from ISO specifically for occupational health and safety management system was published in the year 2018, ISO 45001 certification Saudi Arabia follows annex SL structure and can be implemented in any type of organization together with other management system standards like ISO 9001 quality management system and 14001 environment management system.
Our method/steps are easy, unique, time-bound, and result-oriented.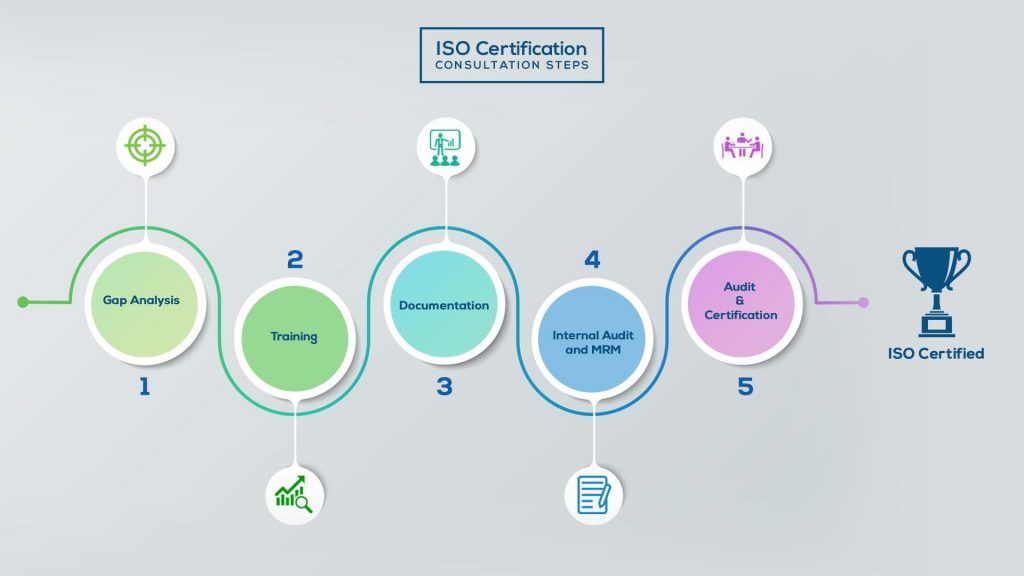 ISO Certification in Saudi Arabia
Interacting and detailed study of current work flows in different departments, operating procedures, documentation and practices.

Identifying any shortcomings of your organization against the requirements of ISO.

Generating a Gap report and planning for implementation
Creating awareness about ISO standard and its importance.

A formal training session/s.

It includes training on internal auditing, documentation training, mock audit and trainings to conduct management review meeting.
Documentation is the manifestation for your entire organizations process, procedure and results.

End-to-End support on preparing documentation as per ISO requirements.
Internal Audit (IA) as a tool, it is a cross departmental audit to ensure zero loophole in the system of your organization.

MRM: Management review meeting (MRM) helps top management to guide and ensure the whole organization is up to the mark as per the standard requirements.
Certivatic – Your certification is our responsibility!

With our 100% track record of success, we make sure Certification is achieved successfully.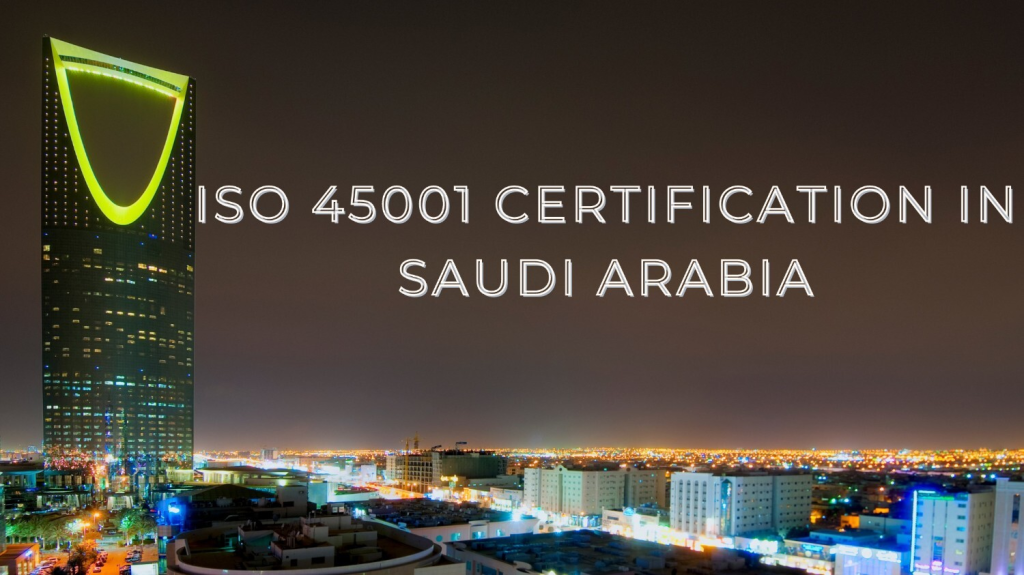 Why do we need ISO 45001 Certification in Saudi Arabia?
Safe working environment: 

With the help of ISO 45001 framework the organizations can achieve safety at work place, reduce untoward incidents and accidents and can achieve more productivity

Identification of occupational health and safety risks: 

The standard helps the organizations to identify potential risks which can deviate from achieving their safety objectives and prepare necessary control measures and apply them appropriately.

Cost reductions: 

By implementing ISO 45001 in your organization you can reduce accidents, injuries and losses which will contribute to generation of more productivity, no loss of time, employee satisfaction and lot of other benefits.

Responsibility and the social commitment

: Once the organization pledges to implement ISO 45001 then it is natural that the social image of the company will gain momentum in the market, it will reflect the responsibility of the organization that they are highly committed for safeguarding their employees and become a role model for other companies and encourage for having similar commitment in this regard.
Difference between OHSAS 18001 & ISO 45001?
OHSAS was developed by a committee formed by Institute British Standards and ISO 45001 is a standard developed and published by ISO themselves
ISO 45001 follows annex SL structure and can be implemented along with other management system standards
ISO 45001 focuses on identifying and controlling risks rather than hazards whereas OHSAS 18001 was focused on identification of only hazards
if you want to know more about ISO 45001 Certification in Saudi Arabia Click Here