What is ISO Certification?10 Reasons why you should obtain an ISO 9001 Certification in Saudi Arabia? ISO stands for the International Organization for Standardization. I know the acronym isn't precisely accurate, but you get the idea. Among the many standard-setting organizations, ISO helps organizations meet the needs of their stakeholders, whether employees, customers, or business partners while adhering to relevant regulations.
ISO 9001 Certification in Saudi Arabia
Saudi Arabia has ISO 9001 certification for several standards (often referred to as the family of standards). ISO 9000 describes a quality management system.
The ISO 9001 certification in Saudi Arabia indicates that a quality management system has been implemented and is being maintained. Additionally, different organizations (certified registrars) certify potential applicants by auditing their documents.
An ISO standard defines excellence.

The ISO 9001 system means quality management.

Certified companies have met the ISO standards, according to an independent body.

To ensure compliance, the registrar conducts routine audits.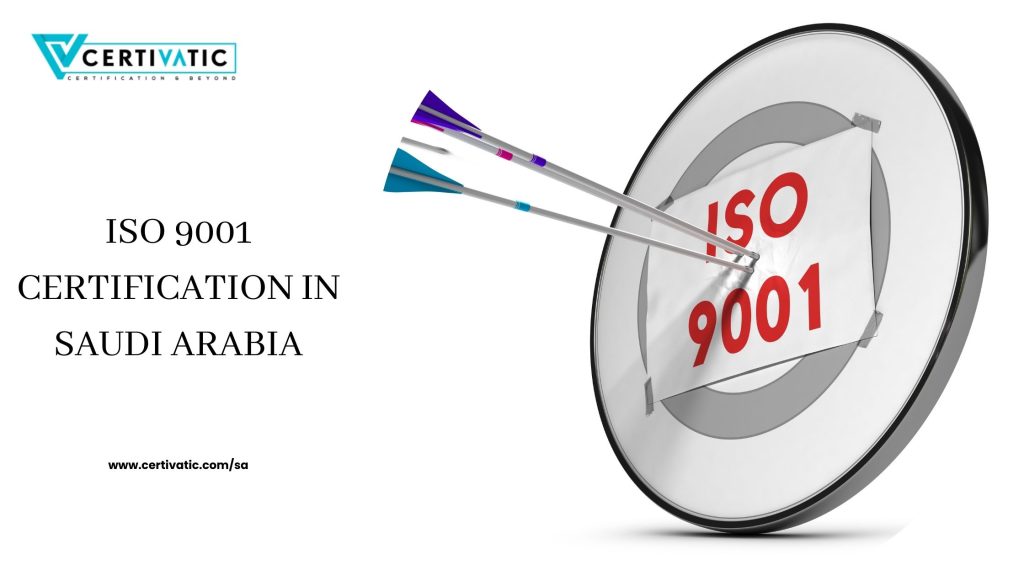 10 Reasons Why You Need ISO 9001 Certification in Saudi Arabia?
You have a recognized management standard that demonstrates your commitment to your customers. ISO Certification has several benefits, namely:- You can demonstrate your commitment to your customers.
You are more likely to win business.
An ISO 9001 certification in Saudi Arabia will significantly enable businesses to form partnerships with the government and the private sector. When it comes to public sector tenders, ISO 9001 certification proves that a company is well-run and credible, eliminating the need for intense due diligence.
Make Customers Happy with Your Products.
ISO 9001 places a high emphasis on customer satisfaction. Additionally to boosting business, the standard emphasizes customer service. The standard promotes a 'right-first-time attitude by encouraging feedback and analyzing it. The more your organization does this, the fewer complaints it will receive and the more satisfied its customers.
 There are fewer issues with items or services.
Businesses that are ISO 9001 certified in Saudi Arabia are better prepared to handle unexpected situations. For instance, if a product isn't up to scratch, there will be processes that will ensure it is fixed effectively and won't happen again.
Effective business management depends on accurate analysis and reporting. Businesses benefit from ISO 9001 certification in Saudi Arabia.
 Businesses become more consistent.
If the standard is implemented, consistency will benefit everyone, including the customers. It ensures that processes within an organization are well defined and understood, thereby preventing employees from spending time thinking about what to do or making things up.
 Increasing Revenue By Finding New Clients.
As soon as you are certified under ISO 9001 Consultants in Saudi Arabia, you can advertise your quality certification and respond to requests for quotes (RFQ) from employers who require ISO 9001 certification in Saudi Arabia. Certification in ISO 9001 can open up new markets for your business that were previously inaccessible.
 Describe, Understand, and Communicate Your Company Processes
To better manage and control your business processes, ISO 9001 QMS requires you to identify and describe your processes using business metrics. At the core of the system is the quality objective.
A system's performance is measured and communicated about quality objectives through metrics. You will learn about your business if you make a sincere effort to achieve ISO 9001 certification.
 Make your operations more consistent.
What does that mean? It means reducing variation. The definition of consistency is to reduce the variance in your processes. Are you better serving your customer by providing a consistent product – exact dimensions, same weight, tolerances, and output every time – or by offering unpredictable and "all over the place" products? (I hope you aren't overthinking this.)
Efficiencies, costs, and waste reduction
The ISO 9001 Quality Management System isn't perfect; neither are processes or people. However, a well-run QMS can help your company come closer to perfection. You will see tangible results as your processes improve, become more consistent, and frequently reach your target objectives.
Money wasted is money lost forever. Inefficiency leads to waste. Variations and inconsistent processes result in inefficiency. When you reduce variation and improve consistency, you'll reduce waste and make more money. There's no other way to put it.
 Be recognized as an international quality leader

.
The International Organization for Standardization (ISO) is in charge of ISO 9001 Consultants in Saudi Arabia, a worldwide standard. Around the world, more than 1 million companies use ISO 9001! There is no doubt that it is a quality standard throughout the world. Your company joins a very elite club with ISO 9001 certification in Saudi Arabia.
For more information visit: ISO 9001 Certification in Saudi Arabia