ISO 27001 Certification In Saudi Arabia
ISO 27001 Certification In Saudi Arabia
ISO 27001 Certification In Saudi Arabia, Certivatic is specialized in providing ISO Certification and Consultation in Saudi Arabia. We provide the best ISO Consultant service in Riyadh, Jeddah, Dammam, Al Khobar with the service of consultation, implementation, documentation, training, auditing, and registration. We do provide CE mark Certification, HALAL Certification around the world at an affordable cost.
About ISO 27001 certification in Saudi Arabia
ISO 27001 is a standard by ISO which sets out the requirements for an Information security management system (ISMS). In ISO 27001 the term information is not only referred to the data stored in electronic communication devices, here information is referred to as an asset including the business ideas, drawings, knowledge imparted, paper media, etc. Hence it becomes the prime focus of organizations to consider information as an asset and safeguard their business information as they secure other assets. The standard under its 10 clauses neatly describes the guidelines to achieve security of information in the management system.
Our method/steps are easy, unique, time-bound, and result-oriented.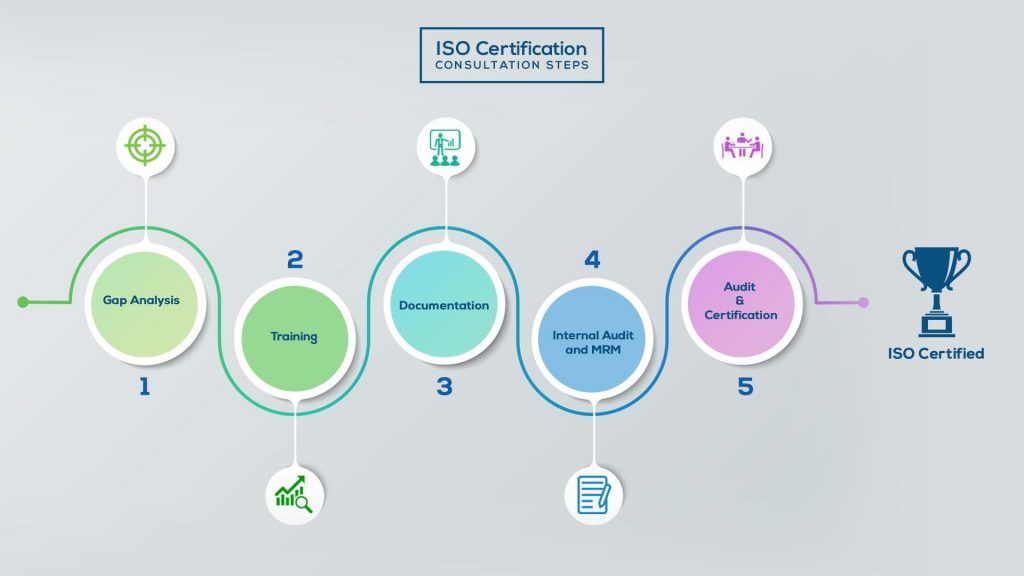 ISO Certification in Saudi Arabia
Interacting and detailed study of current work flows in different departments, operating procedures, documentation and practices.

Identifying any shortcomings of your organization against the requirements of ISO.

Generating a Gap report and planning for implementation
Creating awareness about ISO standard and its importance.

A formal training session/s.

It includes training on internal auditing, documentation training, mock audit and trainings to conduct management review meeting.
Documentation is the manifestation for your entire organizations process, procedure and results.

End-to-End support on preparing documentation as per ISO requirements.
Internal Audit (IA) as a tool, it is a cross departmental audit to ensure zero loophole in the system of your organization.

MRM: Management review meeting (MRM) helps top management to guide and ensure the whole organization is up to the mark as per the standard requirements.
Certivatic – Your certification is our responsibility!

With our 100% track record of success, we make sure Certification is achieved successfully.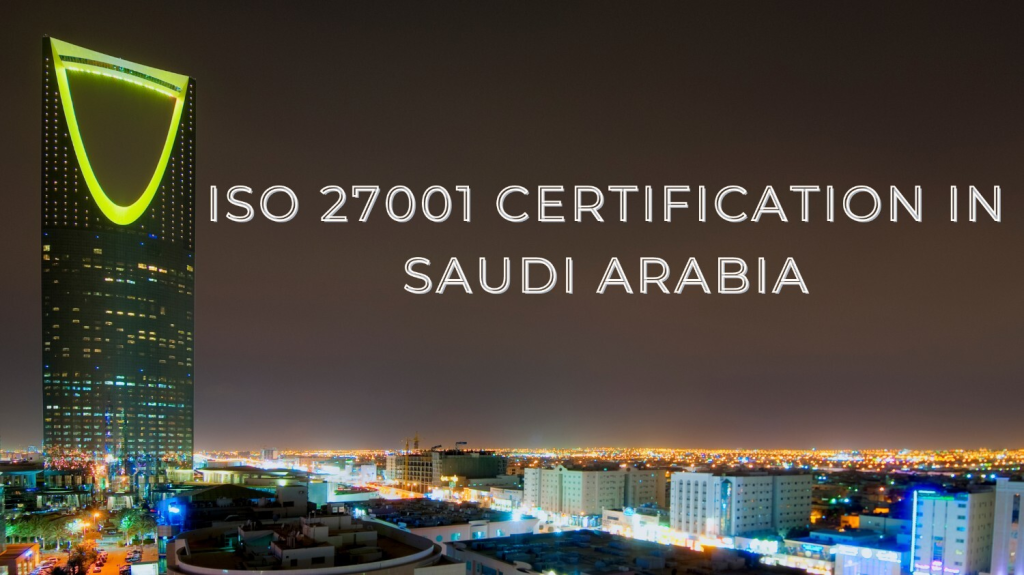 Why do we need ISO 27001 Certification in Saudi Arabia?
Implementation of ISO 27001 demonstrates the gaining of customer's confidence by expressing that the security of their data is paid attention
ISO 27001 says that information is everywhere and so it should be considered as a critical asset and should be appropriately protected
The organizations can distinguish themselves in a competitive market by getting ISO 27001 certified
Eligibility to participate in tenders if you are certified
Created brand image globally
Formalizes, and freely checks information security procedures, techniques, and documentation
ISO 27001 Certification in Saudi Arabia is only for IT companies?
Many companies step back assuming that this is an IT standard and probably only limited to the IT industry but the standard is all about securing information, information is there everywhere, in every sort of business, even in non-IT businesses. ISO 27001 is a tool with the help of which you can achieve security of business information.
ISO 27001 Certification in Saudi Arabia is a very hectic task and needs technical people to implement?
Since the standard has simple guidelines, annex SL structure and descriptive controls are present in annex A of the standard makes it easy to understand the terms and implement the standard in their organizations. The core knowledge of their own business is the only crucial factor necessary to facilitate implementing this standard.
ISO 27001 Certification in Saudi Arabia is only for big companies?
ISO 27001 is also a management system standard and can be implemented along with other standards like 9001, 14001, 45001, etc. in all companies small or big. The scope can be determined initially and the standard provides flexibility to the companies for implementing the standard in their desired department, branch, and sub-department.
ISO 27001 certification in Saudi Arabia is one of the chief elements which will boost up your organization's economy. ISO is an abbreviation of the international organization for standardization which involves only publishing the standards and it does not issuing the certification to the organization.