What does it take to get ISO certified in Saudi Arabia?
For getting ISO 9001 Certified in Saudi Arabia you will need certain documents required by ISO, Match the standards with Standards set by ISO, maintain a QMS in the organization.
What is ISO 9001?
ISO 9001 certification is an assurity given to an organization that they are providing quality products and services. This is given to those organizations that match with the standards set by ISO. By getting an ISO certificate you will get benefited in many ways such as :
Increase Revenue.
Facilitate Trade globally.
Build Trust.
Customer satisfaction.
Increased employee engagement.
Outperform yourself from others in terms of business.
First preference.
Documents required to get ISO 9001 Certified in Saudi Arabia:
Quality policy(Clause 5.2.2)

Quality objective and how these will be achieved(clause 6.2)
Scope of the quality management system(clause 4.3)
There are various other records that will be required to be produced during the process for which you may get consulted by us.
Process of getting ISO 9001 certification in Saudi Arabia: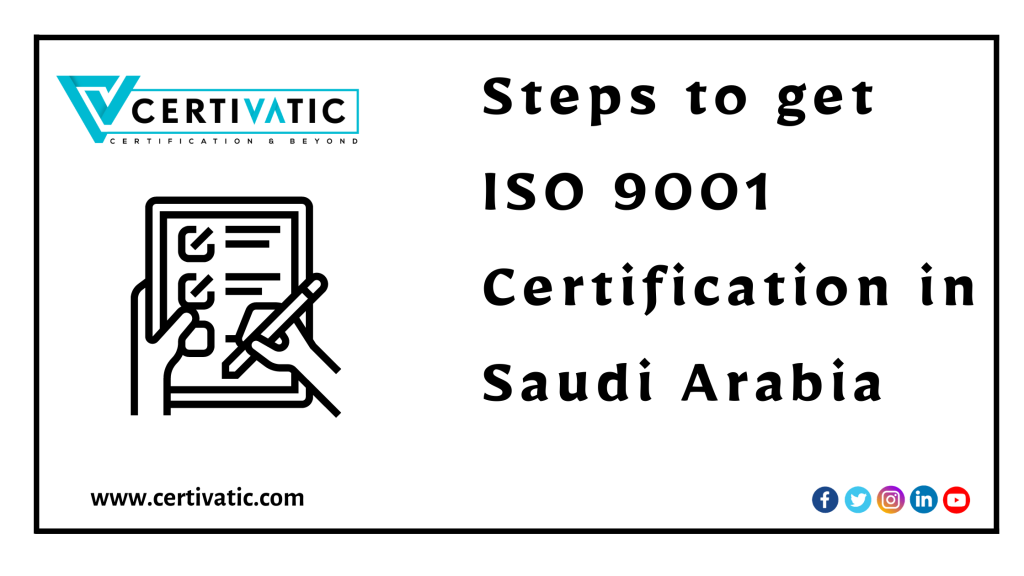 Preparation:
The first step in getting an ISO certification in Saudi Arabia will be to create an application and identify the type of organization whether it is small or mid-sized and then have to check that whether the organization will be able to change its way of work according to the Working standards of ISO.
Quality document review:
Document review is a process that is seen as a difficult task as it is very important that the organization's documents match with documents that are required during the Audit. It is also important as all the documents must be in order as they will reflect the company's image.
Make an Action plan:
After documents are reviewed it is necessary for a company to make an action plan on how will it adapt to the standards and implement them in its work. See to it that your standards match with those of the ISO standards and change accordingly.
Internal Audit and MRM:
Internal Audit is usually done by the company Employee, they check whether everything in the company is going according to the ISO 9001 standards which need to compile in the company's work to get ISO 9001 certified in Saudi Arabia.
Final Audit and Certification:
To get ISO 9001 certification in Saudi Arabia a company must go for a Third-party Audit in which he will check whether your company is complying with the ISO standards and then will Issue the ISO certificate which will be valid for 3 years.
Why Choose Certivatic For ISO 9001 certification in Saudi Arabia?

There are many ISO certification companies that provide the ISO certificate and a question may come to your mind that why should I choose your company for ISO certification so the answer to your question is as follows:
Provide service in more than 15 countries.
Have served more than 200+ clients in the span of one year.
Increasing our reach to more countries Day by day.
Assist in auditing the certificate from time to time.
Hassell free service.
Take minimum time in providing the certificate.
Provide consultation on the certification.
Provide IAF and Non-IAF certificates in less time.