What are the benefits of ISO 9001 certification in Philippines?
before knowing the benefits of ISO 9001 certification in Philippines let's see a short introduction about what is ISO 9001? ISO 9001 certification specifies the requirements of a quality management system in short QMS. Quality Management System (QMS) is defined as a formal system that documents processes, procedures, and responsibilities for achieving quality guidelines and objectives.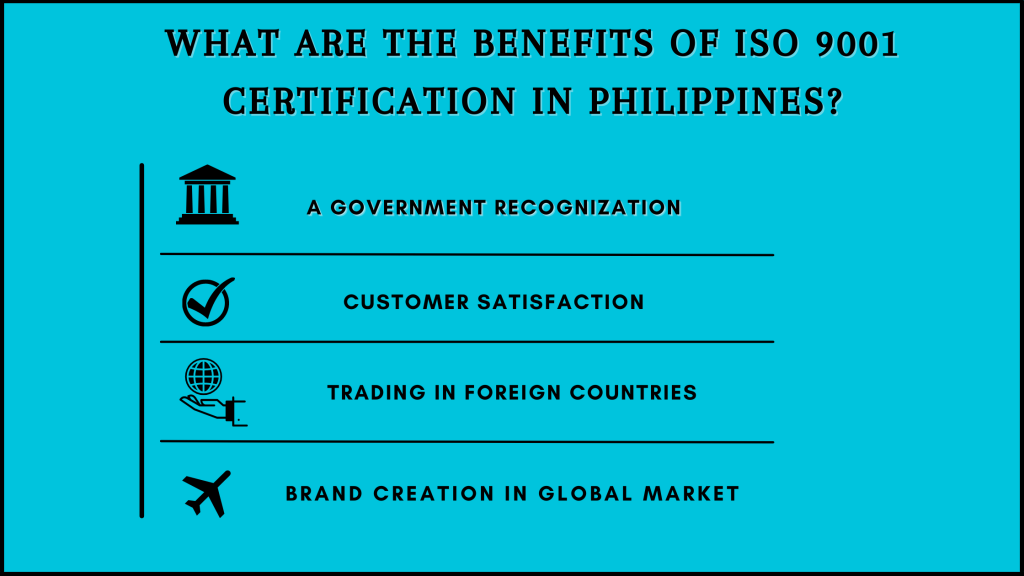 Benefits of ISO 9001 for your organization

International Recognition:

ISO can be accepted in more than 164 countries, achieved ISO 9001 certification, the organization gained international recognition.

International Trade:

Obtaining an ISO 9001 certificate will facilitate the exchange of goods and services across international borders or regions.

Quality Management System: ISO 9001 certification helps organizations achieve their quality policies and objectives.
Customer Satisfaction:

QMS helps coordinate and direct organizational activities to meet customer requirements

Improved Efficiency:

Continuously improve efficiency and effectiveness.

Increase productivity: 

By ensuring that all employees work on the same agenda, you can reduce errors and increase productivity.

Continuous Improvement:

 With the help of non-compliance reports and trend analysis, you can identify areas for improvement and stay ahead of the competition.

Work more efficiently:

The continuous improvement process ensures that your business becomes more efficient,

Recognizing and managing risks:

errors are reduced and high standards of service are maintained. It not only saves you money but also helps you meet many regulatory requirements.

Brand creation:

Consistently providing customers with high-quality products and services. Your customers always get the quality product or service they want.
Benefits of ISO 9001 for your Customers
Quality product and services:

this also has the advantage of increased delivery reliability

Fewer returns:

because problems are identified and resolved more quickly

Trust:

Certification serves as proof that the organization provides consistent, reliable, and appropriate solutions.

Experience Improvement:

Improving the relationship between the customer/stakeholder and the organization creates a better customer experience and increases the likelihood that the customer will return again in the future.
Why choose Certivatic for ISO 9001 Certification in Philippines?
Certivatic is acknowledged all over the globe. Our well-planned procedures are designed to satisfy the requirements of your business faster and effectively. We offer ISO 9001 certification and consulting services for all regions of the Philippines which includes Manila, Makati, Cebu City, Pasig City, etc.,
For more information visit www.certivatic.com and contact@certivatic.com